Nepal has the potential for some of the best coffee in the world. The problem is the country is still developing so it's not a priority, yet.. Grown in the Himalayan foothills Nepal's coffee production is finally kicking off. With some beans grown over 4,000 m the taste is strong, nutty and very smooth. The main issue is ... roasting.
Similarly cafes as a place to chill with a cup of coffee have only taken off since about 2014. Luckily post-2015 earthquake Nepal's reconstruction of it's tourism industry means a boost in little coffee shops continues. However they are reliant on tourist numbers and a good business environment. Something that is not always available in Nepal. The result is that many coffee shops and cafes in Nepal open up and are gone again in 6 months.
Another problem in Nepal is the influx of cheap "Nescafe" style drinks for the influx of Chinese tourists. They like flavored coffee and are not fussed about quality. The result is that many restaurants or hotels are opting for the cheaper and easier options involving coffee.
I like freshly roasted coffee. Italian roast is my favorite. Espresso in particular or for some afternoons a mocha. A breakfast Americano will also do if need be. On this page I'll show you where to find the best real coffee in places that should remain open for a while. I'll also touch on locations where you can get good coffee and locations where you can't find a good cup so you'll need to bring your own.
More about coffee growing in Nepal
The most popular coffee grown in Nepal is Arabica coffee. Areas it is grown include Palpa, Lalitpur, Kavrepalanchok, Sindhupalchowk, Lamjung, Kaski, Gorkha, Syangja, Parbat, Baglung and the in the hills around Pokhara. Above 4,000 meters and the coffee beans are said to be especially good.
There are many coffee shops and cafes in Kathmandu city that claim to serve coffee. Unfortunately most do not. The coffee is either not fresh or else it's Nescafe. Unfortunately cafes in Kathmandu are in the habit of overcharging for a coffee too. So watch out!
Himalayan Java
Himalayan Java Coffee is Nepal's own brand and it's got several locations in Kathmandu.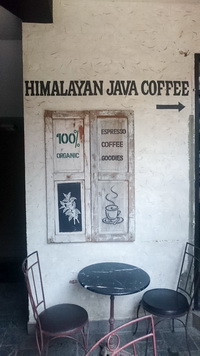 The easiest to reach is the one in Mandala street and the other is near Tri Devi. Both locations offer comfortable seating and a good range of coffees. They also offer cakes, breads and snacks. The Wifi works well and there's a generator. The espresso here is good. The taste is smooth, nutty and the roast airs on a medium. The presentation is generally okay, but quite often you'll need to ask for a water. Americanos are equally as good but sometimes not very hot. Mocha's are pretty bad. The staff can be pretentious. The main issue is that it's usually full of hipsters, expats, rich Nepali kids and volunteers which takes any relaxation and throws it out the window.
Chikusa Cafe
Located in Amrit Marg the popular Chikusa Cafe has been around since 1998 which makes it one of the oldest dedicated coffee cafes in Nepal. At first the bar area looks small but there is a back to the cafe where smokers go.
Don't expect to find an espresso machine here, there is none but that doesn't matter. The freshly ground coffee here is served up through cloth filters, moka pots and french presses. It's a strong flavoured coffee rich in texture and taste. There's an extensive breakfast and snack menu served throughout the day with the friendly staff. There's a great atmosphere here, wifi and the coffee served is some of the best in Kathmandu. Get here early for breakfast though, as it's very busy from 8am -11am.
Pumpernickel Bakery
Practically a landmark in Thamel Pumpernickel Bakery has been serving happy travelers for decades. A coffee here is not so established though. Basic brews at high prices seem to be the order of the day. An Americano is okay but nothing to write home about. All other coffees are so so.
Garden of Dreams
Another favorite landmark the Garden of Dreams offers some of the best landscaped views in Nepal.
The coffees served inside at the Kaiser Cafe are good but again by no means special. They are however some of the most expensive coffees in Nepal. Most of the people here are again expats, rich Nepali and the odd tourist looking for a break. If it's a break from the traffic of Kathmandu you are after with great scenery (there's an entrance fee) and a good coffee, then you'll find it here.
New Orleans Cafe
With rave reviews for its restaurant you'd think New Orleans good but out a great coffee. Sadly they can't. Try the place in Mandala street just outside near Baskin Robbins. It's serves better coffee. Enough said.
Roadhouse cafe
The coffee served here is fine, but overpriced and seriously not worth it during the off season. Go here in the afternoon or late morning during peak tourist season when they've remembered to turn the espresso machine on for a while.
Gaia Restaurant
A nice restaurant serving good quality food does not make a for a great coffee experience. Gaia serves up fine coffee but it's nothing to get exciting about.
Woodside Coffee Shop
Located opposite hotel Marshyango Woodside Coffee shop coffers some of the best coffee in Kathmandu at excellent prices.There's a small selection of well priced cakes and sandwiches on offer here too. The only downside is if there's a power interruption then there's no coffee. Thankfully that's rare these days.
Hot Breads Bakery
This iconic little bakery has invested in an Illy espresso machine downstairs. You can take the coffees upstairs if you wish afterwards. It's one of the few places open at 7am where you can get a hot coffee. It's over priced, but there's not much of choice at that time of the morning.
Other honorable mentions
Dedicated coffee shops are hard to come by. Most people have a coffee with their breakfast or a snack. Some of the better places to get a good Americano include. Black Olives, Flavors (Boudhanath), Rosemary restaurant, Zaika Nepali Cuisine and the little coffee store outside Sherpa Mall.
---
---
Being Nepal's number one tourist resort Pokhara's Lakeside area has had numerous coffee shops open up in the past few years. The problem is many of them don't stay open for long. That said, there's something al lot more relaxing about having a coffee in Pokhara than in Kathmandu!
Himalayan Java Coffee
Opening in 2015 the location offers some of the best morning views for a coffee in all Nepal. Similar to Kathmandu the coffees are well roasted, nutty and hot. The staff here are lacking any enthusiasm though. The presentation of an espresso is the best in Nepal but that doesn't make up for the long wait time.
AM/PM Organic Cafe
Probably the most popular cafe in Pokhara for volunteers AM/PM does serve a good coffee with a good menu choice. The problem is the price. The coffee here is overpriced and when they do adjust the price the menu items seem to go up.
Perky Beans
There's an upstairs and downstairs seating area to Perky Beans so don't let the small entrance put you off. The coffees here are quite good, nothing super special, but good. It's well worth diving into their giant milkshakes, mint lemonade and sandwiches though!
Pokhara Java
Located just off the main strip this little coffee cafe is probably one of the nicest dedicated coffee shops in Nepal. The coffee itself is well roasted and none too bitter. There's a nice selection of cakes and breads here as well. On a sunny morning it makes for a great place to sit out and enjoy a good coffee.
Pokhara Pizza
One would never think that a pizza place could serve up a great coffee. Pokhara Pizza probably has the best Espresso in Nepal if not Asia. Go to the coffee bar section and you'll see a small hand roaster. The beans are from the owners farm. There's a fresh roast every week which makes this nutty smooth coffee like liquid gold. The only trick is to ask when the beans were roasted! (currently closed for relocation in early 2017)
Other honorable cafe mentions in Pokhara
As mentioned at the start coffee shops in Pokhara seem to come and go every 6 months or so. Generally speaking restaurants in Pokhara don't serve the best cups of coffee compared to Kathmandu. That said, it's easier to find a new cafe in Pokhara than Kathmandu. So keep hunting!
---
---
Don't expect to get a good coffee in Chitwan. There's only one dedicated coffee shop in Sauraha and it's not always open.
Coffee Shop (Sauraha)
The only dedicated coffee shop in Chitwan they have an Illy espresso machine. The shop is usually open but the coffee machine is usually dependant on electricity being available.
Other places to get a coffee in Chitwan
Most hotels and restaurants in Chitwan offer coffee. Do be careful of the "Nescafe Effect" here. Ask for "filtered coffee" to be sure.
---
---
Aside from high-end resorts it's hard to find freshly ground coffee in the rest of Nepal. However you will find good coffee popping up in the strangest of places like alongside a road by the Elephant breeding center in Bardia.
Similarly there is civet coffee (Kopi luwak / poop coffee) in the foothills of Pokhara, again it's listed in my guidebook.
Again, your best option to find fresh coffee in Nepal is to ask for "filtered coffee", nearly everyone knows what this is. From there, ask for the type of coffee you want. Do take note of the type of place your are in though, as many places outside of Kathmandu or Pokhara simply won't know what you mean.
For a full list of cafes and restaurants do check out my guidebook to Nepal below.
---
Get the Best Guidebook to Nepal
---
Get even more budget tips and money saving solutions to traveling Nepal in my guidebook to Nepal It's 500+ pages of premium content for only about $20. That's a tiny investment for big savings!
From one budget traveler to another, check out the details below and you'll see why, this is better tan any other guidebook, I promise.
---
Was this page helpful to you? If so please tell others!