Review Summary:
Hotel Blue Diamond
A budget hotel on bustling Jyatha street
PROS - Good value budget guesthouse. Free WiFi. CONS - Hot water is an issue in the winter. USD $5-13
Hotel Review:
Hotel Blue Diamond
Date Published: 03/12/2015
Let's look inside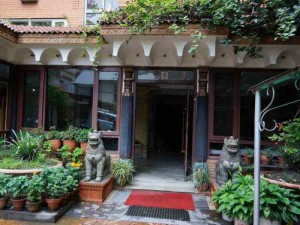 Hotel Blue Diamond is located on bustling Jyatha street in a south central part of Kathmandu's busy (Thamel) area. Thankfully this hotel offers quiet rooms away from the street noise outside.
The hotel offers forty-five rooms in a four floor building that includes a pretty decent restaurant.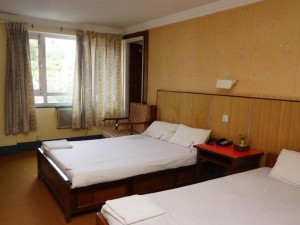 Inside the hotel it's spacious, clean with a stairwell leading to the rooms.
Rooms & staff
The rooms are reasonably sized and clean is a little worn. Most have the standard Kathmandu carpet.  There's one dorm room but you'd be better off spending the same cash in a neighbouring hotel for a private or looking for a dedicated hostel.
The bathrooms are tiled and clean but hot water can be in short supply in winter. WiFi works, just don't expect it to be fast.
I found the staff  friendly and knowledgeable. There's no push on tours and they do remember your name if you leave and come back after a week or so of travel in Nepal.
Summary
Hotel Blue Diamond is an old school Nepalese hotel that's standing the test of time. The only downside is hot water in the winter mornings. The staff however make up for this and tell you when the best time is for hot water.
If you are on a budget then this little hotel offers more cleanliness and friendliness in reasonable rooms than many others nearby.
---
Get the best room price now!
I've personally visited & reviewed this hotel plus found the best online prices for you – View more photos, a map, LIVE prices and book a room!

---
Room prices I was quoted
Once you arrive you can bargain for cheaper long term rate.
Here are the best prices for Hotel Blue Diamond! Check prices
---
Looking for more hotels in Kathmandu? No problem there are plenty more on my Kathmandu hotels page to choose from
All hotel stays have been paid for personally with no knowledge from the hotel owner that their accommodation was being reviewed