Review Summary:
Hotel Zen Holiday
A new boutique cosy style hotel
PROS - Quite area. Helpful Staff. Cosy rooms. Clean Luggage storage. CONS - Can be difficult to find at first. Slightly pricey for higher ranged rooms. USD $25-60
Hotel Review:
Hotel Zen Holiday
Date Published: 03/12/2015
Let's look inside
Hotel Zen Holiday is the located on the far eastern side of Thamel up a lane way to the north. It's a new boutique cosy style hotel offering a superior comfort level compared to many of Thamels more established hotels.
Offering 18 clean mid-sized rooms I found Hotel Zen Holiday to be quite comfortable indeed. Its location is central but troublesome if you don't know Thamel at first. However, most taxi drivers know the location. Simply ask for "Hotel Zen Holiday near Bhagwan Bahal" and they will get you there. Alternatively the hotel offers an airport shuttle service.
Nepal's electricity outages as an inverter provides power 24 hours a day. Hot water is powered by both a solar system and electrical so it's available around the clock.
There's a lovely basement style restaurant offering continental and Nepalese cuisine. While on the rooftop there are good views over Thamel.  Just step outside and you are in one of Kathmandu's older areas where there's a monastery.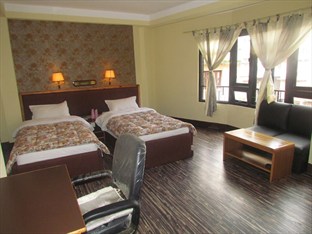 Rooms & staff
The rooms themselves are very cosy, neat and clean. Notably the bedding is fresh and the floors are wooden with a modern touch of style. All rooms are ensuite with a little mini wooden desk and chair, table lamps and free WiFi.
Staff at Zen Holiday were very professional, accommodating and helpful. It's a relatively new hotel and they are certainly trying to put their best foot forward.
Summary
Hotel Zen Holiday is another great example of new guesthouse opening in Kathmandu that provide good value for money. Yes, some of the rooms are a little pricey but what you get is comfort and cleanliness. This also holds true for their budget rooms too.
If you are looking to get away from the hustle, bustle and traffic noise of Thamel while at the same time enjoy clean peaceful accommodation then Hotel Zen Holiday is a very good option to choose from.
---
Get the best room price now!
I've personally visited, reviewed & found the best online prices for this hotel for you – View more photos, maps, LIVE prices and book a room at Hotel Zen Holiday
---
Room prices I was quoted
There are several room types: All have en-suites but the higher ranged rooms offer balconies and come with breakfast included. WiFi reaches all rooms.
Special offers are currently available at this hotel!  Book Now
---
Looking for more hotels in Kathmandu? No problem there are plenty more on my Kathmandu hotels page to choose from
All hotel stays have been paid for personally with no knowledge from the hotel owner that their accommodation was being reviewed