Review Summary:
Royal Penguin Boutique Hotel
The first hotel in downtown Kathmandu (Thamel) to offer accommodation with all the modern facilities you might expect in Paris or New York
PROS - Location in south Thamel. Cleanliness. Service. Cafe is good if a little pricey. Facilities. CONS - The price is high compared to others USD $108-$116+
Hotel Review:
Royal Penguin Boutique Hotel
Date Published: 04/01/2015
Let's look inside
Royal Penguin Boutique Hotel is the first hotel in downtown Kathmandu (Thamel) to offer accommodation with all the modern facilities you might expect in Paris or New York. Yes, this hotel is indeed a huge step up from Kathmandu's hotels of old.
Offering 43 modern spacious rooms spread out over two buildings Royal Penguin's decor resembles a sleek snow landscape (hence the penguin name!).Clean white marble and tile floors sweep you along as working air conditioners adjust to either Nepal's cold winter air or hot season humidity to give you a comfortable living environment.
Twin generators ensure that there are no power outages in power-cut prone city while a fully equipped restaurant and cafe serve up the best of international cuisine.
Rooms & staff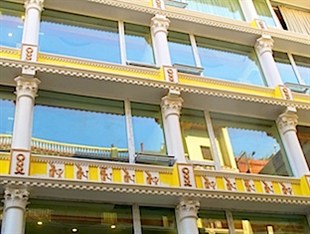 The rooms themselves are very plush for Nepal standards. Everything is clean, spacious, modern and in pristine condition. Included in all standard rooms are a personal safe, a flat-screen satellite TV, fridge and tea/coffee-making facilities. While all rooms are En-suite bathrooms featuring a bathtub, hairdryer, bathrobe and a shower.
Beds are very comfortable with spring mattresses and ultra fresh bedding.
Meanwhile for those looking for more Royal Penguin offers a Spa which includes a massage parlor, pedicure/manicure and a sauna. For those getting ready for their big trek there's also a modern gym facility available in-house.
Summary
While Kathmandu has always had hotels offering services like this Royal Penguin is the first to offer them right in the heart of Kathmandu. What's more is that Penguin is offering a boutique shine to everything which is a welcome change in Nepal.
With welcoming staff, modern facilities and a range of comfortable rooms to choose from Royal Penguin is the place to stay for any one looking for comfort, cleanliness and a touch of real international accommodation.
---
Get the best room price now!
I've personally visited & reviewed this hotel plus found the best online prices for you – View more photos, LIVE prices and book a room at Royal Penguin Boutique Hotel
---
Room prices I was quoted
There's no off-season or peak season change in prices. Room quality is superior throughout with A/C hot/cold. WiFi is fast, free and available in room.
Room prices ranged from $108 (deluxe) to $160 (superior) which have sofas, large bathtubs and minibars.
Special offers are currently available at this hotel! Book Now
---
Have you visited this hotel? Add your own rating here!
Looking for more hotels in Kathmandu? No problem there are plenty more on my
Kathmandu hotels page to choose from
All hotel stays have been paid for personally with no knowledge from the hotel owner that their accommodation was being reviewed