Don't Forget Your Guidebook: Bangkok, Kathmandu, London is available now!
What was I doing during the pandemic? I wrote a book. I was also laughing. I needed to. Still do. What was I laughing about? Jonny's antics as he tries to win back his girlfriend while the world chewed him up on his first travel adventure!
Like many people I like a good laugh. My problem was that I was running out of things to read. I enjoy satire, travel, adventure, entertainment, along with a few other genres. But it was a good belly laugh I needed the most. I couldn't find anymore of what I liked, so I wrote this book. Even after many, many months of editing it still makes me laugh.
It's not a book for everyone, but for those that enjoy satire, and non-politically correct humour, I do hope it will succeed in giving you some laughs too!
Don't Forget Your Guidebook is now available in paperback and e-book. But first, here's a content warning!
WARNING: This book contains sex, blasphemy, profanity, drugs, pain, toilets, and the views of other cultures. There's no cannibalism or threesomes, but there's plenty of satire, a giant psychedelic whale, and a ladyboy.
Don't Forget Your Guidebooks back blurb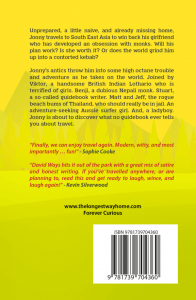 Unprepared, unsure, and already missing home, Jonny travels to South East Asia to win back his girlfriend who's developed an obsession with monks. It's not what he expected. Insufferably hot, filled with strange smells, and full of people who also don't seem happy to see him. From newbie traveller to carefree partygoer, to literally getting booted to the rear end of the world. Everyone has a breaking point.
Jonny's antics throw him into some high octane trouble and adventure as he takes on the world. Joined by Viktor, a handsome British Indian Lothario who is terrified of girls. Benji, a dubious monk. Stuart, a so-called guidebook writer. Matt and Jeff, the rogue beach bums of Thailand who should really be in jail. An adventure-seeking Aussie surfer girl. And a ladyboy. Jonny is about to discover what no guidebook ever tells you about travel.
Some Questions & Answers
You might still have some questions! Here are some answers.
Who will like this book?
Anyone with a sense of humour. An open view of the world. The understanding that other cultures have different view points than yours. Anyone who enjoys travel in Asia or is thinking of going and wants to be prepared for what guidebooks never tell you.
Who will not like this book?
Prudes. Stuck in the muds. Politically Correct types. People who can't laugh at misfortune. People who live under rocks in their own safe world. People who get offended easily. People who look down on any book that has an exploding toilet (there isn't one in the book, but you get the point).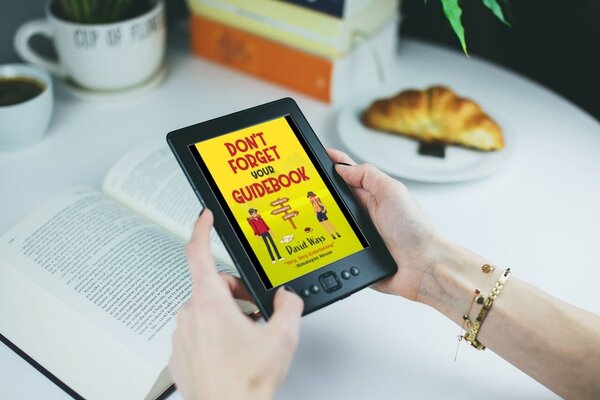 Nice cover, did you make it?
I made a draft version with this outline. But, my book deserved more.  I needed a professional, and I took the opportunity to help someone from a country in need. I hired a book cover designer called Rebecca from Ukraine who worked with me on this cover which I really like. So, yes. I'm happy to have supported Ukraine during the terrible invasion by having this cover made there by a Ukrainian artist.
A model was also needed for the book! So here's Angelica also from Ukraine with "Don't Forget Your Guidebook".
So yes, even when things can't get worse, a book like this can put a smile on people's faces. That's why I wrote it.
I'm not in the mood for big huge book, how many pages is this?
234 pages or 64,000 (ish) words. I wrote it to be an entertaining read with easy chapters (25) that you can easily finish and pick it up again when you want.
You write guidebooks, is this a guidebook too?
Nope, and please don't think it is. It is fiction travel humour or as my editor said, " It's a satire".  Apparently, I'm brave too. I should have gone Disney and written a romance – they make money and don't have the potential to offend.
Opps. Ah well, it wouldn't have been so much fun as a travel romance. Anne (Jonny's ex in the book) would have seen to that. But then there's (spoiler) … so maybe there is some romance in the book too.
Why did you call it Don't Forget Your Guidebook then?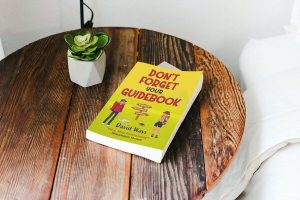 It's draft name was Sex, Lies, and Ladyboy mistakes. The publisher, editor, beta readers, etc all said "This is … could be a problem … well … can you … maybe …"
To which I replied "Subtitle?"
Apparently, such a title or subtitle might get the book placed in a bookstores "adult" category where it would sit next to bondage, kinky capers, and everything else that's not actually in the book. However, Viktor (character from the book) may well have an interest in being a part of such a story (sorry dude). So, yes, I changed the title and now, I admit, it's a lot better as it's gone full circle.
Wait, so there's no sex in your book?
Nothing graphic, no. Sorry about that. There's plenty of inappropriate innuendos though. And like all good books, your imagination will be sparked.
So, if there's no sex, I won't be offended then?
There is sex, it's just not graphic. There's plenty more to be offended about like a bucket load of profanity. Recreational drug taking. Physical pain. Sexism. Lies. And probably, for some, the hideous fact that other cultures don't see things the same way as they do.
Your not selling it for me
Honestly, I want people who are inclined to enjoy this type of book to love this book. To be entertained. To laugh at Jonny's antics and to gorge themselves in a reading frenzy for a couple of days and feel innately satisfied after it.
Alight, that got me, where can I get a copy?
Right here, in my bookshop. Buying directly from me will mean your copy will be printed just for you and the e-books will be unrestricted so you can keep them forever.
All the same, I understand there are readers who have Kindles, Kobos, and like free shipping. So the book will also be available on Amazon, Barnes & Noble, Kobo, Apple, and all good bookshops. In which case, I would ask you leave a review on said shops so others will know you like it. Otherwise, a review on Goodreads would be great.
Leaving a review will also make Viktor ecstatic, annoy Anne (Jonny's ex) and, certainly help improve Jonny's chances on pages 119 and 216.
Buy directly here, or on Amazon, Kobo, & more
You can also order a paperback directly from your local bookshop using the ISBN 9781739704360 (paperback)