Beef Tapa from the Philippines
Tapa to me is a Spanish small serving. In the Philippines to a tourist a beef tapa is something similar. To a local it's a full serving. It's similar to a thin breakfast steak. But, it's seasoning quite strong.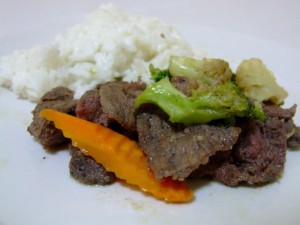 What does beef tapa taste like
It's marinated in vinegar and pepper with garlic. It is perhaps one of the most flavorsome of Filipino dishes with a rich appetizing smell. It's usually accompanied with a few vegetables either mixed in or more commonly to the side.
Where to find beef tapa
It's usually found in canteens and is really quite nice to try. It's widely available in supermarkets and for those with access to kitchens it's easy and fast to cook.
There's no over powering sauce nor heavy seasoning.  It usually costs around 35 pesos for a small side plate.
This is an additional post and one of a series highlighting Great food from the Philippines