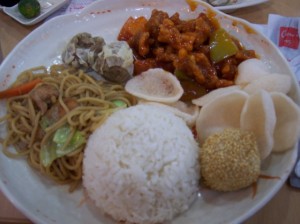 Chicken Lauriat from Chow King
So fast food may not be deemed as great in the rest of the world. But, in the Philippines it's becoming a mainstay of city life. It's not surprising to find huge groups celebrating birthdays, anniversaries or mini conferences in fast food restaurants here.
For the traveler hopping into a fast food restaurant in the Philippines is easy, but the menu's are huge. Chow King is a favorite of mine as it gives good value and big plates. The service is also quite good.
The photograph above is a Chicken Lauriat. There are lots of Lauriats but this one gave most bang for your peso. Two siomai, rice, noodles with veg (pansit), chicken, prawn crackers and a sesame sweet paste ball thingy (buchi) all for about 109 pesos.
Never had a stomach problem here either!
While it's not street food, it's local in the Pinoy sense. And, it's great value along with being very tasty!
This is an additional post and one of a series highlighting Food from the Philippines