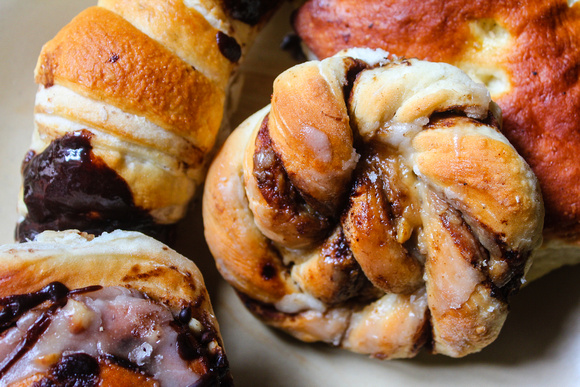 Bakeries, pastries, cakes and sticky buns in Nepal
Anywhere in Nepal where there are tourists you are sure to find a huge range of bakeries. Everything from double chocolate cake with walnuts to fresh buttered croissants are available fresh everyday. And they are really good either first thing in the morning or at a bargain price at night.
Why are bakeries so popular in Nepal?
Where there are tourists looking for tasty treats you will find bakeries. Picture yourself coming back from a long trek in the Himalayas, you'd like to treat yourself to something nice. Cakes and pastries generally do the trick!
History of bakeries and cakes in Nepal
This is debatable. But legend has it everything started with a Swiss expat who created the first Swiss bakery selling pastries and buns during the hippie era of Nepali tourism.
I've had this legend challenged by a Dutch bakery in Pokhara and a rather famous one in Kathmandu who tell me it was an English Army camp who first began baking pastries in Nepal.
What are the best pastries and cakes to eat in Nepal
Apple strudel (Apples are plentiful in Nepal), Apple pie and Apple just about everything. After that cinnamon raisin buns are quite good. And lastly chocolate cake but it can be a bit hit and miss.
What pastries to avoid?
Generally speaking bread is a bit of let down in Nepal aside from Tibetan bread. As are cookies. They look great but really don't taste of much. Pizza breads are okay but not always that safe unless eaten fresh.
Baguettes are the latest craze to hit the streets of Kathmandu. At the moment they are good, but get them while hot as they go stale by the next day.
There are some new flavored cakes like black forest and mocha which are hit and miss. Chocolate croissants are a constant let down no matter how good they look!
Where are the best bakeries to buy pastries and cakes in Nepal?
In all the time I've spent in Nepal I have to say there is no one place. Each bakery seems to have its own specialty and there are so many of them opening and closing it's kind of crazy.
Pumpernickle bakery in Thamel, Kathmandu is perhaps the most famous. Tourists flock to it for breakfast so it's often crowded. It's expensive compared to others too.
Roadhouse in Thamel can have a nice pricey selection too where you can usually find a nice seat.
Flat Iron Grill in Mandala Street started making Baguettes in 2018, let's see how long they last!
There are a few less pricey options on the corner of Mandala street in Kathmandu.
The Bakery & Weizen Bakery offer some of the widest selections.
For the best in cakes walk down to Freak Street in Kathmandu and locate The Snowman cafe – the apple crumble is amazing!
Finally just down the street from Sam's bar is a little bakery beside a DVD store which is about the cheapest and best in terms of pastries.
In Pokhara try out the Swiss bakery along lakeside.
Half price pastries and cakes in Nepal!
Many bakeries offer half price pastries, cakes and breads at night. Generally starting at 8.30pm – 9pm you'll see signs offering the unsold cakes of the day at half price.
This is a great old school tradition from bakeries of yesteryear. Also a good reason for an evening stroll whilst picking up some bargain goodies along the way!
This is an additional article featuring food from Nepal. 
Find out the best places to eat in Kathmandu:
Looking for restaurants and places to eat great food in the rest of Nepal? Check out my guidebook below!
---
Get my Guidebook to Nepal & discover more than anyone else!
Looking for more insider tips and information like this? Get the most up-to-date, popular and dedicated guidebook to Nepal in the world. Over 617 pages & 984+ photographs of every temple listed, daily guides on all the treks listed and so much more.
Take a look below and you'll find out why this beats all other guidebooks!