The best guidebook for Heritage Walks in Kathmandu Valley
This Heritage Walks in The Kathmandu Valley book has been a private project of mine for over ten years. Mapping out and creating some of the best original heritage walks in Kathmandu. Since I began publishing guidebooks to Nepal, I've always included heritage walks. This book goes far beyond anything else out there.
The feedback and reviews about my guidebooks has been overwhelmingly positive. Heritage has also been a personal passion if mine. As such, I wanted to create something special to help the world enjoy Kathmandu's incredible heritage with easy to navigate, exciting, knowledgeable and fun heritage walks.
This book has been a massive undertaking over the past few years and especially over the past year. The research, mapping, creation and piecing together of original heritage walks has never been done on this scale before.
Written to help you discover and rediscover heritage in Kathmandu. There are not just 28 original walks in this book – every temple, shrine and monument along these routes has also been photographed with their details, stories and legends written up and mapped.
Every walk has been designed so you can adapt it to your own liking and preferences.
For those that really want to see everything, I've also created 20 additional "extension walks" so you really can explore everywhere!
For anyone who visits Kathmandu, I've also created the first ever "heritage links" to help guide you around Kathmandu with ease while also being able to visit these fantastic sites.
Never before has there been a book this comprehensive that makes everything easy for you to explore.
Personally, I've never liked the type of heritage walk or city walk that has you running around in circles trying to figure everything out as you go. I've purposely created the walks in this book so you never have to go over the same place more than once. There's something new around every corner in Kathmandu and you deserve to discover it in such a way.
What's more, if you want quick easy walks, I've included them here too!
What makes this book on Kathmandu Valley Heritage Walks so different?
Well, if you try to find any books on heritage in Nepal you will find less than a handful and anything else will likely be architecture based.
This book breaks the old mold. Not only has it got more walks than any other, they are uniquely created to show you heritage in an interesting manner while uncovering little known secrets about Kathmandu few know about. This book is the most updated heritage book on Kathmandu Valley in the world.
Most travel guidebooks write about a heritage walk with a babble of lengthy boring paragraphs. In my own guidebooks I broke away from this by introducing new detailed heritage walks with photographs and easy to follow maps. Travelers liked them. Those were the foundation walks for this book. This guidebook goes more in-depth while still showing you where exactly you are standing, what's ahead, what short cuts to take and also shows you a photograph of every temple – so you really will know what to expect and where you are!
The research that went into this book was very ambitious. From stalwart historians like the late Mary Slusser and Lain Singh Bangdel to modern historians like John Child, Gotz Hagmuller and Niels Gutschow. I went all the way back to the drawings of Henry Ambrose and Father Giuseppe. Local Nepali knowledge filled in the gaps for the previously undocumented sites. I left no stone unturned and in the process made several great discoveries and rediscoveries which are all available to you in this book.
Maps of cities are usually confusing and the bane of most heritage books. If you've already read my other guidebooks then you'll know I cracked that problem several years back. That said, aside from the research, getting the maps right for this book was the most time consuming aspect. All the original maps here were created using GPS way-points, real time walking time estimates and pin point accuracy. Moreover, for intricate parts of the walks I've created diagrams to show you exactly where everything is, up close.  The maps and diagrams in this book are also scalable – meaning you can zoom right in!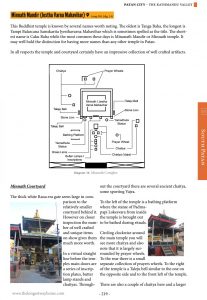 After the 2015 earthquake I began searching out more places that visitors to Kathmandu would enjoy. I searched out places beyond the usual "big attractions". There's so much more to the ancient cities of the Kathmandu Valley that had never been mapped properly nor ever had a heritage walk. They do now.
Commercial guidebooks and tour operators rarely explore new places. It costs money to research, write, promote and maintain. That's one of the reasons my own guidebooks to Nepal have excelled. I'm independent. I don't take sponsored trips, or accept payments to promote anything. I have a passion for heritage and travel in Nepal. I believe that when you come to Nepal that you should have the best, most honest, experience possible.
You deserve better than big brand guidebooks who can't dedicate to heritage like this and you certainly deserve more than a shiny laminated tour company map.
I've written a dedicated independent heritage book that delivers what heritage enthusiasts to the Kathmandu Valley will actually enjoy. Not just what a company has time to squeeze into their deadlines and profit margins by taking you around to the same old attractions. My guidebook to Kathmandu Valley Heritage Walks delivers to you the best walks that both help you rediscover old sites and discover new ones not written anywhere else.
Being an independent publisher means you can actually give people what they need and what they want – to make the most out of their visit to the Kathmandu Valley.
During the first draft walks, the feedback to my Kathmandu Valley Heritage Walks book has been overwhelmingly positive:
"I never knew there was so much to explore in Kathmandu – it was so easy with this book"

-Bethany, USA.
What this guidebook does for you:
Every walk contains photographs for every temple, shrine & monument on a walk which is then linked to their location on a map
Interactive digital maps & diagrams (you can zoom right in to every street or courtyard)
Cross compatibility means it's printable or can be used digitally (laptop, PC, tablet, or mobile)
Interactive elements (no more endless swiping on mobile or tablet)
The first ever book that links every heritage walk together for those who want to get around quickly
Unique extension walks for those who "must see everything"
The digital version works completely offline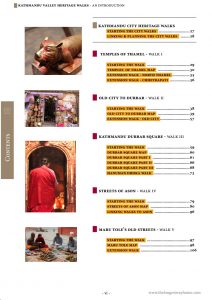 Table of contents: + 360 pages, 53 color maps, 20 diagrams over 1000 color photos
What's inside the guidebook for you:
28 original heritage walks including 10 in Kathmandu city alone plus, Kirtipur, Patan (north, south, east & west), Thimi, Bhaktapur (5 walks), Panauti, Dhulikhel and more
20 extension walks for those that want to explore everywhere.
Unique "linking" system so you can easily plan out a walk without wasting time or getting lost
Each walk has been given a grading for difficulty (1-3) plus walk distance in KM and average time duration
Every walk has been created so you can plan them out to visit other areas of Kathmandu by doing a heritage walk
Full color scalable maps and diagrams for every walk with the routes clearly planned out
Chapters on history, Nepali & Newari language plus practicalities to help you get the most out of your walk
360 color pages of personally researched & locally updated information
An original well researched heritage guidebook to the Kathmandu Valley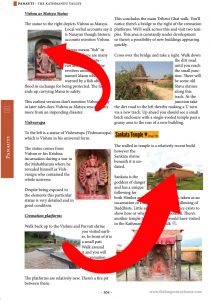 If you've already bought any of my guidebooks to Nepal then you'll know the high level of quality I guarantee. I'm well aware the internet is full of scraped together wikipedia style guides and word document style "travel guides". This is not the case here. I've researched, written, mapped, photographed and created every page in this book myself.
I've created these walks myself because I enjoy them and I know the people who've been on them with this book have found them exciting. I know what it's like to discover something new and amazing. With this book, you too can do just that.
This was an ambitious project … but it delivers something no other book has
Kathmandu Durbar Square is a relatively small area with a lot written about it already. This book shows you everything in the square including places not written anywhere else.
Moreover I've photographed them so you can decide if you want to see it, or give it a skip
Did you know that the entrance fee into Durbar Square is now a whopping great 1,000 rupees!  I've created over 5 other walks that link to Durbar Square which have no fees attached to them. This way, you can make the most out of your Durbar Square ticket.
I've also included an easy to follow walking trail with arrows in all the maps that have been GPS and physically cross referenced to ensure every site is where it should be!
Did you know that since 2015 I've kept all my guidebooks to Nepal updated with earthquake reconstruction progress. Furthermore, this guidebook brings you 100% genuine updates on destroyed buildings, those under reconstruction and those that have been rebuilt. This is your once in a life time trip to Nepal, you deserve to know what's under scaffolding and what's been completed!
I don't and have never accepted sponsored tours, hotel stays, meals or promotions. Everything I write in my books I pay for myself so you the reader can get the most honest view of Nepal.
Your visit to Kathmandu will be better with this book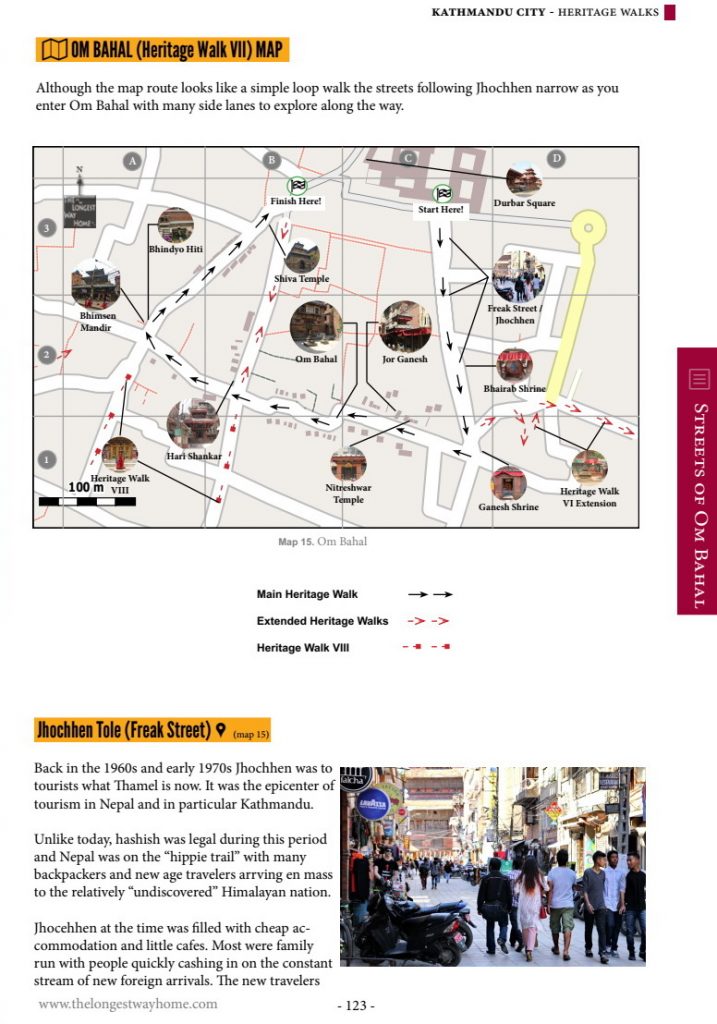 If you've been following me along here over the past 15 years then you know my modus operandi when it comes to writing both online and in my books. It's original, well researched, helpful, factual, truthful, enjoyable and honest every time.
I started writing my "insider" style guides to Nepal so that you can get the best experience – I've also listened to everyone's feedback over the years. It's resulted in the best free Nepal guides online. I then brought the best of these guides and a whole lot more to my Nepal guidebooks.
These have been a part of a great new generation of guidebooks that have helped people all over the world truly discover the real Nepal. These heritage walks are now the crowning jewels.
If you are still on the brink about buying this book then rest assured you won't be disappointed.
This book is not a "money maker". It's closer to being a passion project. That said, the work that went into it has been fairly epic even by my standards. This book does not contain hotel reviews or restaurant reviews. It is simply the best book on heritage walks in the Kathmandu Valley. Is you want a book with reviews, maps, travel plans and everything else including several shorter heritage walks then my full guidebook to Nepal is for you.
If you want to truly explore Kathmandu, then this book on Kathmandu Valley Heritage Walks is for you.
If you want both, then here's a 50% off deal on this book plus the full Nepal guidebook.
I'm also offering a 50% discount if you buy my Nepal guidebook along with this book.
This book on Kathmandu Valley Heritage Walks can be yours to own
This book has been written by a heritage enthusiast, tested by other heritage walkers LIVE on the trails of Kathmandu in 2021 with the very latest updates and is now available to everyone worldwide.
If you are going to Nepal and enjoy heritage and discovering new places not mentioned anywhere else then this is the best guidebook you can have.
Here are more details on The Kathmandu Valley Heritage Walks book
Get the digital Nepal Guidebook & Kathmandu Valley Heritage Walks book together (save 50%)
Get the paperback Nepal Guidebook & paperback Kathmandu Valley Heritage Walks book together (save 50%)