by Dave from The Longest Way Home ~ October 18th, 2018. Published in:
Travel blog
»
Nepal
.
The best restaurants to eat out in Kathmandu
Over the past 3 years restaurants in Kathmandu's culinary scene have improved dramatically. Previously I've not written much about them as they would come and go every year. The chefs would often leave to the middle east or to another restaurant. And to be frank, the standards were not always the best.
When electricity black outs stopped in 2016 both refrigeration and restaurants started to improve. Favorite restaurants upgraded their kitchens, improved cooking methods and a new breed of restaurants created by chefs trained both at home and overseas started to open.
Just like in my guidebook reviews every restaurant here was visited anonymously and independently. There are zero free or sponsored meals. I paid for every meal myself just like you, so we can all get an honest idea of what it's really like.
Awards are given per category based on a winner and a runner-up. For larger listings see my list of restaurants in Kathmandu.
Best Budget Restaurant in Kathmandu 2018
There are many good budget restaurants and cafes in Kathmandu. The trick is to avoid bad hygiene, eat where there are many people and avoid side of the road "street food". These simple precautions will help you avoid problems and enjoy some great food.
Yangling Tibetan Restaurant
They moved their famous restaurant in 2017 to Kaldera Chowk just outside Thamel but continue to serve up the best in buff momos anywhere in Kathmandu. The buff momos are meaty, fresh and so good.
Try the buff chili too – it's very different to anywhere else. It's a favorite for both tourists and locals alike. Evenings can get busy between 7-9pm so get there early! Other guidebooks mention their second new Thamel Restaurant, but that no longer exists since 2018!! They are only located in Kaldera Chowk in Paknajol!
Runner-up
Newa Momo
Nestled in a quiet side street is this husband and wife local restaurant. Don't be put off by the plain tables in the little room as the home cooked food is delicious and clean. Cheese and spinach momo along with potato momos reign supreme here.
Dessert? Try the banana chocolate momo! Otherwise look up at the wall menu and take your pick. Need something to your own taste? Just ask. Cooking classes are also also available.
Looking for more budget restaurants? Here's a full list of great cheap places to eat in Kathmandu.
Best Breakfast Restaurant in Kathmandu 2018
This is by far one of the toughest categories. Breakfasts in Kathmandu are usually very good.
Brezel Cafe
Brezel has been around for years. Their lovely open garden courtyard is pleasure to sit back in and take some morning sun. Bacon breakfasts are excellent with ample servings. Fresh fruit and yogurt (curd) bowls are also delicious.
There's a heap of options from croissants to pancakes and traditional Nepali breakfasts. The manager is always on site and the coffee is fresh.
Runner-up
Yala Cafe
A new cafe that opened in 2018 has hit the mark for many. It's small but again in a quiet location offering great value breakfasts with freshly ground Jalpa coffee. Eggs Benedict is their specialty but try the pancakes too.
The tiny courtyard is supplemented by a large breakfast room and friendly staff.
Still hungry? Here are more great breakfast restaurants in Kathmandu.
Best Lunch Restaurant in Kathmandu 2018
Lunch is not that easy in Kathmandu. Many people are out and about. Try your pick, but these are two top winners.
Places
It's a vegetarian restaurant but don't let that put you out if you are a meat lover. The vast and varied menu is one of the best in Nepal. Try a panner or cauliflower steak which is delicious.
More adventurous? Go with the Pumpkin, chili and chocolate momos. There's a low shoe-less area and a shoes on seated area that caters to all.
Runner-up
Gilingche
Another great older restaurant that serves up a good variety of meals fresh off the stove. It's by no means a high-end establishment but the Tibetan and Nepali dishes here are hard to find elsewhere.
Shitake mushrooms, thenduk and fresh broccoli side orders mean it offers a healthy quickly served meal in the afternoon.
Want more food? Here are more lunch restaurants in Kathmandu.
Best Dinner Restaurant in Kathmandu 2018
Another tough and close choice due the sheer improvement in quality over the years.
Third Eye
This fine Indian style restaurant has been one of the top restaurants on nearly every list for a decade. It closed during 2016 but renovated and reopened in 2017 with a fantastic little roof-top courtyard.
The service is great with well dressed and polite waiters. The menu offers curries that are full of flavor, kebabs full of meat and vegetarian dishes filled with crunchy good vegetables.
Runner-up
Rosemary Restaurant
It's rare to see a queue of people outside a restaurant in Kathmandu – Rosemary has one during peak season. Truth be told, Rosemary is great for breakfast, lunch and dinner with a solid menu that has dishes made to tantalize your taste buds served by friendly waiters. Rosemary Restaurant narrowly missed out on the top spot.
From Rosemary Chicken, to big steaks and great cheesecake. There's a happy hour for ice cold beers, an open courtyard and some friendly staff.
Want more choices? Here are more dinner restaurants in Kathmandu.
Overall best Restaurant in Kathmandu 2018
Drum roll. It was very hard decision to make. It was also a very close decision to make. However, the best overall restaurant award in 2018 goes to …
Third Eye
Third eye made it both near to the top of the best lunch and dinner restaurants and just pipped Rosemary to the winning line as its menu prices haven't risin as much. Third eye wins the overall best restaurant in Kathmandu award for the following. The menu is fresh, imaginative, reasonably priced and enjoyable to read. The food held a standard that topped most other restaurants in Kathmandu. If you have a palak panneer here on a Monday, it will taste just as good on a Wednesday – the kitchen is consistent, which is a major plus in Kathmandu.
The staff at Third Eye are well presented, polite and knowledgeable. The setting is clean, quiet and enjoyable. The food is fresh, good, consistent and tasty. You will be asked how you like your meal (spicy, not spicy etc) and it will come out like that. Virtually, made to order.
How to be the best Restaurant in Kathmandu & what to look for in a restaurant in Nepal?
Staff changing every year is one of the biggest issues with a restaurant in Kathmandu. They either go overseas looking for better salaries or are left go during the quiet seasons. It's a shame because a chef is key to having the best restaurant and meals. Moreover, restaurants keep closing and opening in Kathmandu on a near yearly basis mainly thanks to high rents.
Hygiene improvements are a must. Many good places to eat have cleanliness issues. From dirty table cloths to kitchens that may never have seen disinfectant. A good manager should inspect multiple times a day. And, a good customer should do the same before sitting down!
Pricing! Don't cheat the customers. Include the taxes and services charges in the menu prices. Stop overcharging. Reputations are at stake and reviews are on going.
I'm sure because of this, the above list in 2019 will change.
More great Kathmandu restaurants
The above best restaurants are from my own personal taste. Perhaps yours are different, or as mentioned perhaps a sudden change in staff when you dine out has lowered the standard of meals.
For a larger selection of restaurants do check out the following:
For even larger listings of restaurants and reviews across Kathmandu and all of Nepal do see my guidebook below.
---
Get my Guidebooks to Nepal & discover more than anyone else!
Looking for more insider tips and information like this? Get the most up-to-date, popular and dedicated guidebook to Nepal in the world. Over 550 pages & 900+ photographs of every temple listed, daily guides on all the treks listed and so much more.
Take a look below and you'll find out why this beats all other guidebooks!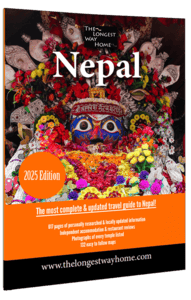 Or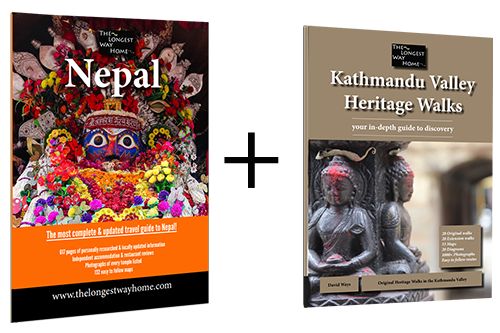 You can get 50% off my Nepal guidebook by getting it with the Kathmandu Valley Heritage Walk book
---
---