Buddha's Birthday is known as Buddha Purnima or Buddha Jayanti in Nepal
Buddha's birthday falls on different days across the world due to differing Asian calendars. Usually, it falls in April or May. This always struck me as a bit strange, why does it keep changing? It's because many of the calendars are lunar based, so it goes with a new or full moon which does change. In 2020 Buddha Purnima was on May 7th which happened to be during the COVID-19 lockdown in Nepal.
Buddha, Prince Siddhartha Gautama, was born in Lumbini, Nepal between 563–480 BCE. There's some dispute over whether Lumbini at the time was in Nepal or India. Today it's very much in Nepal. Prince Siddhartha Gautama was raised in Shakya the capital of Kapilavastu, India. It was only after his death that he became known as the Buddha. Buddha Purnima is not only the celebration of the Buddha's birth but also his life and death.
Today both Hinduism and Buddhism are the main ways of life or "religions" in Nepal. Interestingly the Newari, who are the main or even founding ethnic group from Kathmandu blended the two religions into their own. Learn more about the ethnic people found in Nepal.
How is Buddha Purnima normally celebrated?
Normally Buddha's birthday is celebrated across Nepal. It's a national holiday though during lockdown not many people would be working anyway! Due to the holiday nearly all Buddhists would attend a blessing or prayer at a scared Buddhist site. In Kathmandu Boudhanath is usually the main venue. Here's a look at a previous Buddha Purnima in Boudhanath.
In local communities, many people would celebrate by gathering for candle lighting at their nearest Buddhist shrine or temple. For example, those near Chabahil (near Boudhanath) would celebrate at the stupa there instead of going up to Boudhanath. So no matter where you are, you'll discover local communities celebrating the birth, life, and death of the Buddha.
In Lumbini, the birthplace of the Buddha, people would visit the Maya Devi temple or exact birthplace of the Buddha. But also, many in rural areas would simply have a blessing at a small house shrine or community shrine.
How was Buddha Purnima celebrated during lockdown?
Nepal has enforced a strict lockdown due to the COVID-19 pandemic. As such large gatherings are not allowed. While many would think this would affect the celebration due to the nature of Buddhism it's not dampened people's feelings. Buddhism teaches, among other things, self-awareness, mindfulness of others, and inner peace.
Many Nepali this year celebrated Buddha Purnima at home with their families. They meditated and did what many people wish for today – thought of a better more peaceful world.
It's such thoughts that help the world unite today in improving our understanding and ability to cope with not being allowed outside or to gather. One thinks instead about peace and serenity by being self-aware.
My own perspective of Buddha in Nepal
I put a photograph of a Buddha statue on the cover of my book Kathmandu Valley Heritage Walks not because of Buddhism per se, but because of the historic unity that the Newar culture represents within the Kathmandu Valley. A blend of Hinduism and Buddhism along with an acceptance of all religions. For those wondering the statue sits in a Newari location which highlights the unity of the book.
However, it's always irked me that there's a constant tit for tat between India and Nepal over the birthplace of Buddha. The reality is Prince Siddhartha Gautama was born. The arguments over who owned the land where he was born should have long passed into history. Likewise where he was raised. The point is, he was the Buddha and if you believe in his teachings then get on with it and stop doing the one thing Buddha said not to do, argue or cause strife.
Lumbini itself would make a great starting point if they removed the entrance fee. Buddha again taught people to live a simple life where they have the necessities to be comfortable and no more. It's quite a set back to be charged access to such a sacred site only to see monks with big cameras, high-end mobile phones, and so forth.
My Guidebook to Nepal has better maps and information about Lumbini than any other guidebook. No other book went into this much effort in the past and I thought the place deserved more. I spent days mapping out the exact locations and information on every single monastery there. Where to stay and what else you can do. Yet, nobody in Lumbini seems to have made much of an effort to make the actual place feel "special".  It's usually the visitors to Lumbini that make their own special worth of a visit.
Personally, I enjoy the Buddhism of the Newari in the Kathmandu Valley who seem to have taken the teachings of main religions and blended them into harmony. It's one of my great pleasures to have written Kathmandu Valley Heritage Walks and included so many Buddhist sites and places that were previously never spoken about in the valley.
This Buddha Purnima was different but will it make a change?
As I've said previously when asked about my religion.
I believe in a little bit of everything
Those words have gotten me across the world through conflicts, strict religious areas, and strife.
Whether you believe in Buddhism or not, there's no doubt that many of the teachings the Buddha gave are honest and pure. There's no harm to believe in those things these days.
As people across the world sit in their homes, isolated, and in many cases alone, meditation has helped them. It's not my thing, but I won't shake my head at people who do it. Peace, harmony, and understanding. It's better than war, conflict, and confusion. The latter two seem to be what news headlines concentrate more on today than ever before.
I for one would like to read more about solutions, breakthroughs, and hope for tomorrow. So today, that's what I've done. I've opened up news sites and looked for the positive instead of negative. And it's there, you just have to look for it between the conflict and confusion.
The world feels like a better place when you find this type of news. And, that's my Buddha Purnima this year.
Buddha Purnima will be celebrated in Nepal on the 26th of May 2021.
Let's make it so that it will be a celebration both within and outside!
---
Get my Guidebooks to Nepal & discover more than anyone else!
Looking for more insider tips and information like this? Get the most up-to-date, popular and dedicated guidebook to Nepal in the world. Over 617 pages & 984+ photographs of every temple listed, daily guides on all the treks listed and so much more.
Take a look below and you'll find out why this beats all other guidebooks!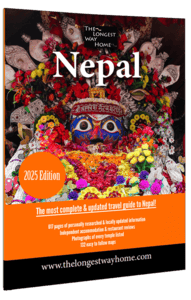 Or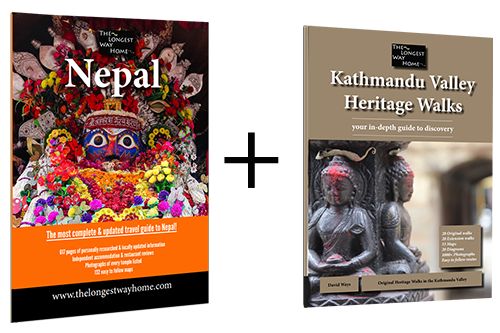 You can get 50% off my Nepal guidebook by getting it with the Kathmandu Valley Heritage Walk book