Travel Journal Overview: Thinking my time in Pokhara was over, I grabbed a bus for the capital Kathmandu. There was no way in my mind it was going to be better than Pokhara had been. My plan was simple, meet friends, see some sights, move on to Tibet. What happened over the next few weeks changed my journey completely.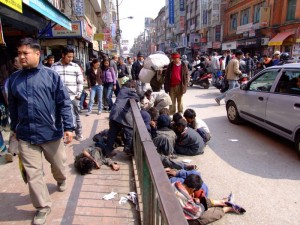 Can you build me a website?"
This was Narayan's big question to me as we watched the annual para gliding contest lakeside below. He was with his Babu (male baby) and I had a feeling I was not the only one he had asked in the past.
Trying to be practical I explained that if I did, if would take me a few months to be in a position to do this. I saw his eye drift away and was reminded of what some one once told me about Nepalese. They always want something from you, and once you give it, they forget about you. It was not something I believed was endemic to Nepalese, far from it. But it was one of those annoying things people say that sticks in your head.
In actual fact I have been to less well off countries and experienced a lot worse than I have in Nepal. If one looked around Nepal, and then tried to understand everyday life you can see the scale of poverty is not that of a starving African nation. It was of a country who's people are stuck between to power hungry rocks. India and China. What side will Nepal venture to, the worlds largest Democracy or the worlds largest Communist government. It is a poverty of a nations soul and moral incline. Their monarchy and self rule has failed. Now they are weighing up their future.
I spent my final days enjoying the sunshine and Shantaram on the Hotel Dharma Inn's rooftop. Kathmandu awaited, and with it came a more touristy offering. I looked at the pages of hotel recommendations in the LP. A short list was drawn up. The first one I called, Kathmandu Garden House had a ladies voice at the end of the line. She was clear, precise and was 400 for a private. I called another and it was a guy who took ages to even understand I wanted a room. I called the KTM G GH back and reserved with Sangi.
I needed to find a good guest house as I had Maeve and Alec coming to visit it me from there holidays in India. Maeve was a friend for many years, and was taking a RTW with her New Zealand boyfriend. They were in their 50's and I was worried that Kathmandu may not be there taste, my emails about come to Pokhara instead had gone unanswered.
Karenina the movie was not so special as the town itself, but it did give me time with Mamut and listen to his future plans of escaping to work overseas. I handed him the book "The Alchemist". I book which to me at the time was somewhat biblically written and although nice not so great. A book that still held an answer to one of my own problems.
I explained the concepts of the book to Mamut, and was surprised that he was taking it all in. He was a good little chap Mamut and I wondered if / when he would ever make it overseas if he would survive real life and people.
Chubby asked me if I would buy my ticket for Kathmandu from him, rather than go local. It was with Green line bus, Nepal's number one and most expensive company. He would get a free ticket for every 15 he sold. His honesty was such as he knew if he did no ask I would have gone with the cheaper, local option.
At 5 am I was up and Mamut had served me my last breakfast in Pokhara. I gave him some old clothes and a bag I no longer had room for, as always he was grateful.
The Green star bus was not so big from the outside. But it was spacious enough, and air conditioned. We were promised a 2pm arrival in Kathmandu, free water and buffet lunch. I sat back and watch the countryside whiz by. It was not so spectacular as the mountain trails, but then whatever could be?
The buffet lunch was good, a wide variety and plenty of it. Nepal knows how to look after tourists better than anywhere else I have been. The landscape was getting a little bit more industrial by about 1pm as we rounded a large corner that sported a big 'Welcome to Kathmandu' signboard.
We were still on course for a 2pm arrival when we ground to halt in what seemed like regular heavy traffic. Kathmandu was known for terrible traffic so I took it in my stride. Anyone whose taken buses in anywhere in the world will tell you though, get worried when the driver turns the engine off. Ours did.
Two hours ticked by. Some of us stood outside looking at the unmoving line of dense traffic. Only the occasional motorbike moved by along side the worrying stream of people traffic walking down the road.
"Dhere is a blockade, on dhe road." offered a middle aged French lady as she got off her phone.
She had been living in Kathmandu for years and said it was a fuel strike. And that the road was blocked until 5pm. There goes my hope of seeing Kathmandu today.
I thought about grabbing one of the passing by motorbikes and paying the driver to take me in. Two more French on board our bus shook there heads at me seriously.
"No no, it is not possible," said the bearded man. "It is Kathmandu, have you been 'ere before? Well the inner city roads, they are like… well they are too narrow even for a motorbike. It is simply not possible."
"And," Continued his English speaking French wife, "To be stuck in this traffic in this city, the streets, so narrow, a bad idea."
I though back to, Africa, Pakistan and even India on motorbikes. They were the given alternative the world over to escape traffic. Yet this was Nepal. Was it different? Kathmandu was old, and full of small streets. I imagined if the French had been there before they knew about the traffic too.
The French man scratched at his beard, "Do you know where you stay?"
I nodded, and decided to call Sangi at the KTM G GH. I explained what had happened and that I would be getting in late.
She was fluent in English, and a little concerned. "Oh, you got stuck in it then… You will not get here until tonight then."
I wondered why Chubby never told me about the fuel strike as Sangi talked on. "Is best to stay with the bus. And be careful eh?"
I thanked her and read between the lines. A blockade might mean angry drivers. I decided to stay. And stay we did another few hours until 6pm when the traffic started to move again, just as night began.
It was with luck that the French couple were staying nearby the KTM G GH, and once we were actually in Kathmandu I walked with them through the streets.
Kathmandu was quite. It was 7pm and although the streets had people, it was as if they had all packed up before and gone home. It was also cold. The Frenchman pointed out the best bank as we headed into the narrower lanes, his breath smoking in the cold air. I looked around and saw nothing of the super narrow streets that were impassable for a motorbike.
We entered Thames, the heart of tourist Kathmandu. Here there were bright lights from cafés and bars. Music thumped out of some spots and there were rickshaws trundling along the more crowed streets. The French man continued to point out the recommend guest houses, restaurants and bars as we turned a corner to our area call Paknajol.
Then it was dead. No lights, people, traffic or noise. It was as if the city had just dropped off the planet. Kathmandu was much larger than Pokhara so the nightly electricity rationing meant separating the the power cuts into different districts. The streets ahead were a pitch black as you could get. Heavy cloud sat above so the moon had little effect. A few passersby had torches but the city's walls seemed to absorb their light. This was of course the junction where the French couple said we need to part.
I took a right and they went straight. I fumbled for my pocket torch. I could see not street sign, nor shop sign clearly. Dark shadows brushed past. I was aware I had to keep moving, otherwise risk being picked up by a tout or chancer. I headed down a small hill, and knew it was a lost cause. I needed my map. I glanced at it and looked around, no markers no nothing.
I decided I would keep going until I reached the bottom of the hill. The LP attracted one attempt at trying to stop me from a local. I said I was fine and kept going. There was no phone coverage to call Sangi and ask which of the many side streets I should take. I stopped by a lifeless light pole and looked up at the various advertisements. Tibet Peace house. It wasn't KTM G GH but according to the map it was down the same road.
I took the right and walked up the pitch dark unpaved road. A primary school, the Tibet Peace house, the Yellow Guest house. The hill descended and I was in a narrow steep road. I continued on until I finally shone my little torch up at a small Kathmandu Garden Guest House sign.
One relief over, I now wondered what a guest house without directions or light would be like. I entered the empty reception and was greeted by a well built Nepalese, Madu. He gave me a big smile and a warm Nepalese welcome. My room was ready, and fairly nice. Not as big as in Pokhara, but clean and with hot water.
After a brief bit of unpacking I headed down to see what food was on offer. There were two French girls sitting by a gas Super Sir Heater. I also noted that since the girls were around, I received a lot less attention from Madu.
My questions about the blockade went largely unanswered. I asked for a menu and ordered a beer. An early night would be better, it looked like the city closed up shop in the evenings.
Sangi arrived just as my steak did. This saw Madu dissatisfy away from the French girls and back behind reception. Sangi was a tiny Nepalese lady in her late 30's with long black hair and a great smile. She was also full of life and questions about my journey here. It didn't take long before were all huddled around the gas fire. Kathmandu was certainly colder than Pokhara.
The two French girls came to life around Sangi too. Stephi wore a heavy brown overcoat that swallowed her little frame. Only her dark hair and bright face were exposed, and even with a profile view beside me I could see she had one of those amazing smiles. Monique was taller, with long straight lighter brown hair as she sat further down the row of seat from me I could see her face more clearly. She had an elegant look. Very French. But she smiled at lot too, and with that came a more down to earth laugh.
They offer me advice on what to do with Maeve and Alec in Kathmandu. It was all the same advice, go to Durbar Square, take them shopping, go on a trek, how long are they staying?
The latter question was the only thing I could remember, one week. They would only have one week in a city I knew nothing about. I knew Alec was easy to handle, it was Maeve who would give me a tongue lashing if I didn't have a plan for them here. I need to sleep on it to come up with a plan.
Some related links on this website that  you might like: (including a lot more photographs from Nepal)
Stories: Talika the twelve year old miner from Nepal
Stories: NGO's in Nepal & Developing Countries
Resources: How to Guide – Nepal to Tibet Overland
Resources: How to hire a guide in Nepal
---
Get the best guidebook to Nepal!
---
Liked this page? You'll love my guidebook to Nepal! I cover all of the Kathmandu Valley, Bardia, Chitwan, Lumbini, Everest Base Camp, Annapurna Circuit, Annapurna Base Camp, Mardi Himal, Ghorepani Poon Hill, Dhampus plus side treks to Gokyo and Tilicho Lakes. With day-by-day detail trekking details along with photos of what to expect, extensive preparation chapters, budgets, where to find a trekking guide plus hotel reviews, restaurant reviews, places other guidebooks don't even mention, costs & much more!
It's only guidebook to Nepal with color maps that you zoom right in with!
The book can be read on tablets, laptops or mobile devices & is printable. Quite honestly this will help you more than any other guidebook to get the most out of trekking Nepal.