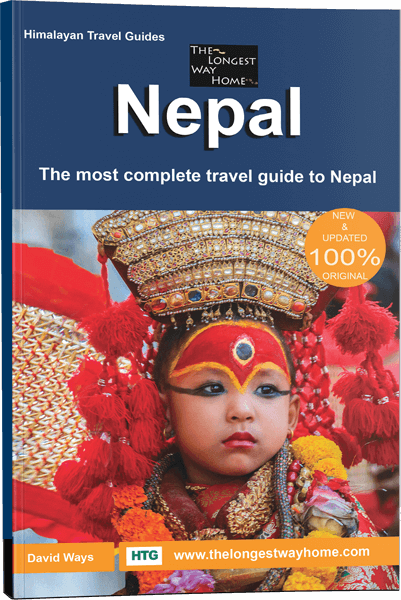 The best guidebook to Nepal is once again available in paperback format!
Wow, we did it again! We beat the pandemic and the global lockdowns attempts at derailing our print guidebooks. There's a new print edition out. It's now the only guidebook to Nepal in the world that's been updated and published during the pandemic.
The last edition of Nepal Guidebook paperback edition came out in 2019. The previous one had completely sold out. 2019 seemed like a great year to have a second edition and it was doing so well. Then came the COVID-19 pandemic. And, like many others, everything stopped. Including the Nepali post office for international post. The only way we could ship the books was via DHL. Then that stopped too.
International shipping goes belly up … unless you are rich
A few weeks ago I got an order. We had the books, we contacted DHL to come and pick them up only to be told the price for shipping them had tripled! Why? They had transferred their airline route from Kathmandu to Dubai from Bangkok and Singapore as cargo flights were too irregular. No more books could be shipped unless we could pay an extra USD $55 per book!
Considering that was on top of the book price there is no way I could justify charging anyone that much for a paperback guidebook. Besides, most of the cost would be going to a courier, not the person who wrote the book or those who printed it. For those that aren't aware, the profit margins in print publishing are insanely low. So low, I wish people just bought digital copies as most of the money customers pay for print books goes on shipping and printing.  As you may know, I went ahead and updated my digital version of the Nepal Guidebook a couple of weeks ago.
I then buried my head in my hands and wondered what to do about the paperback edition. Not just that one, but others too. One of the whole purposes of printing in Nepal was giving back to Nepali people. It was after all the only guidebook made and printed in Nepal. For me, it just had a feel good factor. Even if my profit per book wouldn't even buy a candy bar, at least the publishing staff had a job. What to do?
People still want print books
I like print books. I'm really used to my digital guidebooks too. I use them for researching out in the field and when taking notes. It does take a while it get used to digital books, but when you do they just work well. When I first published, it was in digital format. However soon after came requests for paperback versions. So, Himalayan Travel Guides in Nepal became the publisher and the Nepal paperback book was then published in paperback format. So too was the second edition and Kathmandu Valley Heritage Walks.
You'd think that the majority of people buying paperback guidebooks would be an older type of traveler. That's true at the outset. But I've been doing this a while now. There is another type of traveler who wants paperback books. This type of traveler is only what I can call an immersive traveler or someone who wants to make the most out of their holiday. They tend to want a paper book to go through everything personally, comfortably, and with time. You also don't have to worry about running out of battery with a paper book. It's a paper book in hand I'm glad to say my books are more detailed than any others out there.
For those wondering about who doesn't seem to want print books these days. Travelers only going for a short stay with a group of friends are the typical demographic. Travel budget doesn't seem to matter. What does is that generally they like TripAdvisor, quick reads, and a lot of socializing/partying. These are the same type of travelers who copy and paste from Wikipedia,  use a lot of social media, and quite often meet at least one person who does have a guidebook somewhere to source all their info from. They tend to hook up with others to guide them when they arrive. There's nothing wrong with any of this per se, but I do feel they miss out on a lot and they do seem to be trying to getting something for free quite often. I couldn't resist a little quip there after seeing numerous people "borrow" my guidebooks from hotel lobbies without returning them.
The bottom line is: people who want to get the most out of their trip to Nepal and like to research where they are going tend to value a print guidebook a bit more
For everyone else, there's digital Nepal guidebooks that are always up to date.
The challenge of the third edition
Wow, what an experience all over again. It's mind-boggling to take into account the amount of formatting a book needs. A digital book is a completely different format to a paperback book in Nepal which is a completely different format to worldwide printing presses. I put my head to work trying to get it all together.
Aside from completely rejigging the format, I had the choice of redoing the 2019 book or updating to the 2021 version (same as the digital). It was a no-brainer. The book needed to be updated with the very latest information. This includes the latest COVID-19 entry requirements plus what businesses have remained open. Aside from that side of things the new edition also has about 100 new pages of new locations. Yes, the paperback and digital versions have the exact same content however the paperback does have the additional bonus of duel maps – more on that shortly.
When I say this is the best guidebook to Nepal in the world, I mean it!
I have the support of my publisher Himalayan Map House, which means I had the Great Himalayan Trail maps which could be included in this edition of the book. While they worked on that side of things my fear was that the maps would not be clear with the new printing presses. Moreover, it took countless hours, that turned into days, that turned into nearly two months of uploading to get all this to work. Not to mention find the right printing presses to do all this!
Success comes from perseverance
Last week the first draft copy arrived! I choose the same cover photo that the 2019 edition had. I just felt it was a great photo that people liked, and it would do justice to the 2nd edition which never got a fair shot due to the pandemic. So, the Kumari is on the front of the 3rd edition paperback – which is the exact same content as the 2021 digital version. There's a small motion blur on her jewelry, but that was in the original too so I just kept it!
Of course, nothing goes without a hic-up, and all week I've been tweaking things. The pandemic means that nearly every business likes to say "we are short-staffed so wait times may be longer than usual". I've heard that so much the past two weeks that I'm wondering if there's anyone working out there anymore.
Even yesterday I was thinking "it's the end of the month, let's wait until April to launch it". But with these "wait times" it may have ended up delaying or canceling the whole project so I just said, "GO!" Good thing too, it seems like despite being updated to the 3rd week of March, booksellers are listing it as being March 14th, 2021 which is when I first uploaded the cover…. Anyway, we'll know better next time!
The only guidebook updated and published during the pandemic & the last remaining truly independent guidebook to Nepal
There's nobody else out there who writes and publishes independent guidebooks to Nepal. The other big guidebook names have all been taken over by large media companies. During the pandemic, they permanently closed the majority of their offices including their headquarters and fired their writers.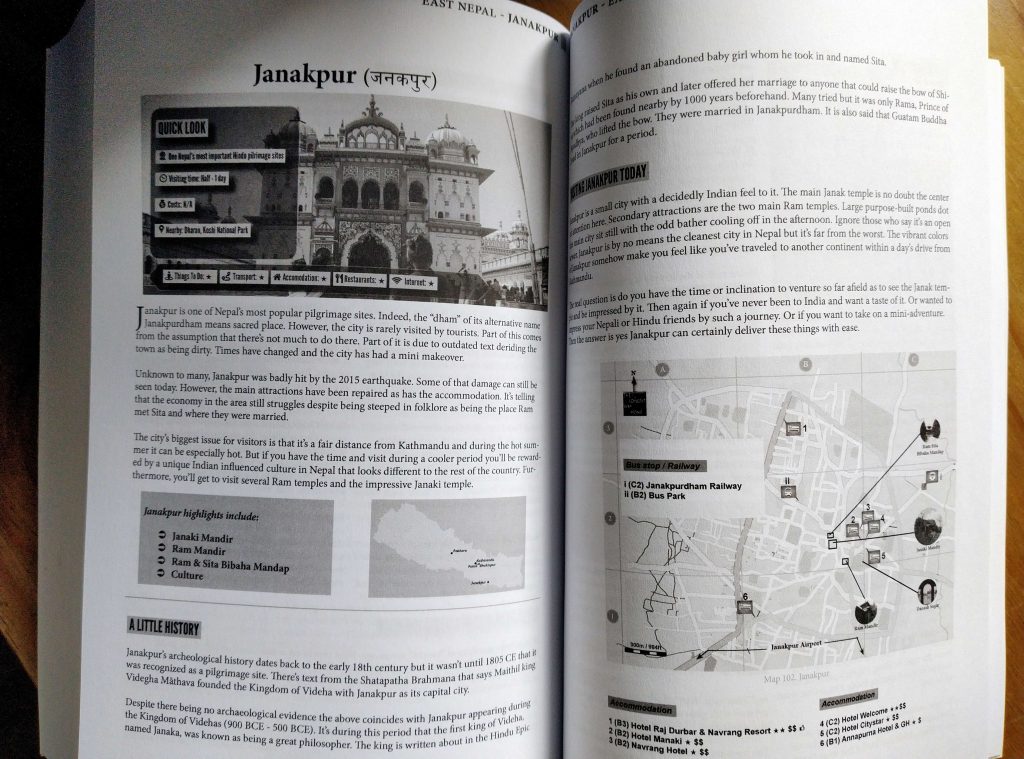 They also plan to update their books using online algorithms. Finally, they'll be launching their own branded tours who will use other companies to fulfill them. There's is nothing good about this for anyone except their pockets. It's a pure big corporate business with nothing for local people not to mention tourists.
All of this means this guidebook is the last remaining fully independent guidebook to Nepal in the world. It's also the last impartial guidebook to Nepal. I don't and never have accepted free stays, trips, treks, meals, or such. What you get with this book is exactly how I experience things traveling Nepal which in turn is just like you'll likely experience things.
I don't think there's a better way to write a travel guidebook than by actually traveling the country you write about!
The 3rd edition of the Nepal Guidebook has arrived
Unlike the previous edition of the paperback guidebook, this one comes from international printing presses. It means there are a lot more postal options available to you. It also lowers the cost greatly for customers depending on how fast they want the book! For anyone wondering, yes the print edition will also continue on in Nepal. It's basically about waiting for companies like DHL to resume normal priced services again and for the Nepali post office to resume international shipping again.
I really had to make a business decision and eliminate them if they were not going to provide a proper service to both customers and indeed me or the local publisher. So in keeping with helping to employ local people directly Himalayan Map House and all the staff there came together to get this current book out. So nobody has lost a job and we all worked together on this book.
The only downside in all this is that the book is larger than the previous edition. The international printing presses don't carry thin paper, so the book is thicker. There's also the extra 100 pages of new places to explore too. The print quality is excellent. It will also be available from all major online retailers. However, it's better for us if you order a copy directly from the printing press / this website. It cuts out the middleman so to speak and should make it cheaper to purchase for you.
So now, we have guidebooks to Nepal that anyone in the world can get in both print and digital! That's a positive move in a world that seems to be standing still at the moment. It's also been one of my approaches in life. When everything goes against you. When people take your world away. Keep fighting harder. Use the negativity to fuel you forward. You can make something better happen!
Where can you get a print copy?
You can order a copy of the Nepal Guidebook in paperback directly from the printing press right here. Depending on where you live in the world there will be different shipping options from regular mail, to tracked mail to express delivery. For anyone living in areas where the postal service is not so great, I would recommend tracked or express options to make sure you get your copy.
The book is also shipping out to major retailers like Amazon.com, Amazon.co.uk, Barnes & Noble, etc. But it might take a while for the copies to arrive there. Again, the best option is to buy it direct from the printing press on Lulu here.
All books are sent by the printing press itself when you order. Any questions, just send me an email. Unlike other guidebook publishers out there, I'm human, and this is the most up-to-date guidebook to Nepal in the world!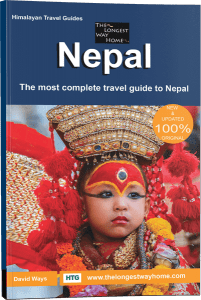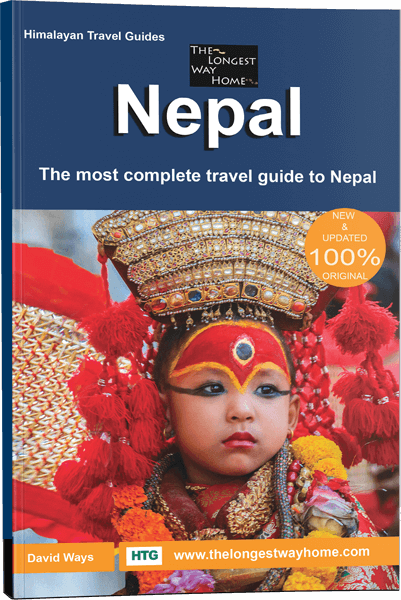 Buy it now
I'll be writing up a fully detailed article on the book specifics themselves over the next week, this post was to give you an inside look at what went into the making of this book!
For more details and to order now see – Nepal guidebook (paperback edition).