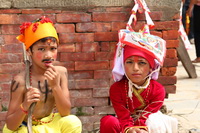 Given the year, the 2015 Gai Jatra (Gaijatra / Sa Paru) festival in Nepal is perhaps one of the most meaningful events of the year for many families who lost loved ones.

The festival has a long history dating back further than its 17th century modern day interpretation.

The mean of Gai Jatra is literally – Gai – "Cow" and Jatra – "Festival".
So what do cows and the celebration of death have to do with each other. And why is it a festival?! Read on to discover more about this amazing festival in Nepal.
History of Gai Jatra
Firstly, the cow is revered deeply in Hinduism. The cow is a symbol of the Earth. It gives and feeds which represents life and the support of life. Hence a festival dedicated to cows.
Lost in the annals of history it is said the people of the Kathmandu Valley worshiped Yamaraj (Yama), the Hindu "lord of death" on this day.
During King Pratap Malla's reign 1641 – 1664 his family were stuck by a tragedy when his son died. The king's wife was grief stricken and inconsolable.  Distressed by his wife's grief the king tried to cheer her up but failed at every attempt to make her smile.
At his wits end the king finally offer a reward to anyone who could make his wife smile again.
During Gai Jatra festival when the cow procession was passing my the window of 33 virtues in Kathmandu Durbar square a group of boisterous performers shocked everyone.
The group began ridiculing and mocking the rich, members of high society. While at the same time they highlighted the plight of the poor. They then showed the injustices within society with no mercy spared.
The queen erupted into laughter!
King Pratap Malla then ordered that laughter, jokes, satire and mockery should be included in the Gai Jatra festival from then on.
Tradition then took foot and people who lost a family during the year would take part in the festival by leading a cow along the precession. If no cow is available then a young boy is used as a substitute.
Gai Jatra today in the Kathmandu Valley
Gai Jatra is still celebrated every year in several cities within the Kathmandu Valley. It's usually celebrated on the first day of Bhadra month of the Lunar calendar. In other words at the end / start of August / September.

In 2015 Gai Jatra was celebrated on August 30th.The primary location for the festival is Kathmandu city. As this is where much of it originated from. A procession is lead through Durbar Square and several other localised areas within the city.
In Bhaktapur the procession includes decorated chariots which display photographs of those that passed away during the year. Men also dress as women and dance with others along the streets.
In Patan Gai Jatra is celebrated similarly to Kathmandu but with less fanfare. If you don't like crowds this is a better option. Gai Jatra in Kirtipur is celebrated a little differently due to a merging of several beliefs.

In Kirtipur it is said that the gates of heaven open up on this day. People dress as Hindu gods rather than cows and dance along the streets. People are encourage to knock on neighbors doors and invite them to come out and dance with them.
The Kathmandu Gai Jatra Festival
Gai Jatra this year in Kathmandu started at 8am in Basantapur (Kathmandu Durbar Square).
It follows a short parade style route going from
Basantapur (Hanumandhoka)-Maru-Jaisidewal-Lagan-Gokhal-Brhmatole-Onde-Hyumat-Jaisidewal-Kohiti-Bhimsensthan-Maru
Maru-Pyaphal-Naradevi-Bangemuda-Asan-Kamalakshi-Bhotahity-Asan-Indrachowk-Hanumandhoka
Up at 5am I was at Basantapur (Kathmandu Durbar Square) by 6am. Rather shockingly the ticket counters were open early to charge tourists  750 rupees on a national holiday – bit cheeky that. More in the coming weeks.

Nevertheless Kathmandu Durbar square was still relatively quiet, but busier than usual as tents were set up to provide water for the mornings activites.

I do advise anyone who does not like crowds to come early. Find a quiet spot on the northern section of Durbar Square and stay put. The southern section was very crowded as was the area around the window of virtues.
What's the Gai Jatra Festival like in Bhaktapur?
Bhaktapur takes on a much more colorful approach to Gai Jatra. It's also a lot more crowded.
Dancing and colorful characters perform around the three main squares. Durbar Square, Taumadhi Square and Dattatreya Square.
The festival kicks off at 10am and continues on for the afternoon. During the night dancing and music continues on in the squares for the whole week.

Though accommodation doesn't book out completely it does rise dramatically in price. Booking accommodating like this ahead of time is advisable.
What's the Gai Jatra Festival like in Patan?
Dancing and colorful figures surround Patan Durbar Square. While slightly more colorful than Kathmandu's Gai Jatra there's not much of a difference and it's harder to get a vantage point.
Do be prepared to join the jostling crowd here.
The festival takes place over two days. There's no need to stay in Patan as it's close to Kathmandu city.
What time does Gai Jatra start?
Kathmandu Gai Jatra: 8am – 11am
Bhaktapur Gai Jatra: 5am (10am is better) – 8pm (continues for a week every evening)
Patan Gai Jatra: 8am – 5pm
Tips and help to enjoy Gai Jatra in Nepal
In Kathmandu Sadhus were already gathering between 7-8am. A colorful bunch but very money oriented. Even looking at one with a camera will have them coming up asking for money.
Likewise street children are often found to be asking for money throughout the day. Do be careful giving money to either group as you could quickly be surrounded by many all looking for the same.
By 8 am people started arriving dressed in colorful attire.
Processions start at a trickle which is very nice for those that don't like crowds. Families walk through Durbar Squares in small groups.
People stand beside the procession and hand family members dressed up food (fruit, biscuits, sweets) and small denominations of money as they walk by.
It's perfectly fine to photograph people dressed up. Just don't block the middle of the walkway.
Don't expect any "offical" help from event organisers – local people will be your best source of information
It is very possible to make the festival in Kathmandu, Patan and Bhaktapur on the same day. But, you'll need to use a taxi if you wish to visit all three and spend time there.
Alternatively you could leave the Kathmandu Gai Jatra at between 10am-11am take a taxi to the bus park and then a bus to Bhaktapur to be there by 1pm.
Gai Jatra the nearly offical start to tourist season in Nepal
Gai Jatra's date changes by a few weeks every year. To me it's nearly always near the start of tourist season in Nepal (15th September). Do check out my list of festivals in Nepal for more.
Gai Jatra is a festival steeped in history, color, remembrance, celebration and pride.
If you are planning an early visit to Nepal it's a unique festival that's worth witnessing!
Gai Jatra dates:
Gari Jatra in 2015 was on August 30th 2015
Gari Jatra in 2016 was on August 19th 2016
Gari Jatra in 2017 is on August 8th 2017
---
Get my Kathmandu Valley Guidebook to learn more!
The most up-to-date, popular and dedicated guidebook to the Kathmandu Valley in the world. Take a look below and you'll find out why!