A day of color in Kathmandu, Nepal
I've celebrated many Holi festivals in Nepal. By far the most enjoyable place to enjoy it is Kathmandu city. Though physical reminders of the 2015 earthquake were ever present you would be difficult to see it from the smiles and cheers throughout the day.
Here is how the day of color unfolded in photographs!
Go to Durbar Square!
Kathmandu Durbar Square (Basantapur) is THE place to go to celebrate with thousands of others. Music sometimes plays (modern) while people dance and throw color at each other.
Holi is open to all to celebrate in all manner of color and face painting!
A slight blemish on a great day
This year it was shocking to see the authorities in Kathmandu Durbar Square try to charge tourists 1,000 rupee entrance fees during the public festival. Thankfully by 11.30 am they were too overwhelmed by locals and tourists parting to maintain any queues and thousands of people poured in to play Holi.
The celebrations normally start from 9am on to 3pm.
The brighter the color the better!
#PrinceHarry celebrates #Holi in #Lamjung school | https://t.co/p5T8z3yrZS pic.twitter.com/T2nnfWfbhv

— myRepública (@RepublicaNepal) March 23, 2016

Even Britain's Prince Harry came to Nepal and celebrated Holi!
Holi is an incredibly good-natured and respectful festival
If you don't want to be covered in color during Holi then people are amazingly respectful and will not throw color on you. But once you get covered, it's game on for complete coverage in as many colors as possible!
Holi is a festival to welcome in the spring. It's usually dry in Nepal during the festival but many people throw water that helps cool you down during the huge street parties.
It's a good idea to wear old clothes during Holi!
Expect lots of hugs, people touching your face to place color and lots of cheers (all in good nature).
Where to celebrate Holi in Kathmandu
The main street parties go from North Thamel all the way to Durbar square and throughout all the streets in Kathmandu city. All through Nepal there are celebrations no matter where you are (trekking areas usually don't celebrate that much).
Nepal is a country of colorful festivals but Holi is one of the greatest worth postponing your trek for a day just to experience.
Holi is a very good-natured festival suitable for all ages and people.
Alcohol, drugs or mischievous behavior is not a big factor in Holi. It's all about color and celebrating life!
Go out of your way to visit Nepal for Holi!
Blessings are made during Holi in villages and in Kathmandu Durbar Square. Bhaktapur, Patan and all the streets of the Valley are filled with color. Pokhara starts late but it's there too and if the Terai region Holi is for two days!
Holi is all about color and cheer. If you are planning a trip to Nepal it's worth taking a note about the dates Holi in Nepal is celebrated on!
---
Get my latest Kathmandu Valley Guidebook to learn more about Nepal!
The most up-to-date, popular and dedicated guidebook to the Kathmandu Valley in the world. Take a look below and you'll find out why!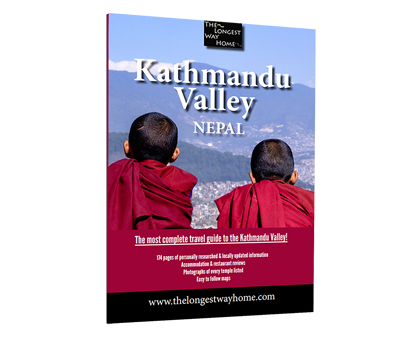 Find out more here!