How you can really help local people in Nepal
Many people ask me how they can "help Nepal" either before they go on holiday or when they are there. The local economy is generally where people feel they can help the most. Tourists often feel that they prefer their hard earned money to go directly to a local person rather than someone who is already quite well off.
Make no mistake: Hiring local people and buying their products directly helps them.
However, in recent years international and wealthy Nepali tour companies have moved into the "local economy" aspect of tourism to cash in on the "local" term. It's rather shameless. Such is the world today.
How to make sure your hard earned money goes to the right people in Nepal? Let's take a look at how you can avoid the cons and find out how you as a tourist can actually make a positive impact on real local peoples lives before and during your visit to Nepal.
Book with a local trekking company
Not all international trekking companies are bad! But they are more expensive. There are, unfortunately, some not so good ones too. Local trekking companies can provide an excellent service and often over-deliver in terms of the human aspect. Something so many of us seek when we travel.
Many of these local companies slip by unnoticed. They simply don't have the budget to advertise like the "big international" ones.
Big international tour company websites and booking online are good if you are stuck for time and want everything done ahead for you without really having to think about anything. That said, a local company can provide an equally good service if you give them a chance.
This "chance" is where you come in. Time is money. Donate your own time to some solid research to help local Nepali people by hiring them rather than an international tour company.
Local guides generally have a smaller online presence if any at all. They probably won't be able to offer credit card bookings online either. It's the start of your trust-to-trust with a local guide when making a booking.
It's the first step in touching base with another human on the other side of the planet who just like you is trying to make a living. It's one of the great experiences of visiting Nepal. It's a like stepping back in time when values were more important than a generic booking form.
If you want to book with a big company then take a look at these trekking and tour companies in Nepal.
If you want to hire a local trekking guide then read about how to hire a local guide in Nepal.
There are many local trekking guides featured in my Nepal guidebook.
Book your domestic plane and bus tickets in country
This one really annoys some repeat visitors to Nepal. But the fact remains that booking a bus or plane ticket via a local travel agent is easier than online. The companies offering online plane and bus bookings online usually process the credit card and paypal fees outside of Nepal due to banking regulations within the country.
Moreover, if a domestic flight gets canceled due to weather issues (common) a local travel agent can do all the ground work for you to reschedule or get your cash back while you actually make alternative plans for your day instead of trying to go online to book or queue for hours at the airport.
In five or so years Nepal's online booking systems will surely have improved and the banking systems may also allow local companies to function a bit better. But for now, do your booking with a local agent. Simply use a guidebook to find a recommend one.
Here's an example. Last year Nepal Airlines finally opened up online ticket buying. It works, mostly. However if you need to cancel or rebook there's a charge. However, if you book directly in person, there are no charges. Yes, Nepal still works that way for now.
The exception to pre-booking a ticket is perhaps a bus ticket. If you are backpacking you can pick one up for Pokhara and Chitwan on the morning you take a tourist bus. But to secure a ticket, pay the extra 100 rupees and have a local company book your seat a day or so beforehand.
Keep in mind bus tickets in Nepal rarely sell out.
Find out transport and getting around Nepal.
Stay in Nepali owned hotels
There are many international chain hotels starting to open up in Nepal. If that's what you prefer, then go for it. The international branded hotels hire local staff and in a way it helps the economy.
All the same, some portion of your money is leaving Nepal to the hotel chain. If you want to support Nepali businesses then stay in a Nepali owned hotel.
Many Nepali hotels offer the same standard as the international branded hotels. Some are even nicer (I'm thinking of the Newari boutique hotels) and offer a wonderful local service.
Do check out my list of accommodation in Kathmandu.
Pay cash for your hotel room rather than booking online
Booking a hotel online is the norm these days. Doing so for Nepal is no different. However it is important to note that companies like booking.com and Agoda take a hefty commission from 12% up to 23% from the local hotel. Ouch!
Here's my advice. If you've never been to Nepal before, book a hotel in Nepal online for your first one or two nights stay. After that, pay them in cash. It's not like other countries. You can literally pick up the phone and book a hotel in Nepal, no deposits or anything needed.
The money will go directly to the hotel and you may be able to negotiate a better rate too!
Do check out my hotel search for Nepal.
Be wary of "community homestays" and "homestays" in Nepal
These tourism buzzwords have had a terrible impact on genuine local people. It's a sad case we touched on earlier. Big tour companies capturing the buzz words and repackaging them into products.
Homestays in Nepal always existed. They were simply known has "family run guesthouses"  or tea houses – not so catchy but very genuine. Tour companies then came along and created "community homestays" with yet more buzz words to do with supporting the local economy etc. Sad but true. Bloggers have also been paid and offered free stays to promote them. Moreover, these communities now have paid organizations with managers and directors plus of course tax.
If you really want to experience a few nights in a local house then look to the places that aren't being promoted. Quite simply, locally run family guesthouses.
In my reviews of accommodation in Nepal I've had local families and local hotels tell me terrible stories of how they are being forced out of business or told to rebrand to "homestay" due to pressure from these big promotions. Meanwhile these "homestays" play the "you are helping communities" card to get a sympathetic ear. It's all rather sad.
Want to stay local? Stay in family run guesthouse or quite simply a locally run hotel – most are family owned. Most good guidebooks will list them. Likewise even online booking sites will have them written into the description. Truth be told, the real family run guesthouses will be a lot cheaper than the " community homestays" too.
Again, simply book online before arriving and try to find a family run guesthouse by doing a hotel search for Nepal. Then when you arrive it's as simple as walking down the road and you'll see a genuine guesthouse – it'll be the one without all the fancy signage.
Don't volunteer unless you are qualified
Volunteer scams in Nepal were uncovered years ago. From orphanage tourism to well funded NGOs and tour companies profiting on your donations for "good causes". The list is endless.
If you really want to volunteer, then read the article below. Stick with the international organizations listed there rather than that "awesome place doing great work" a friend of a friend worked at last year.
There's very little a volunteer can do other than have a "personal feel-good" moment in a week or a month compared to volunteering for a year or two in Nepal by making sustainable development a reality.
Keep in mind. Technically, if you volunteer on a tourist visa it is not legal as it is defined as work. Unpaid or paid it is not covered on a tourist visa. The big international organizations arrange business visas – there's a reason for that.
Many international and local organizations profit on the "personal feel-good" side to volunteering and simply ask for money for you to work there. Sustainable development is not a factor.
Want to help by volunteering? There are plenty of skilled Nepali who can teach or build houses. What's needed is sustainability. Try volunteering for 1-2 years though one of the organizations listed in the article below.
The volunteering aspect is cover here – volunteering in Nepal.
Pay for everything in cash
Nepal is still very much a cash economy. Credit card payments are possible in many hotels, restaurants and some shops. However, many local places don't have credit card machines. So, trust me that cash will come in handy.
Paying by credit card also means that you may be charged a commission on the transaction that goes straight to the bank and not the local business.
Nepal is a very safe country and carrying large wads of cash is still normal. Banks charge businesses for credit card machines so you may also get a discount by paying in cash!
Read more about restaurants in Kathmandu.
Where to buy souvenirs in Nepal.
Shop in local Nepali shops, stay in Nepali hotels and eat in Nepali restaurants
Since 2015 there has been an influx of Chinese run shops, restaurants and hotels in Nepal. It goes without saying, if you want to help the local economy then keep the money in the country.
For many years Nepali businesses complained about Indian business charging them too much. Now, the flip opposite has happened and wealthy Chinese business have opened up throughout Nepal.
The result? Chinese businesses are financing their own businesses to take over prime Nepali retail property that local businesses can no longer afford to rent.
Want to help a local? Make sure the shop, restaurant or hotel is Nepali owned.
Do read about the changes in Thamel.
Buy locally made products
Again, much like the above. Avoid purchasing products made overseas when you visit Nepal. Many "boutique" souvenir stores have opened up in Thamel and Pokhara selling cheap Chinese products. None of this helps the local economy.
There are still plenty of local Nepali souvenirs that are still made in Nepal. By buying Nepali souvenirs your money goes directly to the local economy.
Made in Nepal souvenirs include locally made Nepali clothing, wood carving, thangkas, artwork, stone sculptures,  paintings, metal work, jewelery, pottery, tea, coffee and spices.
Yes, many of the above may have parts imported. Gemstones for example. But if you ensure the craftwork is done locally then you are supporting local artisans. Many of these handicrafts are made in the Kathmandu Valley or the Terai region. So asides from helping the shop, you are also helping to keep people employed across the country.
Read more about where to buy souvenirs in Nepal.
Take a local heritage walk in Kathmandu and meet the locals!
It's not all about the money! Tour companies constantly rush tourists around heritage sites (overcharging them too) so you never really get to interact with locals.
Worse yet – due to large tour groups being led around Kathmandu many locals are tired at the constant groups blocking their way, staring at their shops, or taking photos of them as if they were on show.
By taking your own heritage walk you can get out onto the streets and actually meet the locals who live and work in Kathmandu. Moreover, you can eat, drink and get snacks in local shops along the way.
It seems ironic that by avoiding a walking tour you can help the local economy. But, many of these package tours are not special. These companies tend to lead people around the same sites, tell them who to buy from and little more.
The result is that local people see the large walking tour groups and grow a disdain to them. As an independently tourist you are touching base with independent Nepali people too. You'll eat where you want, buy from whoever you want and can have a talk with a local person about their lives.
The importance of giving a paid tour a skip is that you get to show locals that you are human too and not just another package tourist!
Read more about taking a heritage walk in Kathmandu.
Eat in Nepali owned restaurants
It goes without saying that eating in local Nepali owned restaurants rather than international chains or large national chains will help the local economy and people. While large international restaurant chains do not have a huge presence in Nepal they still exist. Larger national chain restaurants and coffee shops are becoming more prevalent.
Locally run independent restaurants have a great immediate impact on local people and the economy. It's incredible to look how staff purchase fresh produce from local markets, employ both local people and people from their village. Moreover the money earned stays in Nepal. While there's nothing wrong with having the occasional snack of famous fired chicken or trying out a popular Nepali coffee house it's also worth checking out locally owned restaurants in Kathmandu and some of the great coffee shops in Nepal.
Full reviews and ratings of restaurants throughout all of Nepal are listed in my guidebook to Nepal.
Support independent products & businesses
It's not just about buying "Nepali" either. There are many wealthy Nepali business, hotels chains, restaurants and trekking companies in Nepal. You may prefer to support an independent business or family run business rather than a big Nepali businesses.
It's a bit like buying a coffee in a big coffee chain back home versus buying a coffee at a locally run independent coffee shop! By supporting small businesses rather than the big chains you are supporting the local economy. The same thing is true in Nepal.
Much like in your own country there is a very large rich / poor divide in Nepal too.
In all my guidebooks I've made it a point to highlight both Nepali and local Nepali businesses. Yes, for those who like or want consistency – restaurant and hotel chains are in their too. But, there is something very nice about supporting a local business that enables them to flourish in among the big corporate style businesses!
Check out my guidebook to discover great local places in Nepal.
You can help the local economy in Nepal by simply supporting local businesses and people
The above should hopefully give you an idea on how and where to support the local economy in Nepal. By doing so your money goes directly into the everyday people of Nepals pockets.
Be it a coffee, a nights stay, a local trekking guide or piece of pottery. When you support local people in Nepal the locals benefit and there's a great feel-good factor for you too!
---
Get my Guidebooks to Nepal & discover more than anyone else!
Looking for more insider tips and information like this? Get the most up-to-date, popular and dedicated guidebook to Nepal in the world. Over 617 pages & 984+ photographs of every temple listed, daily guides on all the treks listed and so much more.
Take a look below and you'll find out why this beats all other guidebooks!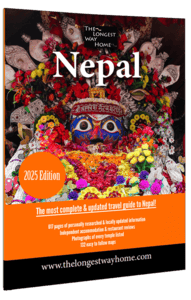 Or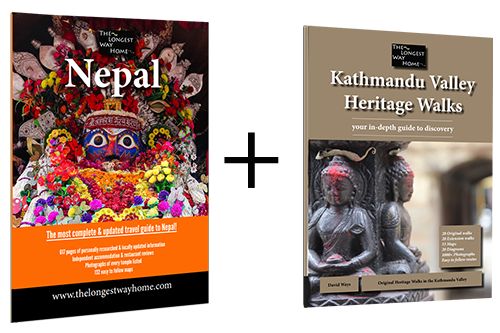 You can get 50% off my Nepal guidebook by getting it with the Kathmandu Valley Heritage Walk book