Today Nepal has received its first shipment of COVID-19 Vaccine
In an unexpected move of goodwill India has given Nepal its first shipment of COVID-19 vaccine. It arrived in the country on Thursday and will be used to vaccinate all of Nepal's health and front line staff.
The vaccine is called Covishield and is the same vaccine developed by Astrazeneca and the University of Oxford that the UK is currently using. It is being mass produced under license by the Serum Institute of India.
Nepal asks for 4 million more doses.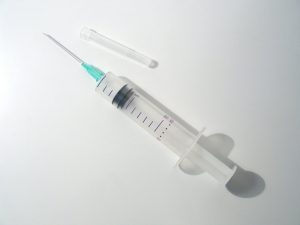 In another positive move it seems Nepal officials flew to India last week to ask for the vaccine which India is mass producing. Nepal has asked to purchase 4 million more doses. There's been no reply from India yet nor are the terms known.
What is known is that India will be supplying Bangladesh, Bhutan, Maldives, Myanmar, and the Seychelles from January 20.
Nepal hopes to have the donated vaccine distributed within 10 days.
Covishield can be kept at refrigerator temperature
Just over a month ago I wrote about when Nepal will be getting a vaccine. In the article I wrote that the Oxford-Astrazeneca vaccine would be the best choice for Nepal as it can be kept at refrigerator temperatures and is budget friendly compared to other vaccines. In securing the Oxford-Astrazeneca vaccine (Covishield) from India it's finally a positive move.
While many in Nepal are trying to put a political take on this, the reality is that India acquired the license and is mass producing the vaccine not just for Nepal but for itself and other nations.  It simply makes sense to use this vaccine rather than rely on expensive -70 degree stored vaccines, or a Chinese vaccine that has had some leaks saying it is only 50.4% effective.  Moreover, nobody yet knows any detailed scientific reports about the Chinese or Russian vaccines.
The current situation in Nepal
If you were to walk down a street in Kathmandu today you'll only notice a few things different compared to normal. No tourists and many closed shops. The mantra from many is that the virus not effecting Nepali people compared to others. The reality is that testing systems are not as effective compared to other nations and we don't know about the COVID-19 variants which have aided in its spread elsewhere.
Hopefully Nepal can begin a successful vaccination program while international lockdowns continue thereby preventing any highly contagious strains entering the country. All we'll have to do then is listen to several years of Nepali "stories" saying how they are "stronger" and "immune".
In all cases, this is positive news at a time when we all need it!
---
Get my Guidebooks to Nepal & discover more than anyone else!
Looking for more insider tips and information like this? Get the most up-to-date, popular and dedicated guidebook to Nepal in the world. Over 617 pages & 984+ photographs of every temple listed, daily guides on all the treks listed and so much more.
Take a look below and you'll find out why this beats all other guidebooks!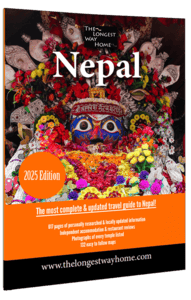 Or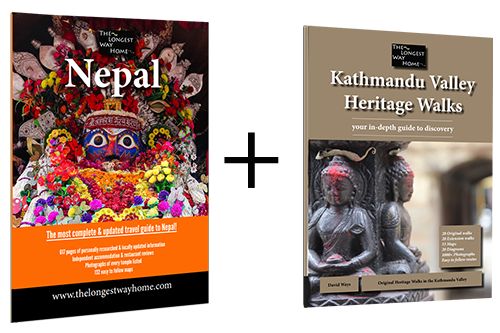 You can get 50% off my Nepal guidebook by getting it with the Kathmandu Valley Heritage Walk book