Can I visit Nepal this year?
Yes! Nepal is open to tourists!
Much of the tourist and trekking infrastructure is up and running again. Hotels and restaurants in the tourist quarter of Kathmandu known as Thamel are open, likewise in Patan and Bhaktapur, Pokhara, Lumbini and Chitwan. The latter were not even affected by the earthquake in April 2015.
Should you cancel your trek to Nepal this year?
I'm getting countless emails from people saying they don't know whether to cancel their trek to Nepal this year?
The only major treks closed are Langtang and Manaslu. All the other treks are open and running.
These include:
Annapurna Base Camp
Mardi Himal
They are all open! Here's a larger list of treks in Nepal to choose from.
Don't cancel. Contact the person or agency you booked with to confirm and that's it!
If you are looking for a recommended trekking guide contact me.
Are all the temples gone?
No! Big international media loves bad news because it sells. Yes, there were many temples destroyed in the earthquake but the majority of temples in the Kathmandu Valley are still standing!
Just this week the Tourism Recovery Committee (TRC) of Nepal announced that Kathmandu Durbar Square, Patan Durbar Square and Swayambhunath will all be fully open by June 15th (source).
Currently all areas in Kathmandu's old city, north south and west Patan along with Bhaktapur, Pashupatinath, Boudhanath are open to tourists.
and
Check out my updated guidebook to the Kathmandu Valley to read about them all.
Surely the Nepalese are too busy rebuilding to want tourists now?
8% of the Nepalese economy depends on tourists. The unofficial and more realistic figure is 25% of the population benefits from tourism. The clean up operation is already underway. People are going back to their daily lives.
Tourists are encouraged and very welcome back in Nepal.
This week the Academy award winning actress Susan Sarandon is visiting Nepal for a week.
Happy to be heading to Nepal to meet up w/ Pushpa & kids, @Drukpa & work with @LiveToLoveIntl! #KungFuNuns

— Susan Sarandon (@SusanSarandon) May 22, 2015
"It is important to emphasize that by the fall, when monsoon ends, people should make their reservations now if they want to help and they want to come and visit because it is very, very important to keep all these jobs alive," Sarandon said Sunday while inaugurating a campaign to build 201 huts for villagers outside of the capital, Kathmandu, who lost their homes in one of the earthquakes." (source)
There are no food or water shortages in the touristic areas. There are plenty of guides available and 80% of the hotels are empty. So yes, you'll be welcomed with arms wide open!
When is the best time to visit Nepal?
Personally speaking I recommend skipping the current monsoon season. Book ahead to September which is the start of the peak season. Right now it's the off season and the start of the monsoon summer. It gets hot and humid with heavy showers on the hottest of days.
June to late August is when the monsoon rains hit Nepal. The sky is heavy with clouds and daily outbreaks of heavy rain.
The peak tourist season is in the Autumn between September to late November. This is just after the monsoon season so the air is dry and clear. This is the perfect time for visiting Nepal if you are going trekking or culture sight seeing.
I've written up more on the best time to visit Nepal.
What about landslides and more earthquakes?
Landslides and earthquakes are nothing new to Nepal. Every year there are countless landslides in Nepal which never go reported in international media. This year because of the 7.8 earthquake big media is picking up anything negative to do with Nepal. Believe me when I say there will be landslides this monsoon season in Nepal.
There are landslides every monsoon season in Nepal – most of them get unreported by international media – this year will be different
This year Nepal was indeed hit by a devastating earthquake and many predicted aftershocks thereafter. Nepal, much like many countries around the world who suffer from natural disasters like hurricanes, typhoons, blizzards and flooding, has suffered. But Nepal is rebuilding.
Tourism is essential to Nepal's rebuilding.
Can I find a hotel? Or will there be restaurants open?
Yes! Without doubt. There is no hotel shortage or food shortage in Nepal. You will find a room in Nepal with no problem, just check out my hotel search in Nepal as an example.
As for food, yes there's plenty of food available. From dal bhat to big steaks, Mexican tacos to pizza and the ever favorite momos.
Again, while the remoter villages are rebuilding using earthquake resistant materials (source: BBC) as are many suburbs, the tourist infrastructure is still up and running.
Hotels have all been inspected since the earthquake and the last big aftershock. Unsafe buildings have been closed while safe hotels (90%) have been given green stickers and certificates indicating they are safe.
I don't want to see sad people in Nepal
I've not seen a sad face for a while. If you've not been to Nepal then it's hard to explain the nature of Nepalese people and their take on the disaster.
The Nepalese are not the type of people to sit and dwell on trouble. They are proactive in rebuilding the damage and in working within the tourisim industry.
What you will see are busy people going about their lives as they always have.
You will see buildings being reconstructed. Temples being restored. You will see woodcarvers, potters and stone masons at work like never before.
This is a time of rebuilding in Nepal. It's a time when Nepal needs visitors more than ever.
In many ways peak season this year will be a great time to visit Nepal as you will be witnessing an important historical moment as this characteristically warm nation rebuilds itself – much in part thanks to your your visit.
Should I feel guilty visiting Nepal so soon?
Why on earth would you feel guilty? By visiting so soon after the earthquake not only are you directly helping local businesses who are open and want your business. But you are also helping to spread the word through your friends and family that it is okay to visit Nepal.
This is not some form of "voyeuristic" or "disaster tourism". This is the type of cultural and outdoor tourism Nepal has been famous for the past decades and in future decades to come.
Tourism is a major part of Nepal's economy and helps the people of Nepal be self sufficient whilst stabilizes the country's economy.
Nepal needs tourists to visit as soon as possible.
Here's a letter from Nepal's Tourism Board asking people to visit Nepal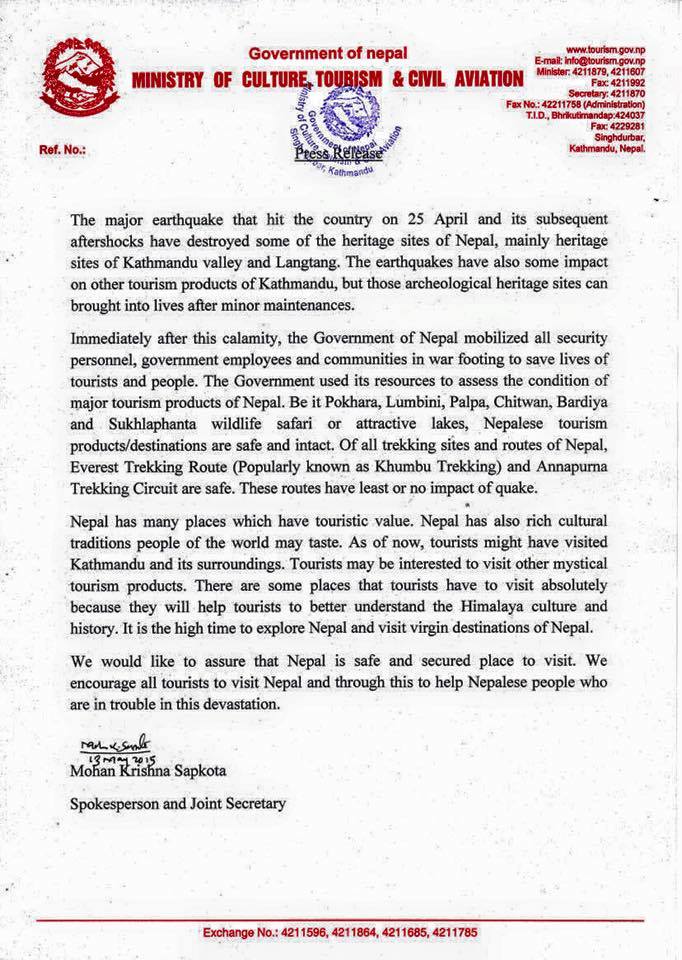 There's no need to feel guilty about visiting, in fact you should be proud about visiting!
Where can I avoid the disaster zones?
Gurkha, Langtang and remote villages have aid coming into them now and should be avoided in terms of tourism.
Meanwhile, Kathmandu, Bhaktapur, Patan, Chitwan, Bardia, Lumbini and Pokhara are all open to tourists and you will not be in any "disaster zone".
Pokhara still offers trekking, whitewater rafting, paragliding, microlight flights, boating and so much more. The Annapurna circuit trek is fully open. This includes Poon Hill and Annapurna Base Camp.
And yes, the Everest Base Camp Trek is open too. Here's my updated guide to Everest Base Camp which includes information on the teahouses along the trail.
Here's my updated list of treks in Nepal if you'd like to read more.
Chitwan and the jungles of Bardia are completely unaffected by the earthquake. Elephant sanctuaries, jungle treks, tiger spotting and so much more is all open!
Likewise Lumbini is open and unaffected. It's the birthplace of buddha and close to Chitwan. A perfect combination for cultural and jungle travel in Nepal.
Meanwhile the historic cities of Kathmandu, Bhaktapur and Patan will all be open come September. Giant "before" and "after" posters are being put up around destroyed temples. And tourists are being encouraged to visit these sites and watch as nepalese artisans rebuild these historic buildings.
Meanwhile culture visitors can still go on walking tours and temple visits to the many other temples and historic buildings that remain throughout the Kathmandu Valley.
Some post earthquake tourism reality
Out

of 75 districts in Nepal, only 8 are affected

Out of 10 National Parks, only 1 is affected
90% of hotels in Kathmandu Valley are safe and in operational condition. 100% of all hotels in popular destinations like Pokhara, Chitwan, Lumbini, Bardia, Annapurna Region, Everest Region etc. are safe and in full operation
Bhaktapur Durbar Square is fully open
Out of 35 popular trekking routes, only 2 are affected

All the International and National airports are in

operation with zero damage

Communication (mobile phone calls, ATMs

) are working

There have been no outbreaks of of viral 

diseases or influenza (source) 

Donations, local volunteers and local people have helped rebuild this village school. Work is ongoing. These are local people helping local people. The money spent by tourists sightseeing literally pays the wages of these volunteers! 
My plans to visit Nepal
Right now I'm on my way back to Thailand to finish some things up and purchase solar panels to bring back to Nepal. I'll be back in Nepal in a few weeks before peak season starts.
I know Nepal. And, I know that no matter how hard I hollar for people to visit Nepal in 2015 that there will be a lull in numbers this peak season.
I'm happy to hear that in a way.
It means great hotel deals (there's currently an up to 50% discount running on everything in Pokhara – source). It also means picture perfect weather without the crowds. It means bigger warmer smiles, waves and greetings for me from the some of the nicest people on the planet. That's part of the Nepal I know and love.
I will supporting Nepal simply by visiting the country
I'll also be there to support my friends, to visit the Kathmandu preservation trust to start a project on rebuilding some of the lost temples, I'll be trekking, I'll be enjoying and helping Nepal along with the Nepalese who will be doing exactly the same thing.
Whilst there I'll be updating and publishing the second editions to my Nepal guidebooks. Last week I published a post earthquake updated guidebook to the Kathmandu Valley. And, just this week I published a new guidebook to Lumbini. By the end of this week all my guidebooks to Nepal will be updated with post earthquake information – no other guidebooks have this!
 Nepal is "that" once in a lifetime holiday experience
Now is the hour we can all help Nepal recover and have that once in a lifetime holiday experience.
Don't put it off. Come on over and say Namaste (hello) and be prepared for the greatest little country on earth to dazzle you with its charm.
---
Planning on booking a hotel room in Nepal?
Looking for the best online rates?
I recommend you try my own hotel search for Nepal. The best online rates guaranteed!