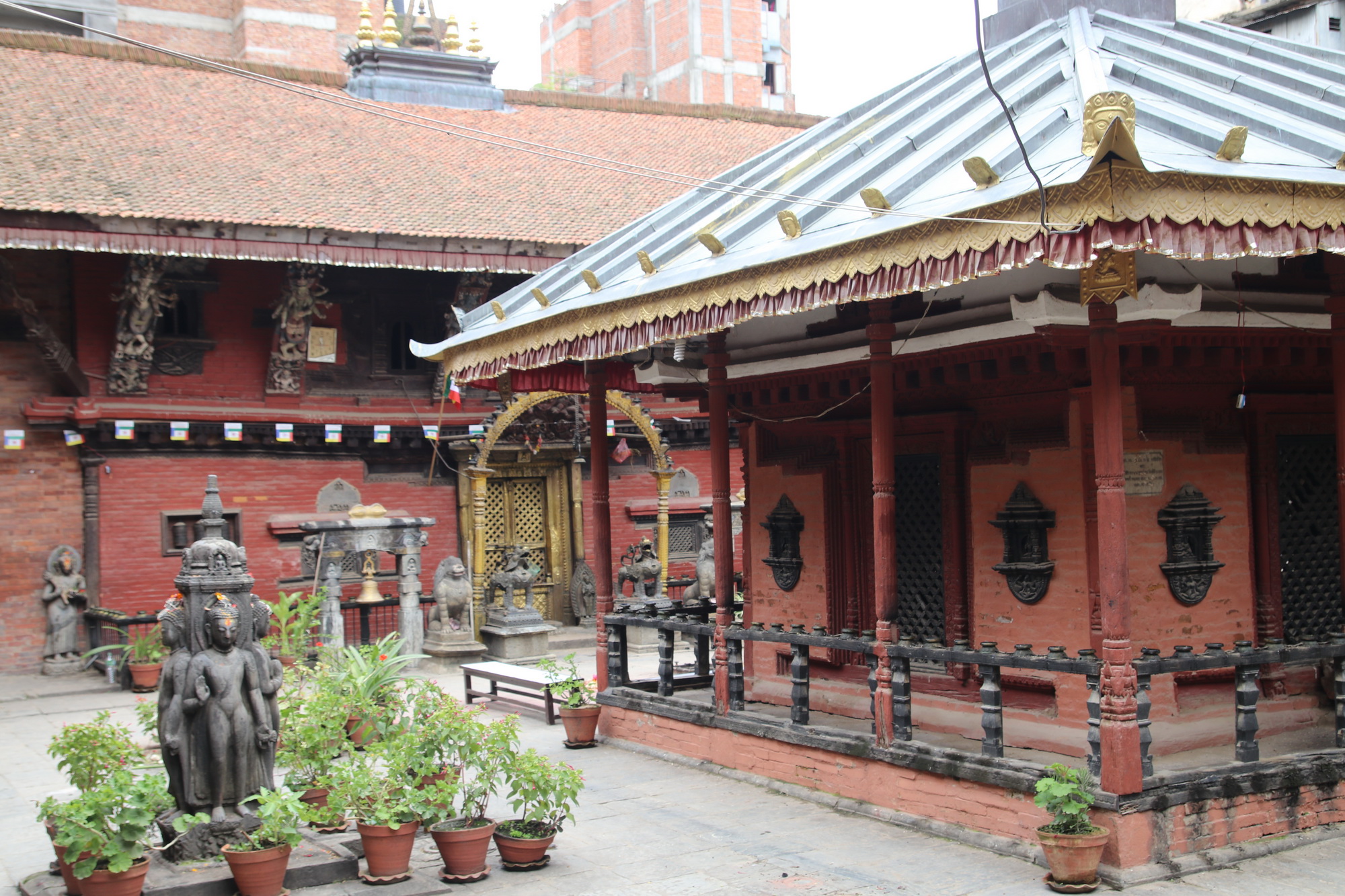 Itum bahal is an open monastery you can easily visit in Kathmandu
Despite the many tours around Kathmandu claiming to take you to the largest monastery in Nepal most are simply drumming up "spin". Itum Bahal has largely slipped through the fingers of tourism. In today's world that's a blessing. It means no crowds, no entrance fees and zero touts. It also means you can get to see the real local side of Newari Kathmandu many people don't.
Itum Bahal was one of the main locations I wanted when I wrote my first heritage walk for my Nepal guidebook. It was halfway between Thamel and Kathmandu Durbar Square and thusly made perfect sense to include as it really is a "must see attraction" on the way. It had never been part of a mainstream heritage walk before. When I went about writing the book Kathmandu Valley Heritage Walks it became one of the central attractions for the books second walk through the old city.
Located in Kigali in Kathmandu's old city I would advise you not to even bother asking for this street name. Just follow a map or ask locals for Itum or indeed Itum Bahal. Everyone knows it. Moreover, it's directly due south from Thamel and Thahity chowk. There's a map at the bottom of this article and of course in my guidebooks. Right beside Itum bahal is the impressive Koti Mahadev temple which I wrote about earlier.
Entering Itum Bahal courtyard
With the Koti Mahadev temple behind you there's a small open entrance along the old market street to the left. The street slopes down into a wide and quite long courtyard. This is all part of Itum Bahal. Due to its open nature it doesn't look so impressive at first, but all that will change as we explore it.
To the left are some black stone chaitya. These are Buddhist and you can see carvings of the Buddha on them. Buddhism and Hinduism are essentially merged and respected in the Newar culture. It's far deeper than than that, but it helps to know the basics. Moreover let's not forget that the Newar's are the people accredited for all the great temples and monuments you see around the Kathmandu valley. Itum bahal is no exception.
If you happen to take a tour in Kathmandu city and your guide does not mention this, then you might as well head off by yourself. Many city tours and guides are purely commercial and have little understanding nor knowledge of the Newari origins of the city. If you are lucky enough to have a guide who is speaking proudly about Newari culture, then you should be fine. Again, grab a copy of my book Kathmandu Valley Heritage Walks to really discover this area.
Shrines to the right of Itum bahal
Looking over to the right across from the first cluster of chaitya is a small open entrance. Walk through it and you'll see Saraswati Nani dedicated to the goddess of wisdom, eloquence and learning. A small brick building it's worth looking through the gates to see the goddess inside.
Some back out to the main square and walk down a few feet to the next open entrance to the right and you'll enter Tara Nani. Here the larger shrine covered in metal is dedicated to two female saints known as Green Tara and White Tara. Both of these ladies were princesses who married a 7th century Tibetan king.
At the top central area of Itum bahal is a large white chaitya. Despite street guides saying it's a stupa it is simply a large white chaitya surrounded by smaller black stone chaitya. If it was a stupa then it would either contain a relic of the Buddha or be blessed as a stupa (full differences can be found in my book Kathmandu Valley Heritage Walks). To the right is a large tree of life with string around it and the the main wooden entrance leading into Itum Bahal itself.
Entering Itum Bahal (Monastery)
You are about to read and discover things about Itum bahal first written about in my Kathmandu Valley Heritage Walks book and now revealed here for the first time. Itum Bahal's entrance was damaged in the 2015 earthquake but was quickly rebuilt. Many of the sacred artifacts were taken outside to a metal shed but have since been returned. During this process the local priest cleaned up many of the relics which you can now see. First though, let's discover the bahals courtyard.
Directly in-front of you will be a medium sized shrine or temple. This shrine has a Shiva lingam inside so once again inside this Buddhist monastery you have an important Hindu reference indicating the Newar cultural presence. Walk clockwise around the shrine to the rear.
Here is the official main entrance to Itum bahal's central shrine to Buddha. The golden doors are normally closed though you can still see a statue to the Buddha behind them. On either side are taleju bells, statues, two brass guardian lions and two large stone lions.  As you might now realize the wall with the golden doors is a part of the actual Itum monastery which, in typical Newar style, are joined to form a four walled building surrounding an inner courtyard.
The child eating monster
Gurumapa
When facing the golden gates of Itum bahal turn to your right and look up at wall where there a series of brass plaques. These depict a terrifying monster eating someone! This is Gurumapa who's story is one of the most popular in Newari folklore.
You can read the entire story of Gurumapa on my full guide to Itum Bahal or in my guidebook. The story is important to know as it involves the man who is believed to have founded Itum Bahal – Keshchandra. While living in the courtyard Keshchandra lost all his money gambling. His sister taught him a lesson by feeding him rice on the floor (he had stolen her plates to gamble). He ran away and slept in the woods where birds ate all his rice. However the pigeons felt bad and their droppings turn to gold. It was then the monster Gurumapa came and frightened Keshchandra who asked the monster to help him carry all the gold back to Itum and in return he could take all the bad children away to eat!
The story goes that Gurumapa did just that. The local residents decided the best way to deal with this was to feed Gurumapa at a great yearly feast comprising of buffalo meat and rice. This still happens every year at Ghode Jatra in Tundikhel Kathmandu. Later it is said that Keshchandra used the gold to build Itum bahal as a way of apologizing.
Inside Itum Bahal
Walk around the central shrine and face the main gates to Itum bahal. Walk over to the left where there's a small entrance into the main Bahal (you'll need to remove your shoes inside). There may or may not be a caretaker here. If the door is locked then you'll have to suffice with walking back towards the middle of the wall before the Gurumapa image and look inside the trellis like windows.
Inside Itum Bahal are several very old relics. There's also a large red statue. There is a difference of opinion on who the statue represents. Locals say it is the goddess of gambling Aaju dya whereas others within the monastery say it is Keshchandra the founder of Itum bahal.
The relics around this section of the monastery are quite interesting as they remained hidden until the 2015 earthquake before being brought out. There's an exquisite miniature metal sculpture of an unknown stupa. Some water spout heads, iron tools and some very old looking stone statues. Beside the red statue is a large golden window frame. This is said to be the first window frame in Itum bahal. It's not clear why it was restored but never placed back but it may have been the victim of a previous earthquake and taken out for protection.
Back in the main Itum Courtyard
There's one more small courtyard a little further up to the right. This is Baku nani which contains a small Votive chaitya. Back in the Itum courtyard at the end is a large building currently under renovation known as Degu Dya. Unfortunately it's not known if the original torana above the main door will be restored or replaced as it still retains much beauty. To the left is a museum which seems to be permanently closed as modern day construction takes over. 
As you can now appreciate Itum Bahal is far more than the empty looking space we first entered into. We've only just touched the surface of the old monastic area in this article. When paired with a full heritage walk Itum bahal opens up into one of the most important heritage sites in Kathmandu.
You can explore more online with my heritage walks in the Kathmandu, my online guide to Itum Bahal or truly discover the undiscovered with my book Kathmandu Valley Heritage Walks. In all cases Itum bahal can be reached on the way to or from Kathmandu Durbar Square. Don't miss out on visiting the largest open Buddhist monastery in Kathmandu.
---
Get my Guidebooks to Nepal & discover more than anyone else!
Looking for more insider tips and information like this? Get the most up-to-date, popular and dedicated guidebook to Nepal in the world. Over 617 pages & 984+ photographs of every temple listed, daily guides on all the treks listed and so much more.
Take a look below and you'll find out why this beats all other guidebooks!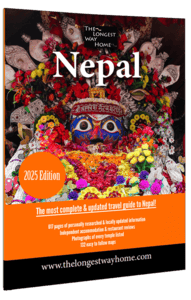 Or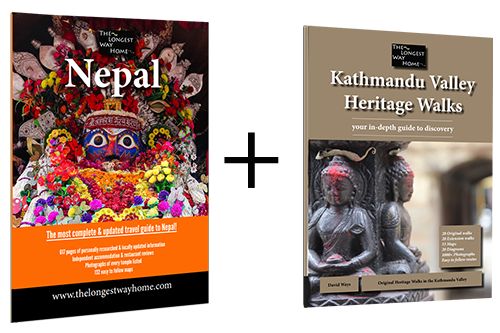 You can get 50% off my Nepal guidebook by getting it with the Kathmandu Valley Heritage Walk book