Kaskikot vs Sarangkot views
Anyone who's planning a trip to Pokhara in Nepal will probably have heard of the sunrise mountain view spot known as Sarangkot and never heard of Kaskikot. I first went to Sarangkot after my Annapurna Circuit trek – that's mistake number one you should avoid. If you do plan to visit Sarangkot, go before your trek. You'll see better mountains during your trek so anything afterwards can be a letdown. Visit Sarangkot or Kaskikot before your trek as a warm-up!
Let me save you from making a second mistake – Sarangkot is full of tourists all huddled around a concrete platform. Even in the off-season, Sarangkot will have a lot of local, Indian and Chinese tourists. Whereas Kaskikot is a natural spot with better views and with zero local, regional or international tourists.  It's a few minutes down the road too, so it's not hard to find. Kot in Nepali means fortress or citadel … Sarangkot lost its history a while back while Kaskikot's is still visible.
There's a cravat to all this of course. There are zero tourist facilities at Kaskikot, no entry fee, there are broken steps and you should bring a torch and or a guide if going for sunrise. Personally, if there are blue skies in Pokhara in the morning then Kaskikot will have mountain views! Here's my story of Kaskikot, or if you'd prefer to skip it then here's a dedicated and detailed guide to the Kaskikot hike in Pokhara. Or, for a fully detailed and easier to read option it's in my Trekking in Nepal guidebook.
By bus, foot, jeep, cable car or bike to Kaskikot
Those were my options to reach Kaskikot. I'd just finished about 4 treks in a row for my Trekking in Nepal guidebooks and truth be told I wanted a bit of a rest. None the less a Nepali friend in Pokhara remembered that I also wanted to see another view of Machapuchare instead of the daily iconic fishtail view. Moreover, I was also looking for day hikes or short treks around Pokhara. Kaskikot was proposed.
I asked the usual questions on how far away it was from Lakeside, was there a place to eat, etc. I was being lazy and was really just trying to pry some information from my friend on how far or difficult it really was going to be. I've been on other short "treks" and ended up gone from morning till night. I just wanted to relax a bit with this one – some good views and a fort would be a bonus.
I'd taken a bus to and from Sarangkot before along with visiting some nearby villages. There was road work going on. I remember being squashed into a Nepali local bus for 2 hours before on this road. Not happening this time. By foot? Nope. I've done this before too. It's better than you'd expect but it would be an all day affair. Jeep or taxi? I'm not paying 2000 rupees. Cable car? It's not so great in Pokhara. Mountain bike? No, I've seen the hill and cars. Motorbike? Off road? Yep, it's in the garage let's go!
The journey to Kaskikot
I was still in mountain man mode the day before when I asked what time of the night we needed to leave to reach Kaskikot for sunrise. My friend shrugged. The view looked the same as Sarangkot … did I really want to get up at 4.30 am? Nope. We left at 10 am long after Sarangkot tourists had come back. The motorbike was an off-road bike which was really helpful as the Sarangkot road is steep and windy. If you do come up here on a bike, go slow and honk. Buses, trucks, taxis, bikes, and the odd animal all come flying around the corners here.
My map said Kaskikot was close but in Nepal close can also mean hours away depending on the road condition. This one wasn't too bad and we were there in 45 minutes. The only hic-up along the way was the hairpin bend where the Sarangkot parking guy wanted to charge me for turning onto his plot of land to make the turn and avoid a taxi. He got nothing but a wave. Passing through Sarangkot we could have gone up the steps to the infamous viewing tower and paid 200 rupees for the privilege but we didn't. The area is now built up with all manner of hotels, guesthouses, local restaurants, and makeshift souvenir stalls. It jolted of over-tourism and what can go wrong with it. More concrete than natural wonder these days.
We soon arrived at an open dirt patch of land with not a person in sight. Opposite us was a green hill filled with farmlands, forests, and the large brick gate of Kaskikot.
The hike up Kaskikot hill
It always amazes me to find Nepali traditional style buildings in Pokhara. City locals say Kaskikot is a Hindu area, but history tells of the Gorka king who united Nepal, built Kaskikot, and enjoyed Newar designs. The Newari are an ethnic group from the Kathmandu Valley fabled for the Malla kingdoms, temples designs, art, and more. They reached Pokhara in the 18th century and there's even an area of Pokhara known as Newar Bazar which has largely been neglected. Much like Bandipur many Newar families and communities spread out from the main areas of Pokhara.
The farmhouses in Kaskikot have a Newar style to them, just don't tell the locals.
Thatched houses with one half painted a deep rust color and the other half whitewashed or mud-colored dotted the early part of the hike up the stone steps. These are farmhouses. Today some are just simply gardens while others have small rice or crop fields. The two-story houses are not in the best condition. Many of the younger people have left for work overseas or in the city. Older folk nod hello but for the most part, it's a quiet peaceful hike of only 30 minutes. Take the fork in the steps to the right on the way up if you want to see all the lookout points.
The first Shiva shrine look out point
Kaskikot has several lookout points. The first is behind a small concrete shrine to Shiva. The shrine is usually locked up with a newer two-story pagoda-style building behind it.
Here the views of the Annapurna mountain range are long and majestic. Similar to Poon Hill in all regards. Machapuchare looks taller and pointed here compared to its "Fishtail" appearance along lakeside. From here there's a broken trail to Sarangkot. I wouldn't be too keen on it as the ridge land is broken and crumbling with tall grass disguising many deep holes. To the west is a short well-marked trail to the main Kaskikot area.
There's a sign here saying welcome to Kaskikot to Sarangkot trail. Again, I wouldn't be so keen. Further to the west, there are a few better viewpoints up some stone steps to the Kaskikot palace.
Kaskikot Palace, the Kalika temple
The stone steps lead to a small door along a long wall. Inside more steps lead down to an open courtyard. This is Kaskikot Palace or rather it's the sacrificial area in front of the Kalika temple.
During festivals, animal sacrifices are made here to the god Kali. The main temple itself is quite rundown and usually locked. Up around the other side are ramparts which once housed an army outpost to protect Pokhara and view the valley below. Opposite the ramparts which surround the palace is another great view of the Annapurna Mountains. It's here you really get the feel that Kaskikot is better than Sarangkot.
It's quiet here. There are no tourists, locals, traffic or shops. Just a temple, ruins and a mountain view.
A better mountain view point from Kaskikot
Walking down a set of steps by the Kalika temple there's an old caretakers house. Alongside that is another set of badly maintained steps. A short walk across an open area and there's a mound that can be climbed up. It's here you might notice that the grassy mound is actually man-made from stones.
This was likely the old fort or armory 100 or so years ago. Today wild grasses have taken over it and makeshift steps lead to the top of a mound. Some garbage is strewn here which is a telltale sign it's used as a Nepali picnic area. For me, it's here you will get the best views from Kaskikot.
Although the Annapurna mountains are a little to the east than from the top of the palace ramparts you get the wonderful effect of the mountains and the tall cliff-like ramparts with the palace on top. It's a hard view to come across in Nepal. Upper Mustang is about the closest I can say that might have a similar view in Pokhara's dry season. It's better than the view from Gorkha Durbar. So, I think, it's fair to say it's on par with Sarangkot if not substantially better if you like nature vs  crowds and concerete.
The way back to Pokhara from Kaskikot
It's the same way back down to the Kaskikot gates as you came up. But there is another set of steps nearer to the palace than back at the first Shiva shrine you can take. It's about 20 minutes to the bottom passing through some wild grassy areas before the farmlands appear. There seems to be an abundance of wild birds here. Looking up on this hike will likely mean you'll spot a kestrel circling in the sky. No sooner have you left the palace area than the mountains also disappear. So make the most of them if you come up there!
It's a chance at seeing rural Pokhara, mountain views and nature in about 1.30 hours in total (top to bottom)! It's easier than the World Peace Stupa hike, and nicer than Sarangkot hike. Here's a full guide to the Kaskikot hike.
Being quieter, more historic and with equally good views, Kaskikot is an excellent alternative to Sarangkot!
---
Get my Trekking in Nepal Guidebook & discover more than anyone else!
Looking for more insider tips and information like this? Get the most up-to-date, popular and dedicated guidebook to Trekking in Nepal in the world. Covering 28 full treks over 400 pages. The only trekking guidebook in the world with trekking links showing you how to link treks together! Available as an instant download or worldwide shipping for the paperback edition!
Take a look below and you'll find out why this beats all other guidebooks!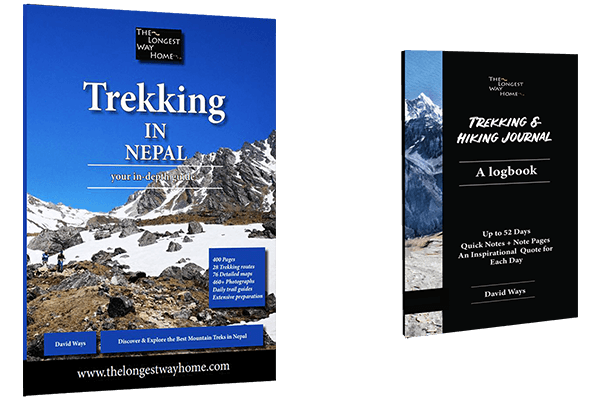 Get the Trekking in Nepal guidebook here!