Foreign trekkers on the Everest Base Camp trek will have to pay an additional 2,000 rupees from October 1st 2017
A few days ago news broke that the recently elected local government in the Solukhumbu region of Nepal will impose a 2,000 rupee fee to all trekkers entering that area. In other words – if you are going on the Mount Everest Base Camp Trek (EBC) you will need to pay an additional 2,000 rupees (USD$20 approx).
As with a lot of news in Nepal one has to bite your tongue and wait a little bit before it can actually be confirmed. Worryingly, this new fee has been confirmed by the local government in Solukhumbu. Latest updates at bottom of this page (click to jump there)
As of October 1st all trekkers crossing into the Solukhumbu region of Nepal will need to pay an "entry fee" in person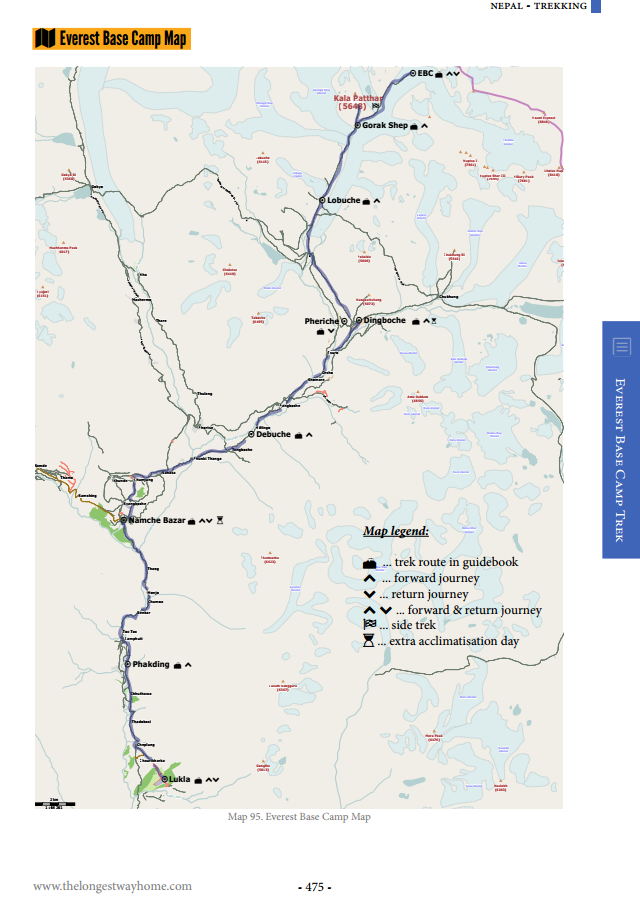 This fee cannot be paid in Kathmandu or Pokhara where trekkers still have to pay National Park Fees and TIMS card fees. This 2,000 rupee fee can only be paid when you are crossing physically into the Khumbu region.
Where is the Solukhumbu region?
The Solukhumbu region is a district in Nepal made up of the Solo and Khumbu sub divisions. It is within Sagarmartha National Park and Mount Everest sits in the northern part of the district.
The "Khumbu" region is also commonly known as the "Everest Region of Nepal".
If you are trekking to Mount Everest Base camp, you have no alternative but to cross into the Khumbu region.
All foreigners will have to pay the 2,000 rupees directly to the local Solukhumbu rural municipality
Who made this decision and is it legal?
Nima Dorjee Sherpa, is the newly elected chairman of the Rural Municipality in Solukhumbu. Their first assembly passed this order with the full support of the local tourism and development committees.
They have asked to ban Nepal Tourism Board and TAAN from collecting this new fee so the money will be collected directly from tourists in Solukhumbu and distributed there (source: Himalayan Times).
In 2015 Nepal's new constitution allows for local governments to set taxes, including tourism fees. In 2017 there were local elections. This is part of the result.
Are they seriously going to do this?
Unfortunately it looks like they are. Which in my opinion is a huge mistake not just for the region but the whole of Nepal's tourism industry.
The fact that local governments now have the power to enforce such "taxes" has been a fear among many tourism professionals in Nepal over the past few years. Now, this fear has become a reality.
The real worry is that this will be the start of a chain reaction across Nepal
If this fee goes ahead from the 1st of October there is nothing stopping other regions in Nepal from doing the same thing. We are talking about all treks and even non-trekking regions of Nepal imposing additional fees on tourists.
Make no mistake about it – how this imposed regional fee is handled nationally will effect the likely chain reaction of more new regional fees
This will mean local governments in the Lower Mustang region (part of the Annapurna Circuit) could impose fees. The local Pokhara government might decide at a whim to charge all visitors a new regional "tourist" fee. Even Bhaktapur could charge tourists local fees on top of entrance fees into the old city.
While a single $20 fee may not seem like a lot from the outside, imagine if other regions started doing the same? Even a single $1 additional fee all adds up.
For those of us who have been trekking in Nepal for over 10 years it brings back memories of the Maoists demanding money out of trekkers back in 2006/7 just for entering a certain region. Thankfully that all ended quickly … but it's still a bad memory for many.
Don't National Park Fees and TIMS fees cover this?
No. But they should. Again, this is a local government fee not a national fee. Upper Mustang is a prime example of why a local government like Solukhumbu is perhaps doing this.
There is a restricted area permit of USD$500 on all trekkers who want to visit Upper Mustang. Plus National Park fees and TIMS. The USD$500 which is collected in Pokhara or Kathmandu is meant to support the local Upper Mustang area which is restricted to visitors due to its culture along with its unique and pristine environment. However, for many years Upper Mustang has claimed it doesn't see any of this money yet this information rarely makes it out of the region due to it's remoteness (source: Globalization / MIT)
Likewise all regions across Nepal who are frequented by trekkers and tourists who pay national fees continuously complain that they don't get enough reimbursement from the National Government who collects these fees.
Aside from National Park fees, nobody knows what actually happens to all the TAAN enforced TIMS card money trekkers need to pay.
Sadly, it seems when some Nepali cannot make their own system work they opt for the easy answer of imposing additional costs on tourists
So, now with the rights of the Constitution behind them, local governments seem to want a slice of the profits that can be obtained directly from tourists. Hence, they do not want the Nepal Tourism Board or TAAN collecting this new fee.
What are the total costs that a "foreign" tourist now has to pay to "Nepal" just to trek to Everest Base Camp?
Tourist visa: $25/$40/$100 (15 day, 30 days, 90 days) – (Nepal tourist visa fees)
Sagarmartha National Park Fee: 3000 rupees plus 13% tax (yes, it's a tax on a tax funded park)= 3,390 rupees. (Nepal National Park and Permit fees)
TIMS card:

$20/10 (solo/with guide)

Now no longer required
Solukhumbu regional fee (new): $20
Minimum room rate fee (2018): $5
So in "government" fees alone a trekker to EBC has to pay an average of around USD$104 – that's before even paying for a guide, accommodation, food and of course a return flight to Lukla which charges foreigners double anyway and have also increased their fees recently.
In 2018 confirmed reports the Solukhumbu municipality is are no longer acknowledging the TIMS card. Tourists do not have to pay TIMS card fees if going to their region … this may well change in the future.
If you are planning to trek to Everest then you can read the full cost breakdown of an Everest Base Camp trek.
What can be done to stop this?
From a tourist or trekkers perspective, not much. Though a few years ago the international trekking community (thankfully) spoke up about TAANS plans to ban solo trekking in Nepal. That was different though, TAAN is … well not really a government organization though they often like to pretend they have the power to do what they like. So they're proposal was rightfully quashed.
This, however, is a Nepali issue that needs to be sorted out by Nepali people. So far there has been nothing officially said by the National Government about this fee.
The very nature of this being a "constitutional right" brings up all sorts of headaches.
To be honest, this is the sort of thing that should have been dealt with years ago. But it's Nepal, so it wasn't. The only way this is not going to go ahead is if someone at a national level outright says – no!
Somewhere in the legalities of Nepal there might just be a bit of paper that says the tourism ministry has the right to confirm or deny any additional fees imposed on tourists.
At worst, as a temporary measure, the fee might be paid for by the National Government (I can hear the laughter now.)
At best I'm sure there will be a few all expenses paid trips back and forth between regional governments and the National government to sort all this out.
The result, might just be that the National Government and TAAN agree to release more money from collected fees to local governments. Perhaps this really is Solukhumbu's end game – though one suspects it's more motivated by hands on cash.
Nepal's floundering tourism industry needs to sort this out
Unfortunately if Nepal and the Nepali people involved do not sort this out ASAP then tourists and trekkers might opt to not visit Nepal – that is a very real reality.
Post 2015 earthquake Nepal saw a surge in tourists during 2016 and the first season of 2017. However make no mistake about it the peak season of 2017/2018 is so far seeing far fewer tourists visit Nepal despite offical figures saying the opposite. Official figures now count Indian and in some case Nepali tourists. More reasons for a drop in numbers are easy to find in hindsight.
Now with the reality and fear of more new trekking fees, Nepal might just be shooting itself in the foot, again.
The problem is: nobody wants to take responsibility in Nepal.
Even in 2016 when load-shedding ended in Nepal, nobody was ready for the impact of 24 hour power. Which included internet and communications gone amok as people began spreading images and news about events in Nepal with ease (no more dead batteries).
Bad news travels fast and Nepal still hasn't woken up to the impact of this. A tourist in Nepal, in an instant can now tell the world all about their "negative" experience. What's more, Nepali are prone to be even better at this themselves. World media latches on to bad news faster than good. A prime example is the 2017 flooding. It's over. But if you look up the latest news from Nepal on international news then it's still there. Influencing tourists on whether they should visit or not.
A possible solution: Rather than turn this into a giant mess. This is a golden opportunity for someone in Nepal to turn this around into a positive. To stop such fees and show the world that Nepal cares about tourists beyond just trying to squeeze as much money out of them as possible.
What happens if you are going trekking in Nepal this year?
From October 1st you will need to pay an additional 2,000 rupees ($USD 20 approx) per person on the Everest Base Camp trek when you enter Solukhumbu.
However, I do know of some trekking companies that are going to absorb this cost so tourists don't have to pay the additional fee this year. Including the trekking company I use (feel free to contact me if you'd like their details – or better yet get my guidebook to Nepal which has all the details and more)
I've already highlighted this fee in my free online guide to trekking to Mount Everest. I am not adding this fee as of yet to my Nepal guidebooks.
Do remember, it's Nepal, anything can happen between now and the 1st of October. The ban on solo trekking was stopped before it came to fruition. I'm hoping the same thing will happen with this new fee.
Likewise I'm hoping there will be an international push to let Nepal know in no uncertain terms that this is a bad idea. I'll update here with any findings. In the meantime, play it safe and reserve an extra 2,000 rupees for your Everest Base Camp trek just in case.

Updates: Several meetings have been held between all parties involved since this announcement. As of yet, there still has been no decisions made. Two things have been suggested.
TIMS will be scrapped in place of this new fee
This new fee to the Khumbu region will be postponed for several months
Again, none of the above two items has been confirmed as they are still discussing. I still suggest trekkers bring an extra 2,000 rupees just in case. Meanwhile, I will have someone there in the first week to confirm and will update here if this charge is being carried out.
October 1st-onwards: A ticket office has been set up in Lukla that is now charging "foreign" trekkers 2,000 rupees for entry into the Khumbu region.
Despite many rumors stating this additional fee would be waved for several months or be exchanged instead of the TIMS fee this new fee for trekking in the Everest region is now fully operational.
The Solukhumbu region have stated that a TIMS card is no longer needed for that region – however TAAN and Nepal Tourism Board have not confirmed this. For now, all trekkers are advised that they need a National Park Permit and TIMS card, then when arriving into Lukla they will encounter the Solukhumbu ticket counter where they should pay the new regional fee.
October 8th 2017: The Nepali government have issued a letter to Solukhumbu asking them to stop charging tourists. This does not mean tourists will no longer have to pay. Solukhumbu still have to agree to it.
December 20th 2017: The "tax" is still being collected in Lukla despite authorities saying it is not applicable. Further to this TAAN are also enforcing the payment of TIMs cards in the area. So for now, trekkers in the region still have to pay the additional 2,000 rupees Solukhumbu fee, National Park Fee and TIMs fee. As the Solukhumbu tax is not being support by authorities there is a fair chance it will vanish at some stage in 2018. Currently some trekking agencies are paying this fee for their clients.
February 7th 2018: Despite authorities saying this "tourist tax" is not applicable the reality on the ground is that non-Nepali tourists/trekkers are still being charged in Lukla. TIMS is also mandatory when you are getting your Sagarmatha National Park (trekking permit) in Kathmandu. It looks like this internal "dispute" will continue on into 2018.
March/April 2018: I have been in touch with the Nepal Tourism Board who confirm that the TIMs card is no longer being issued for the Solukhumbu (Everest) region. Recent reports from trekkers also confirm the same from Kathmandu and the EBC trek. As such you now only need to get a Sagarmatha National Park permit – then when you arrive in Lukla you will need to pay the regional tax/fee of USD$20. There is no more TIMs fee or requirement as such for Solukhumbu (Everest).
October 2018: A new 500 rupee accommodation fee is being levied on trekkers entering the Solukhumbu region. What this means is that there is now a minimum 500 rupee charge for a room. Previously teahouses either didn't charge if you ate there or could give their own prices. This action has also been condemned by several organizations as pure greed.
December 2018: The above 500 rupee accommodation fee has been deemed "illegal" nationally (source). Yet, it's still being collected in makeshift booths on the trail. National officials say the 500 rupee fee is being collected by an unauthorized local group of youths. The regional Solukhumbu administration have not commented on this – which will likely mean when they do they will say the typical Nepali response of "not being aware of this happening". Trekkers on the ground have both paid and not paid. The latter have had small issues of resentment and no more. These booths are located above Namche Bazar along the trails to Fungitanga, Somare, Pheriche, Lobuche, Dingboche and Gorek Shep.
Note: Given the latest updates directly above, I can also confirm that this "situation" remains temporary at a national level. So it could change at any week. Given Nepal's past, I would suggest it will remain like this for the current trekking season at the least. I would however advise anyone trekking in this region to confirm about the TIMs requirement a few days before your trek to be sure. The best way to do this is either via your trekking agency, trekking guide or if trekking independently by visiting the Nepal Tourism Board in Kathmandu.
As for the new "accommodation" tax/fee – it is not recognized nationally nor has the Solukhumbu commented on it. This is again a shame as it leaves trekkers in the dark regarding budget. In my opinion take it as it comes. Keep some extra cash just in case. Avoid confrontation. Keep receipts. Send them to the Tourism Ministry and Nepal Tourism Board with your feeling about the charges. At this stage there's a high likelihood the accommodation fee will "vanish" in the coming months as people start to ask more questions and wonder where all this money is really going.
I do not have information nor am I interested in providing information on "how to avoid" this fee or any other by taking different routes etc. Please don't ask. I do know the guide I use is paying this fee for his clients for the rest of this year. If you want his details, you can contact me – purchasing one of my guidebooks to Nepal is the preferred option as his details are also there.
I will endeavor to update this page if this fee is suspended or canceled. As advised above all trekkers should bring the additional 2,000 rupees (USD $20) fees with them to Lukla. Likewise be prepared to pay another USD $20 when you get your National Park Permit just in case the TIMS card fee comes back. For now, you don't need a TIMS for Solukhumbu. More details on this and other treks can be found by going through my page on information about trekking in Nepal.
---
Get my Guidebook to Nepal & discover more than anyone else!
Looking for more insider tips and information like this? Get the most up-to-date, popular and dedicated guidebook to Nepal in the world. Over 617 pages & 984+ photographs of every temple listed, daily guides on all the treks listed and so much more.
Take a look below and you'll find out why this beats all other guidebooks!