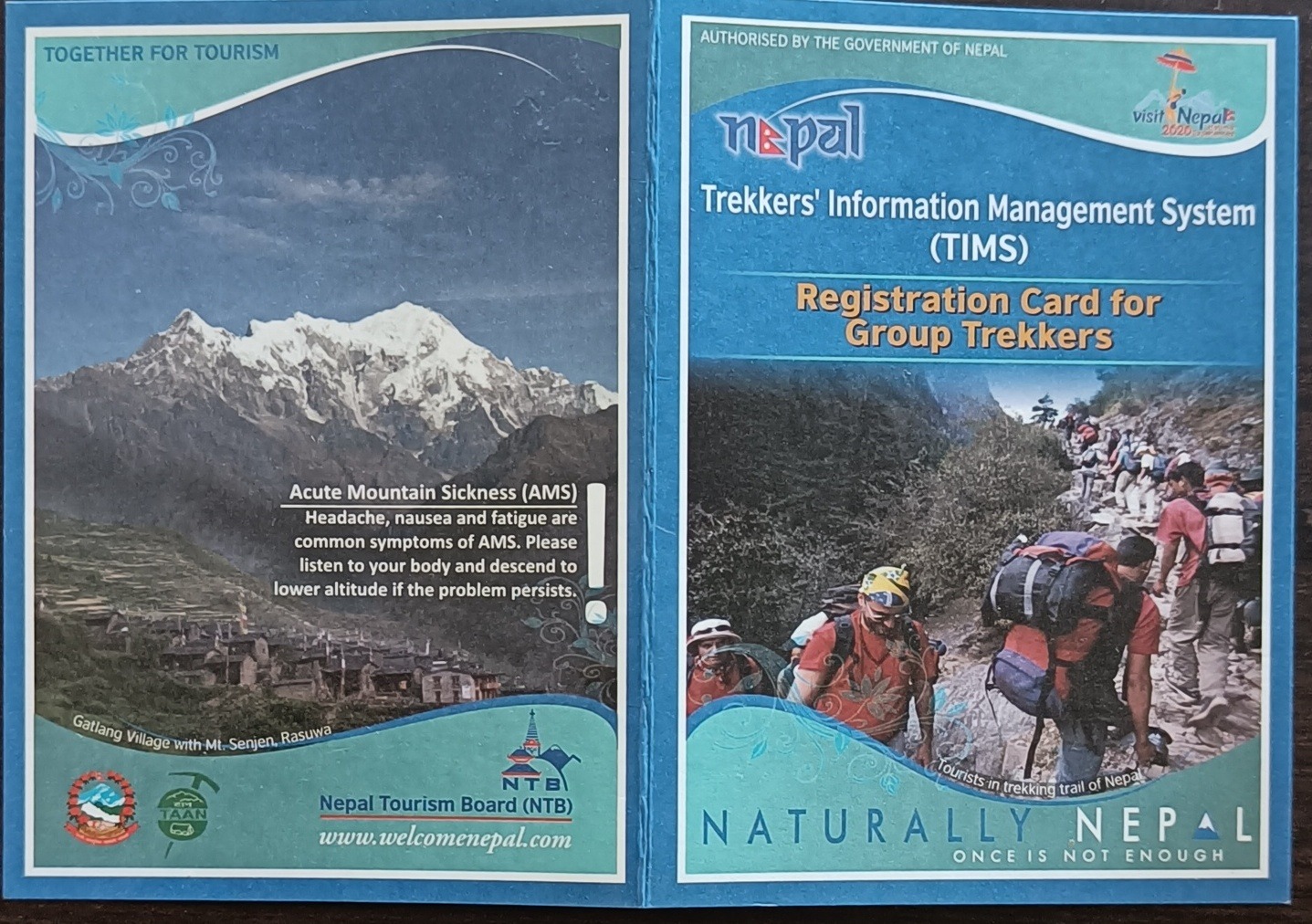 Nepal's current trekking management system clearly isn't working
Since January 1st 2008 Nepal's Trekkers' Information Management System (TIMS) has been used to collect both independent and guided trekkers data which is uploaded in a visitors' database which can be accessed in case of accidents and/or natural calamities. That was the idea touted by the founders Nepal Tourism Board and Trekkers Agencies Association of Nepal. It worked, to a point, at the beginning. Checkpoints were set up on all popular treks and trekkers would sign in as a way of showing they were safe.
The problems were Nepal specific, but could have been managed. The biggest was communicating the information between checkpoints. A lack of internet and electricity was often the problem. However, due to a mish  mash of mobile phone calls and boots on the ground it was possible to trace a trekker should someone have raised the alarm that they were missing – therein lies the main fault. It was often up to a family member thousands of miles away to realize that someone had not called or emailed.
Within 10 years it was obvious that TIMS cards were not working. Despite advances in solar electricity, internet, mobile communications and education it seems that TIMS cards were only being used to collect money. Checkpoints while still being staffed were lackluster with hand written log books. Everest trekkers noted how they were never asked to sign in on the way down, only on the way up. Trekkers went missing, had accidents, and there was silence. The best thing to do was call the Tourist Police as TIMS databases never seemed to have information to hand. Only after a lengthy delay would one know if a trekker had a TIMS, not ever to the point of where had they last checked in – this had to be done manually be rescue teams at the actual check in points.  What was the point of paying for a Trekker Information Management System when there was no management or system that could help trekkers?
Beginning of the end for TIMS
In 2017 the Solukhumbu region of Nepal (Everest Region), elected to no longer recognize TIMS cards. The first region in Nepal to do so. Their reasoning was brutally simple. Why was NTB and TAAN making all this money from tourists with none of it going to the region? Why were there no improvements to the TIMS card system? Questions raised over many years came to ahead in September 2017 when the Solukhumbu region formally stopped recognizing TIMS cards and implemented their own $20 USD local tax on all tourists entering the region.
Early on TAAN and NTB continued to deny this was the case and TIMS cards continued to be issued. However when tourists arrived in Lukla they were told they'd have to pay an additional USD$20 local tax on top of the now unrecognized TIMS card fee of $10-20. It was a public relations disaster in the making. As such, NTB and TAAN quietly dropped TIMS from just this region. Even today, there has been no official proclamation that TIMS cards are no longer required in the Solukhumbu region. Tourists still reading out of date guidebooks who show up to get TIMS cards are simply told "pay when you get there".
Other regions are also thinking of doing the same. Especially when the Solukhumbu region announced a massive $350,000 USD income direct to the municipality in 2019. It was cheered on as a victory with the money being touted for use in improving the area. Upper Mustang is another region long mentioning that the mandatory USD $500 per trekker permit fee remains in Kathmandu instead of locally. Regional municipalities throughout the Annapurna region have voiced similar complaints.
Lost in among all this vying for trekkers money, is the whole purpose of the TIMS card – to have a database of trekkers to help them if they get into difficulty.
TIMS cards are not required for Nepali Citizens
Why not? Are Nepali trekkers not worth looking after? Nepali people go trekking, surely they deserve to be part of the Trekker Information Management Systems and all the "benefits / protection" it provides. Even those who see TIMS as only a money making scheme are a bit baffled why Nepali trekkers, of which there are many, don't have to pay.
Perhaps the answer is that the system is so bad that managing Nepali trekkers would simply overburden it. MissingTrekker.com has reported many cases of local Nepali going missing. Most of whom are not registered anywhere and are nearly impossible to trace.
The only other group that don't have to have a TIMS card are under 10s. This makes sense as they will likely be under their parents care. That said, who keeps track of them in the event of an emergency?
70% of all TIMS cards money goes to Nepal Tourism Board
Why? If a trekker pays $20 for a TIMS card then $14 of that goes to NTB while $6 goes to TAAN who are meant to implement the trekker management system, pay for checkpoints etc with that cash. What happens to the $14? Nobody knows. Promotion of Nepal is the likely answer. But is that what it's really meant for?
This issue became so heated that TAAN itself split. There's now a TAAN Kathmandu and a TAAN Pokhara. The latter pays for checkpoints (which are currently not open – but the fee still needs to be paid) and guide/porter insurance. While TAAN Kathmandu, who just had an election, don't cover insurance and are no longer acknowledged in the Solukhumbu region. To put it lightly, it's a mess.
There's not a trekking agency in Nepal that does not think it is a bad situation (asides from the ones that are board members or managers at TAAN). With many acknowledging that TAAN Kathmandu spend more on their own meetings, elections and parties than anything else. It's a blatantly broken system that is stuck in the quagmire of being officially recognised as being the only representative of trekking agencies and trekkers in Nepal.
Alternatives to TIMS cards
Over the years when it became clear that TIMS cards were not helping trekkers as they should be, but instead becoming revenue earners others have stepped in to come up with solutions. The most prominent of these was the local entrepreneur Mahabir Pun who has led many successful campaigns in bringing internet to rural villages across Nepal. He is also accredited with the Khopra Danda and Mohare Danda treks which focus on providing employment for local communities based on trekkers who visit the area. His idea was to have trekkers equipped with electronic tagging equipment from Thailand and Japan.  This TTS or Trekker Tagging System has already been tested and worked well.
Solution 1 ) TTS (Trekker Tagging System)
E-Tags are small electronic devices with 3 month battery lifespans. They do not work on GPS systems but solar relay stations that would be placed every 1.50-2KM  along treks.
Positives:
Funds available through Asian organizations promoting it
Easy to manage
Provides local employment for maintenance of solar panels
Emergency button that trekkers can use if they get into difficulty or get lost
Privacy of trekkers would be upheld
Negatives:
It would take a long time to get up and running for all treks
Members from TAAN shot the idea down as it would have to be handled by an other organization
Solution 2 ) GPS App tracking
GPS App tracking is whereby a trekker installs an App on their phone or mobile device that tracks them throughout their trek. It is being pushed by those with connections in telecommunications.
Positives:
Relatively quick to implement
Easy to manage
Negatives:
It is dependent on a trekker having a compatible mobile phone (with permissions to install it)
It consumes a lot of battery
If a phone runs out of battery, the entire process fails
Many regions do not have a GPS signal
Data privacy as the app would be installed on a trekkers phone.
Solution 3 ) Mandatory Guides
Many wealthy trekking companies have been pushing for mandatory guides for all trekkers for years. The snowball effect is that local trekking companies and guides are also happy if guides were made mandatory as they believe it will bring them more income.
Positives:
Quick to implement
Easy to manage
Negatives:
Nepal loses it's title of one of the best independent trekking countries in the world
Trekkers lose a lot of what makes trekking great, freedom
No more independent treks in Nepal
In 2019 the number of trekker deaths for trekkers with guides and without was an even 50%
If trekkers still die or go missing it will highlight Nepal's lack of guide training – this includes allegations of corruption for expensive insurance funded rescues
Solution 4 ) Mandatory Trekking Partners above 3000 meters
This is the latest suggestion from the Solukhumbu region in 2022. It basically means that above 3000 meters all trekkers must have at least one partner with them – it doesn't have to be a guide – e.g., another trekker.
Positives:
Negatives:
Easy for determined solo trekkers to circumvent
Possible backlogs of trekkers in checkpoints who will then team up for only one day just to get by the checkpoint
Policing issues – who will police this?
Who bares responsibility if a trekker is alone and has their holiday cancelled?
Solution 5 ) Trekker Safety System
Full disclaimer here, this is my own suggestion. Every trekker gets a TSS card and a QR code (if they have/want mobiles) that comes with a map of their trek. It's a simple number/QR code unique to them. Checkpoints are listed on the map they get. The onus is on the trekker to check in to those checkpoints. If they do not check in on time, then a worker from both the next and last check point leave to look for them on the main trail. If they do not find them, an alert is sent out. If the trekker checks in the next day at a different location, they are given an on the spot fine for missing the previous checkpoints. Solar panels can be used to power checkpoint, and each one will have a simple database to update for each trekker that checks in and thereby a list of people who did not check in.
Positives:
Relatively quick to implement based on current checkpoints
Creates local employment
Respects privacy
Puts the onus on the trekker to check in
TIMS card fees and Solukhumbu tax can be used to fund it and if need be run it
Negatives:
Staff training
Maintaining the systems
Which is the best system to help trekkers be safe in Nepal?
Anything is better than the current system at the moment. None of the systems are perfect though some do offer a solution. The biggest issue in all this is motivation and maintenance. The easiest system to implement is an outright ban on independent trekkers and making guides mandatory – however the price is extremely high.
Nepal no longer is thought of as a destination for independent travelers.
It becomes one step closer to what many of the wealthy hoteliers and trekking agents want – a system like Bhutan
The fall out would see Nepal plummet in popularity across the globe.
However, those big wealthy entities would likely still profit from the remaining wealthy tourists willing to pay high daily visitors fees for the exclusivity of visiting a tourist restricted country like Nepal.
There would be mass unemployment due to this – similar to the pandemic.
Based on these aspects alone, that's a no go option.
E-Tags or GPS apps are not the same. GPS apps are being strongly pushed by those wanting to profit from technology companies they have connections with. The bottom line is, battery consumption and privacy makes this system a non-runner. E-tags are a far better idea but the idea was shot down in flames back in 2014! The ones running the current systems seemly couldn't bare losing out on the lucrative revenue stream of TIMS cards and regional taxes. However, if e-tags had been rolled out in 2014 then Nepal would by now not have a trekker safety issue to deal with.
Trekker Safety Systems or TIMS cards are in theory workable. Firstly, TIMS cards would actually need to be completely reformed and money from them actually spent on what they are meant to do. The Trekker Safety System is the best of both worlds. If TAAN and NTB don't want to lose revenue streams then this continues on their revenue and even adds to it with penalties given to trekkers who don't check in. Moreover, it puts the onus on trekkers to manage themselves better, creates local employment and keeps trekkers safe.
---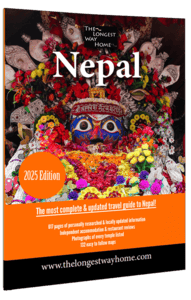 Get the digital Nepal guidebook here!
Get the paperback Nepal guidebook here!
Or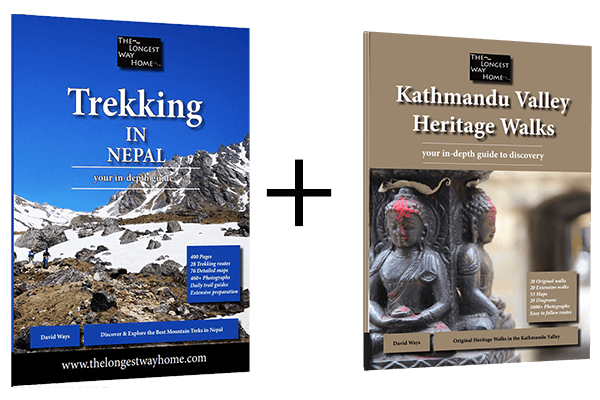 Get the Digital Trekking in Nepal guidebook here!
Get the Digital Kathmandu Valley Heritage Walks book here!
Get the paperback Trekking in Nepal guidebook here!
Get the paperback Kathmandu Valley Heritage Walks book here!