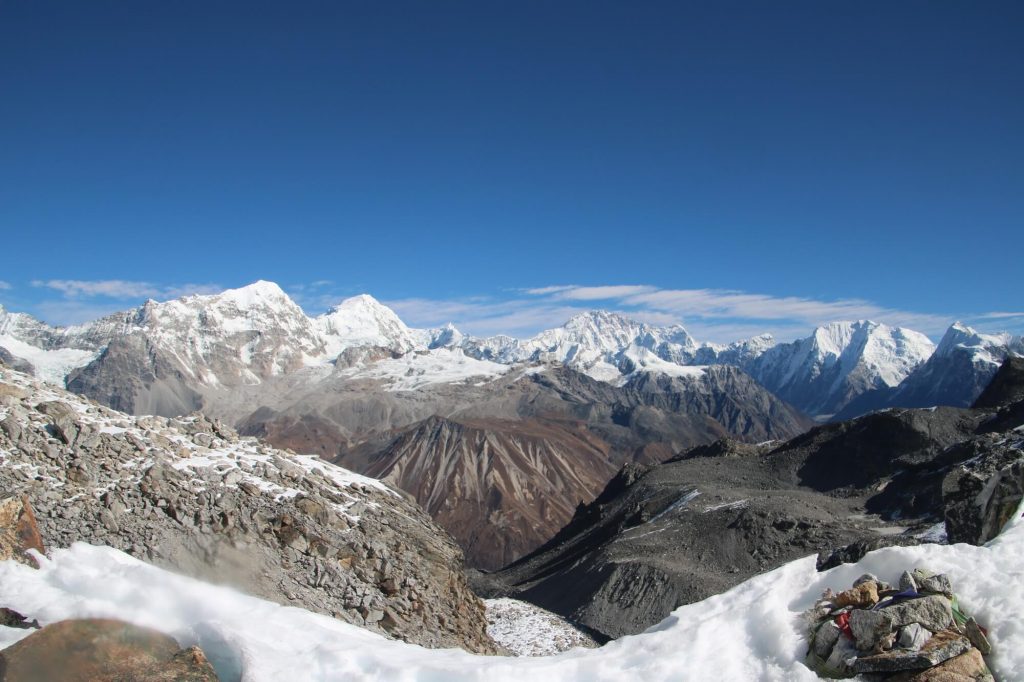 On October 17th 2020 Nepal will allow mountaineers and trekkers to enter Nepal
If you've been following my regular COVID-19 updates from Nepal you would have known this was on the cards. However, it did take until the 16th of October for an official announcement to be made … Yes, they literally left it to the last day.
Does this mean everyone can visit Nepal now? No, not by a long shot. Only trekkers and mountaineers can visit with prebooked agency treks or expeditions. Independent tourists still cannot arrive in Nepal. However, that's likely to change come November 15th when it's rumored that all tourists will be allowed back in Nepal.
There will of course be restrictions on all of the above. This is not about should you visit Nepal it's about what's required, officially and unofficially. And that's what we'll look at here ….
Official entry requirements for mountaineers and trekkers from October 17th 2020 in Nepal
The following requirements to enter Nepal were released on October 16th 2020 by Nepal Tourism Board.
As per the information released by the Ministry of Culture, Tourism and Civil Aviation all foreign tourists visiting Nepal for Mountaineering Expeditions and Trekking must abide by the following terms and conditions for minimizing the risk of COVID-19 infection. Terms and conditions in this document are valid till a new official notice regarding the same is published by the Government of Nepal.

Terms and Conditions to be followed by Foreign Tourists Visiting Nepal for Mountaineering Expeditions and Trekking:

All tourists coming to Nepal for mountaineering and trekking must obtain required visa before arriving in Nepal.In case of countries where prior visa provision for Nepal is not currently available, expedition teams or trekkers shall coordinate with their Travel/ Trekking Agency based in Nepal for arrangement of prior approval to enter Nepal. For prior visa approval, the Nepal based Agencies shall submit all prescribed details of the client/s and relevant details to Department of Tourism (DoT) for Expedition Teams and the Nepal Tourism Board for Trekking Tours, for recommendation of visa to be submitted to the Department of Immigration in advance. The concerned Agency shall be notified regarding visa recommendations.
For the tourists arriving in Nepal with visa recommendation and prior approval as per Article 1, the visa shall be provided at the point of entry by the Department of Immigration.
Tourists entering Nepal shall present following documents at Nepalese Immigration Entry Point:

Negative report of RT (Polymerase Chain Reaction: PCR) test taken within 72 hours before arrival.
Visa or prior approval document (ref Article 1) for entry to Nepal.
Hotel booking for at least 7 days' quarantine in Nepal.
Insurance Coverage of at least US$ 5,000.00 (Five Thousand US Dollars) against COVID-19 per person

After entry to Nepal, tourists shall stay in hotel quarantine for a minimum of 7 days
Tourists shall be required to take PCR test on the fifth day of hotel quarantine at their own expenses, and shall be allowed to proceed for expeditions or trekking on obtaining RT PCR Negative test report
As per Article 5, a tourist who tests RT PCR Positive for COVID-19, quarantine shall be extended till he/ she obtains a RT PCR Negative test report
Expedition or trekking teams shall provide insurance coverage of minimum of NPR 100,000.00 (One Hundred Thousand Nepali Rupees only) against COVID-19 to team members from Nepal prior to obtaining permission for expedition or trekking
While in expedition or trekking in Nepal, health protocols issued by the Ministry of Health and Population of the Government of Nepal shall be duly followed
Other terms and provisions to be followed by tourists in Nepal shall be as per regular notice and updates published by the Department of Tourism. The concerned Agency shall provide detailed information on the entry protocols to their clients/ tourists before the expedition or trekking in Nepal.
Important points not officially mentioned to enter Nepal
This post is not about "should you visit Nepal" in relation to COVID-19, it's about can you and what's needed. If you want to debate the merits of travel and tourism during COVID-19 then once again please see my update page. Meanwhile, let's look at some serious points not officially mentioned when it comes to visiting.
The most important point for anyone thinking of entering Nepal from October 17th 2020 is that you must be a part of a trekking or mountaineering group. That means no visa on arrival like before for independent trekking.
Secondly, what's not mentioned in the official terms and conditions is that many of the trekking regions in Nepal are introducing their own requirements.  Mostly, PCR negative tests before being allowed to enter the region. For example if you are going on an Everest trek then you'll need a negative PCR test before being allowed to disembark at Lukla. The same is true for other regions.
It is not known if your 5th day PCR test in Kathmandu will suffice or not. This "lack of official information" is normal in Nepal. It doesn't help anyone trying to plan a trek. Currently foreigners still in Nepal are being asked for PCR negative tests when out trekking.  An educated guess would be that the 5th day PCR test will do, so long as it's negative. There's nothing official about this, and there likely won't be either as it's the regional administrations that control this side of things. So far, anyone who has been stopped and has a negative PCR test has been allowed to pass.
What treks are open?
Officially it seems like all treks are open from November 20th. However, what's important to note is that many regions like Solukhumbu and Upper Mustang require negative PCR tests to enter for trekking. Certain parts of the Annapurna region are also asking for negative PCR tests not older than 72 hours before entering. While not official, the 5th day PCR test from quarantine may well qualify for regional access if you can enter within the 72 hours.
TAAN has released a statement announcing the following trekking areas open after November 20th.
Kanchenjunga
Manang
Dolpa
Humla
Helmu
Ruby Valley
The area between Jhinudada and Ghandruck is closed due to a local initiative to keep the area COVID-19 free.
Update 22nd October 2020:  Nepal Aviation have announce they have word from the Solukhumbu region that they will no longer allow non-residents of the area to enter due to fears of COVID-19. That means, Everest bound treks are not taking place.
Once again, please note that what TAAN do not mention is that many regions require negative PCR tests before you can trek through them. A 5th day negative PCR test during quarantine will likely suffice but you will need to enter the trekking region within 72 hours of a negative test. However you should confirm this with your trekking agency.
Several internet and social media reports say "certain areas" don't require a PCR negative test. However please keep in mind these certain areas may change their minds in a day. Moreover, not everyone in theses areas will have the same policy. So the best answer to "Which trek needs a PCR negative test?" is  – all areas.
Finally it's worth pointing out there's confusion if Nepali domestic trekkers need negative PCR tests. The answer is yes they do. Likewise guides and porters.
When can all types of tourists enter Nepal?
Unofficial rumors, the same that you'd have read on my COVID-19 in Nepal updates, state that in mid-November all tourists will be allowed back into Nepal with no pre-bookings, pre-visas or quarantines needed. Just a negative PCR test 72 hours prior to arrival. None of this is confirmed, but it does seem easier come November to enter Nepal.
Is this likely to change? Well, COVID-19 news around the world changes on a daily basis. However, Nepal is only just now realizing the economic impact of having no tourists. At the moment, just like everywhere else, COVID-19 numbers fluctuate. Some days are worse than others. There's always the thought that another nationwide lockdown can occur much like in your own country.
Other factors to consider before booking a trek in Nepal
Now that we know Nepal is opening up to trekkers again there's a couple of other things you might want to check out before booking a trek.
Flights: Check for flights and their preconditions to flying. Many international flights are running, but in limited capacity. My advice is to book directly with the airline and not a third party booking company. Check to make sure if they have any requirements before you will be allowed on board (many require a PCR test). Likewise, if you are transferring check if the country your are transferring through will permit you (airlines can help with this).
Insurance: You'll need to get travel insurance. Many travel insurance companies won't cover you for COVID-19 or if they do, there may well be small print excluding countries with a travel ban (currently most of the world). As such, you should speak directly with your travel insurance company to make sure you are A) covered for COVID-19 as per the requirements to enter Nepal B) you are covered for trekking and mountaineering up to a certain altitude.
COVID-19: Like it or not, the coronavirus is a risk. Nepal has COVID-19 transmissions just like nearly every other country in the world. It's important to realize this and to have a plan if you do get sick overseas. Talk directly with your travel insurance company about this before booking. They are not too busy these days, and they will have the information for you on hospitals and medical equipment available.
The trekking company: Please be cautious with whom you book with. There are many trekking companies out there at the moment who are promising "the safest trek" and that they are "taking all precautions". I've been involved in the protocols for safe trekking for many years, including during the pandemic. I can assure you that no special training has taken place in Nepal in relation to COVID-19 and trekking. Yes, there have been plenty of virtual seminars etc. But on the ground it's a different story.
Likewise many trekking agencies are now desperate and offering treks at reduced prices. Do please exercise caution. Now more than ever you should go with a reputable trekking agency. Do see my First Time Trekking in Nepal guidebook, or better yet my full Nepal guidebook for recommendations.
---
Get my Guidebooks to Nepal & discover more than anyone else!
Looking for more insider tips and information like this? Get the most up-to-date, popular and dedicated guidebook to Nepal in the world. Over 617 pages & 984+ photographs of every temple listed, daily guides on all the treks listed and so much more.
Take a look below and you'll find out why this beats all other guidebooks!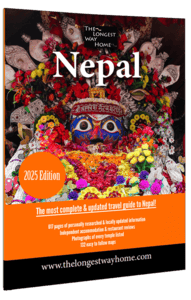 Or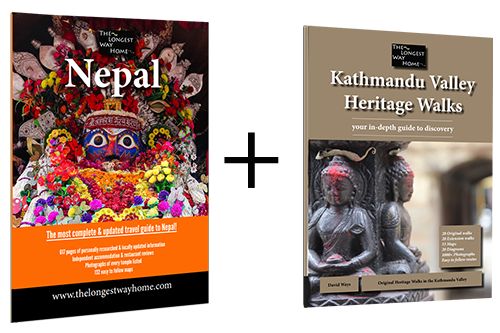 You can get 50% off my Nepal guidebook by getting it with the Kathmandu Valley Heritage Walk book