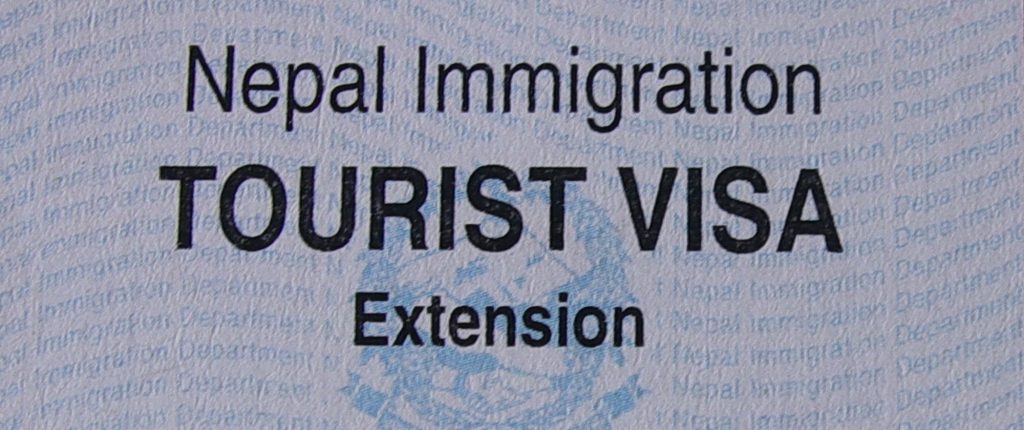 The cost of a tourist visa to Nepal is going up … on July 17th 2019
The Nepali government have announced the impending rise of tourist visa entry fees into the country. Full details on Nepali tourist visa fees and information can be found here. The new fees are the first in over 10 years and will go up again in 2021?! 
Nepal has a terrible history of rising fees or introducing fees at the wrong time. Last year trekking fees were increased in the middle of the peak trekking season with no warning. The previous year new entry fees to places like Solukhumbu (Everest region) and Nagarkot with no notice and a lot of confusion.
Even the kindhearted wouldn't think the timing of all this is a coincidence. The reality seems to tell us it's more to do with cashing in at opportune moments than anything else. Sadly. In either case be prepared for new fees … soon.
What are the new tourist visa fees?
The latest news about the new fees is as follows:
15 days – US $30 – fee for 15 days single/multiple entry (*$25 – previous fee)
30 days – US $ 50.00 fee for 30 days single/multiple entry (*$40 – previous fee)
90 days – US $ 125.00 fee for 90 days single/multiple entry (*$100 – previous fee)
Nepal Tourist Extentions are now USD $3 per day (previously $2). So a one month extension will now cost USD $90! 
I'm sure many people have a lot of questions about the intricate details of the new fees. 
There will be no more "single entry visas". All on arrival tourist visas will be multiple entry going forward. While tourist extensions will be single entry with the option of making them mulitble entry for an addtional $20. 
The biggest shock to the increased fees comes from the one third increase in Tourist visa fees for extensions. The new tourist visa fee extension is now USD $3 per day. The previous was $2 per day. So a one month extension is now a whopping great $90.  
Chinese visas are still free as are Chinese extensions. Indian nationals are visa free. All other visa related information can be found in my full list of Nepal visas and fees.
Here's a list of all Nepal visa fees (including marital, residential, study and business visas.)
When are the new tourist fees going to be implemented?
July 17th 2019.
With the Nepal 2020 year of tourism not so far away it's likely the new fees will not influence travelers this year as they would have already made plans. At the moment for Nepal it's more about getting numbers into Nepal to meet the 2020 objectives than improving quality despite issues about overtourism in Nepal and around the world.
The likelihood of getting free tourist visas as an incentive to visit in 2020 is now next to zero.
Very few people are publicly talking about the increased cost in tourist visas to Nepal. On the one hand tourism people "have" to be "positive" and proactive to help meet the lofty 2020 goals of 2 million tourists entering the country.
However budget and mid-range private businesses along with guides are being more outspoken and lambasting the new fees as destroying local and community business focused on tourism. In particular budget long-term travelers, backpackers and mid-range tourists along with retiree travelers. 
On the other hand there is a sector within Nepal who want the visa fees raised even higher to turn Nepal's tourism into a style similar to Bhutan. The reality is few people would begrudge a small increase in fees after ten years. However many will no doubt rue the timing of the increase. Silently many people are wondering why Nepal is not offering free tourist visas. The latter are also deeply worried about the planned 2021 further increases.
The 2019 visa extension fee increase has basically killed off budget and backpacker along with long-stay tourists in Nepal.
Ironically Nepal Tourism Board has been actively trying to encourage more budget tourists into remoter parts of Nepal and to stay longer to kick start tourism there. 
An official mentioned that so far in 2019 tourists there's been a near 23% drop in the length of stay and spending of tourists in Nepal. The new visa extension fees are likely to further escalate this figure. 
Why is Nepal increasing tourist visa fees when it's trying to get more tourists?
Good question. There are two answers. I'm not sure which is the correct one. Perhaps it's a mixture of both.
The first is that Nepal has not increased visa fees for over 10 years. So let's not bash them on that – prices have gone up and … well I'm sure the visa fee is used to help improve tourist infrastructure, somewhere along the chain. Nobody knows where the tourist visa fee actual goes. It's said to be split among different government departments who take a chunk and then after that it … again nobody can confirm exactly where it goes.
In 2014 a much maligned new visa application system was introduced to Nepal. It meant on arrival visa applications needed to be done via an ATM style scanning booth at arrivals in Kathmandu airport. There are three in Kathmandu citys immigration department and two in Pokhara. They sit there refusing to accept people's passport scans with ease, addresses and are very good at creating long queues. Again, do read my page on how to fill out Nepal visa applications online.
So, I guess the visa fee increase helps to pay for the "passport reading machines".
The second answer is that increased visa fees means more money. Simple as that. With lofty goals of obtaining double the amount of tourists in 2020 many decision makers might well be looking forward to cashing in. Granted having no visa fees would likely increase and encourage the number of tourist arrivals in Nepal not to mention increase their expenditure in the country which has been an issue recently. But that's how other successful countries embark on improving tourist numbers.
Yes, there have allegedly been more tourists over the past year but they are spending less and not staying as long as previously – confirmed by the hotel association of Nepal.
The logical thinking of offering free visas is of little interest to those making the decisions in Nepal it seems. If Nepal was well organized then indeed free visas would mean more money for grass roots people, transport, telecoms, tourism and the list goes on. But it seems the decision makers thinking is that this money never reaches them directly so it's better to get the money directly when tourists arrives.
Can you do anything to prepare for the new visa fees?
Yes, bring extra cash. The exact change is even better.  See my main page on tourist visa information for the very latest changes and updates. As of the publication date here, the fees will be implemented on the 17th of July 2019.
However, keep the following in mind is you plan to visit Nepal after 2019/2020.
Visa fees to Nepal will be reciprocal in 2021
This news broke this week with the date of the new visa fees. It's being reported that after the year of tourism in 2020 Nepal will introduce reciprocal visa fees from 2021 onwards. 
So if you are from the USA and you charge a Nepali citizen USD$100 for a tourist visa then Nepal will charge you the same. If you are from Malaysia and you charge Nepali tourists USD$40 then Nepal will charge you the same. 
Why reciprocal visa fees?
The idea that a "developing country" who depends on a healthy percentage of tourists arriving as one of their main Gross domestic products then increasing fees is a little controversial to say the least. 
To anyone who thinks reciprocal fees are fair and all should be equal then one should also take into account.
Consider the amount a country has "donated" or given or provided in aid both privately and publicly to the other country both financially not to mention in kind before taking into account equality in terms of reciprocal fees.
Consider the quality of environment, public services, infrastructure, hospitality, pollution levels, hygiene between both countries.
Consider that China currently gets free visas while Nepali have to pay for visas to enter China ( nonreciprocal).
Consider that many countries do not charge tourists to enter public squares be they heritage areas or attractions or not … Nepal does.
Consider that many countries who visit Nepal do not have two-tier entry charges for "foreigners" vs SAARC vs Local – Nepal does. 
Consider that many countries many countries who visit do not have two-tier domestic flight/bus charges for "foreigners" vs Indian vs Local – Nepal does.
Indeed there's a lot to consider when thinking about why there is a different visa fee structure between countries. And we haven't even touched on trade, emigration or income from overseas workers.  
Is Nepal introducing reciprocal visas fees to lessen the amount of tourists? 
Once the 2020 year of tourism is over with and the numbers tallied both officially and privately the likely outcome will be the same as the inflated numbers in the 2011 year of tourism. Official figures were heralded as amazing while local businesses denounced them as utter rubbish as local business profits along with hotel occupancy were near on near the same as the previous year. 
The private business were not shy to say any increase of tourists only went to "well connected" tour companies with contacts at the highest level. Much akin to the 2019 helicopter rescue scam. Interestingly the local and private businesses claims have stood the test of time. So no matter the official number at the end of 2020 it's likely to be scoffed at by the same businesses. 
Given that, the milestone of 2020 will be over and the next tourism goal will be on the table. As mentioned earlier there have been people within Nepal's tourism industry and "consultants" hankering after a Bhutan style of tourism in Nepal for years. Thus Nepal will only have hefty fees and wealthy tourists. Once again it's clear where the vast amount of tourism money would end up under such an initiative. 
If Nepal goes down the road of a Bhutan style of tourism only for the wealthy then the people most likely to lose out are local people and local businesses which have been the foundation of Nepal's tourism since it began.
Hopefully the people mentioning reciprocal fees are no more than blowhards or people who got their "wires crossed". However there is little doubt that such ideas have been mentioned in the corridors of Nepal's decision makers. 
One point of note. If Nepal really does offer exact reciprocal visa visas per country then some nationalities will benefit from this in terms of extensions or duration. However the likelihood of this happening in such an exact manner is zero. It will likely be flat charges with no negotiation. 
Are reciprocal visa fees in Nepal going to happen and if so when? 
It's rare things happen quickly in Nepal. But this has come to the surface with well over a year before it's due to be implemented. It's likely there will be a short delay until the end of January 2021 before the "official 2020 figures are released".  Then the reality of new goals will take place. 
A lot can happen between now and the end of 2020 and as it's Nepal – a lot of nothing can also happen.
Here's a true story about the increased Annapurna National Park fees in October 2018 – during the middle of peak season.
With no news at all about the new fees, tourists were queuing up and being charged the old fee until 1pm. Then at 1.05pm the permit office started charging the new fee. It happens like that in Nepal. No advanced notice. No option to go earlier. Just pay up.  New Nepali trekking permit and national park fees can be found here.
So yes, the best thing to do is bring the extra cash when you apply. Keep in mind the fees can go up at any time and keep an eye on my page on Nepal tourist visa information and fees for new information and the latest updates. For more information on how to pay at the airport read more about how to arrive into Kathmandu airport for extra tips on visa on arrivals. Finally and best of all get my guidebook below for all this information and more!
---
Get my Guidebooks to Nepal & discover more than anyone else!
Looking for more insider tips and information like this? Get the most up-to-date, popular and dedicated guidebook to Nepal in the world. Over 617 pages & 984+ photographs of every temple listed, daily guides on all the treks listed and so much more. Take a look below and you'll find out why this beats all other guidebooks!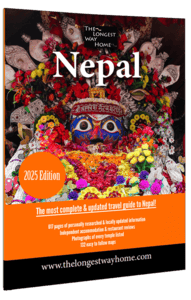 Or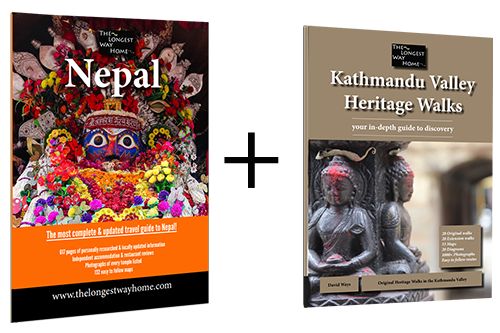 You can get 50% off my Nepal guidebook by getting it with the Kathmandu Valley Heritage Walk book