The official launch of Nepal's best guidebook
Having an official book launch was not something I was expecting to do for my guidebook. It's already been out for the past month or so. But this is Nepal and this is the wonderful charming part of Nepal I enjoy so very much.
Rajan Sakya the CEO of KGH Group in Nepal offered to host the event.
His words were generous:
"10 years of so much work telling the world about Nepal and now writing the most unique and insightful guidebook to Nepal is something that needs to be recognized and celebrated."

"For decades Kathmandu Guesthouse has hosted great writers on its grounds, today we are proud to have David and his book launch with us to continue this tradition. It's another feather in our gap too!"
This past Sunday was the official launch of the paperback edition of my guidebook to Nepal.
The event took place at Kathmandu Guesthouse (the original hotel of Thamel and Nepal's leading hotel chain) in Thamel, Kathmandu. It took place in the dining hall which is themed after the Beatles following George Harrison's stay there.
Discover the Undiscovered
The event was coordinated by Rajans wife Shaguni who has an amazing passion for heritage in Nepal. We chose a theme for the launch: "Discover the Undiscovered in Nepal"
A presentation on both rediscovering Nepali heritage sites and discovering new ones.
Attendees
Nepal Tourism Board, leading hotels, authors, tour agencies, local celebrities, industry leaders along with the press attended the event.
The presentation
I gave a 30 minute presentation on one of the heritage walks described in the book. A walk through of how much there is to discover in Kathmandu right outside on the streets that few people ever come across.
There's so much more to Nepal than just the main attractions. I wanted to get that message across.
An ethical guidebook
I don't accept sponsored hotel stays, tours, meals or gifts. I'll be writing about this a little more next week. But in an age when so many are happy to take a free hotel stay in exchange for a review, I refuse.
I believe this is what makes The Longest Way Home one of the most trusted online travel guides in the world and the writer of the most trusted guidebooks in the world. We don't accept freebies, period. What I experience is what you as a tourist to Nepal will also experience.
A guidebook that goes to places no other book goes
There are so many places in this book that are not mentioned in any other guidebook in the world to Nepal.
I didn't write these places into the book just to say I'm the first. I wrote about them because they are fantastic places to visit for visitors to Nepal!
No more "off-the beaten path". It's time to Explore Nepal Like Never Before!
A book launch for tourists too!
Shaguni from Kathmandu Guesthouse was on hand throughout the event and kept things going wonderfully.
Rajan Sakya attended the book launch and was kind enough to provide opening and closing speeches.
Kathmandu Guest House and the great staff there provided a wonderful cocktail reception following the book launch
It was also an opportunity to but some real handwritten ink on to some of the books at the request of some of the guests.
Thank you for everyone who helped at the book launch
My thanks once again to Rajan and Shaguni Sakya, along with the entire Kathmandu Guest House staff for hosting the book launch.
Thank you to Amir for handling so much of the logistics on the on the day along with Carmen for taking so many of the photographs you see on this page today as I was making the presentation and didn't have a camera in my hand for once! Thank you to the Amir, Asmit, Bipin and Mila from the Direct Way Exporters team who manage the international shipping of the guidebooks.
To Narayan, Mina who traveled so far to be there and to Rabin who took the cool photo of the Rupa Shiva Temple!
Thank you also to Nepal Tourism Board for coming, members of the press along with everyone else who took the time out during a wet monsoon day to attend the book launch.
To Pawan Shakya and all the staff at Himalayan Travel Guides who worked so very diligently to publish the book.
Finally. Thank you to all the readers of The Longest Way Home. Both new readers and those who have been following and supporting my journey for the past 12+ years here.
---
This is Nepal's best paperback guidebook
This paperback guidebook to Nepal has been written by a traveler, tested by local Nepali and other travelers LIVE on the streets, mountains, jungles, flatlands and cities of Nepal in 2017 and is now available to everyone worldwide. It has been 100% printed and published in Nepal by Nepali people.
It's currently on sale in all major bookshops throughout Kathmandu, Pokhara and ships worldwide below.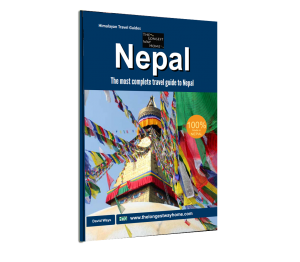 (Email/RSS subscribers please click here to purchase)
All Himalayan Map House bookshops in Thamel, Kathmandu are currently running a 10% discount if you mention this website to them and ask for the discount at their checkout till.
For readers ordering right here the price includes worldwide shipping!
For more details and to order now see – Nepal guidebook (paperback edition) or you can also get the Nepal Guidebook in PDF format for immediate download.