by Dave from The Longest Way Home ~ December 26th, 2017. Published in:
Travel blog
»
Nepal
.
A watercolor of a fisherman at Begnas Lake, in Pokhara, Nepal
Pokhara is known for rest, relaxation and adventure. It's also known as a the city of seven lakes. True be told, this is a bit of exaggeration.
Of the seven lakes only three to four are "real" lakes. The others fill up in monsoon season and then disperse throughout the year.
While Phewa lake is the most famous lake along the popular Lakeside area in Pokhara for tourists, there is another more scenic lake.
Begnas lake
For those new here you can read all about Pokhara here. Begnas lake is located about 4.5km from Pokhara city. It's easily reached by private vehicle, taxi or motorcycle.
Begnas lake itself is about 3.23 KM squared and only 10m deep. It's far less developed than Phewa Lake with only a couple hotels at one end and very few buildings spoiling the scenic forest surrounding it.
Paddle boats are available to rent out by the day, half-day or hourly. Tourists can rent these with or without a boatman.
The painting
The lakes waters and the sky match in this in Van Gogh style painting. In the forefront is the silhouette of a fisherman at the end of the day. The paddle boats behind him are usually only seen in famous marketing photographs. It's nice to see them in a different representation.
Moreover, this painting represents life along Begnas lake as it is today.
---
Get my Guidebook to Nepal & discover more than anyone else!
The most up-to-date, popular and dedicated guidebook to Nepal in the world. Take a look below and you'll find out why!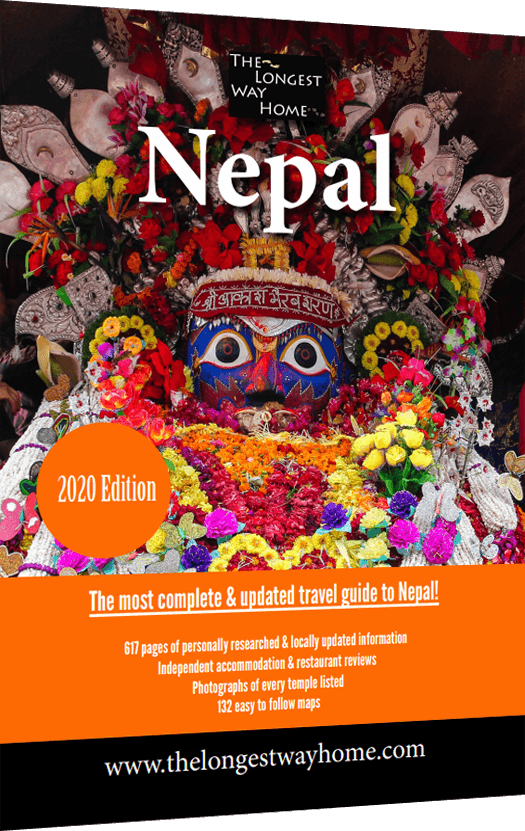 Find out more here!
---
Please take a moment to share this photograph using your favorite social network
---
Liked this post?
share it

Never miss a post!




Subscribe to my free newsletter now for weekly updates. (No spam, I promise)
---