by Dave from The Longest Way Home ~ December 24th, 2017. Published in:
Travel blog
»
Nepal
.
A painting of the reconstructed Boudha stupa in Nepal
It's one of the iconic symbols of Nepal and Buddhism. The massive stupa known as Boudha was also damaged in the 2015 earthquake. In 2017 it was fully restored.
While the initial damage did not seem like much, the upper part of the stupa sustained structural damage. It meant slowly taking it down, reinforcing it and then reconstructing it. The entire process took about 18 months.
The Boudha stupa
For those new here you can read all about Boudha stupa here. Many people also know the stupa as Boudhanath. However in recent years both ingenious Newari people and Buddhists say the name should be Boudha Stupa. The "nath" is Hindu influenced and does not come from its origins.
The stupa itself dates back to 590 CE with a the Buddhas little finger being buried under the main building itself.
Everyday you will see monks and devotees walk clockwise around the stupa touching and spinning prayer wheels as they go. This goes back to an old story of how an angry shopkeeper who didn't believe in religion and hated his customers died. He was going straight to hell but the Buddha prevented this and gave him a better afterlife. A demon in hell asked why. The Buddha said that at one time in the mans life he chase a dog all the way around the stupa and this was enough to atone for his sins. Today, those with sin are often found circling the stupa!
The painting
There is a lot of symmetry in this painting. The stupa with it's prayer flags and steps seem to reach down to the girl staring at it. What's more if you look at the girls dress it closely matches the swirling plasterwork of the stupa.
---
Get my Guidebook to Nepal & discover more than anyone else!
The most up-to-date, popular and dedicated guidebook to Nepal in the world. Take a look below and you'll find out why!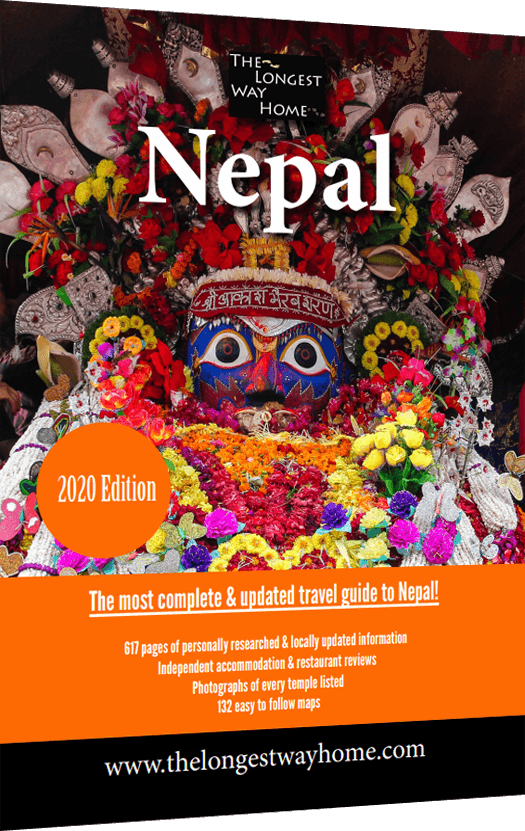 Find out more here!
---
Please take a moment to share this photograph using your favorite social network
---
Liked this post?
share it

Never miss a post!




Subscribe to my free newsletter now for weekly updates. (No spam, I promise)
---