by Dave from The Longest Way Home ~ March 14th, 2018. Published in:
Travel blog
»
Nepal
.
A community rebuilds an ancient stupa …
The Ashok stupa is located along the little adjoining lane named Ashok Galli in southern Thamel. For many years I've taken this shortcut between two of Thamel's main streets, Amrit and Thamel Marg,  leading to Jyatha. Prior to the 2015 earthquake the old Ashok stupa, whose fenced off area along the street takes up a large portion of the area, stood neglected.
In 2015 the earthquake hit and … Well, not much seemed to happen to the old stupa. Damaged, yes. But collapsed? No. The fence took more of a beating than the old brickwork.
Still, in late 2016, in quite a series of bizarre events the Ashoka stupa began a slow road to being completely rebuilt. In mid 2017 the surrounding courtyard was finished and it was all "reopened".
In 2017 the restaurant behind it was not given a new lease but a new management took over in 2018 (it offers views over the stupa).
It all seems somewhat kosher. However the story behind all this will give you an unprecedented look at how Nepal functions.
History of the Ashok Stupa in Thamel
This stupa is of no relation to the Ashokan stupas found around Kathmandu which are closely linked to the Indian Emperor Ashoka who is famed for Ashoka Pillar in Lumbini. That needs to be clarified because it's often assumed. Though, considering the original marker which called it the "Ashoka stupa" it's not hard to know why there was confusion – naming was never a strong point in Nepal.
The actual date of the "Ashok Stupa Thamel" is said to be from the Malla period circa 16th century. However others again claim it goes back 1000 years to the Newar formation of Thamel.
In truth, like many temples and monuments in Nepal, nobody has kept an accurate record. Much of it is hearsay. Moreover, dating is expensive and due to many reconstruction attempts over the years quite difficult.
One thing for sure, there are more temples in Thamel than many people realize. For good reason too. There area was basically one large monastic zone dating back to Kathmandu's very origins.
Pre earthquake claims about the Ashok Stupa
Prior to the earthquake the Ashok stupa is said to have been under the watchful gaze of the nearby Tuladhar family, a local security man and priest. All of whom don't seem to have been around for about the past 10 years.
Ashok Galli – a pedestrian street overrun with …
This is when things get a little insightful. Ashok Galli is meant to be a "pedestrian street" where the stupa is located. I've walked along it for over 10 years. Sadly, Nepali on motorcycles continue to flaunt this and the narrow lane nearly always has some motorcycle riding up it and honking pedestrians out of the way.
About 5 years ago one small businessman there took matters into his own hands and built a barrier at one end. It was great. Then a bunch of locals with motorcycles took it down. Bad.
In 2014 things got worse as local businesses in Ashok Galli were forced out by increasing rents in Thamel and an influx of Chinese businesses. Now in 2018 I believe there is only 2 out of about 12 businesses there that are actually Nepali.
The vast majority of these new Chinese "businesses" seem to be selling Rudraksha beads… Nearby in Jyatha there are also many Chinese "businesses" and "hotels" (cough, cough). I'm sure none are related to the "export" market of anything and everything.
Today, Ashok Galli is a makeshift parking zone for motorcycles, Chinese "businesses" and … a pain to actually walk though. There is however, a shiny new stupa there.
How the Ashok stupa was reconstructed
After the 1932 earthquake the Ashok stupa was repaired, similar to others in Nepal, using cheap plaster. That's why it looks so different prior to reconstruction to the finished stupa today. However, some have questioned where the original documentation showing the stupa in its pre 1932 construction were?
According to locals the local community had been planning to restore the Ashok stupa. Post earthquake they got the news that the Department of Archeology would give them nearly three quarters of the over 1 million rupees needed for this.
The Kathmandu Valley Preservation Trust, engineers and experts were called in. Nobody likes to deal with the Kathmandu Municipality's red tape it would seem. It's an arduous toll on anyone. Just look at the mess of Kathmandu Durbar Square as an example.
Credit where credit is deserved the local comminity somehow managed all this and got the funding. A lot of this was led by Cafe Mitra's then owner Kunal Lama. The restaurant overlooks the Stupa so naturally having it restored would be a real attraction.
In July 2016 reconstruction began. The old bricks were reused for the inner stupa walls while not disturbing the original relics or "astu" when it was constructed. A shame nothing scientific was done in regards to dating though.
New bricks were made using traditional methods by the Barahi Brick Factory in Bhaktapur. However the bricks would be thicker than the original ones.
In late 2016 the main stupa or chaitya was completed. By March 2017 the outer area, greens and fencing was finished.
An insight into how Nepal works
The Ashok Stupa was reconstructed only because of the efforts of the local community.
That much should be congratulated. I reached out to them for some clarity, but they sided with silence. Instead updates are posted on the Ashok Stupa Facebook page.
Donations are still being giving with lots of Nepali names being placed up there. Since July 2017 the gates have been opened yet still no security guard. Which is a shame as motorbikes park outside the walls of the stupa nearly to the point of  doubling up. Moreover, they still drive though the narrow street. Worse yet are the Chinese business owners along the street on said bikes, spiting, smoking and generally taking away from the Stupa as an attraction.
All work and no end game
This brings me to the whole point of this article. Little is shown to the tourist about the reconstruction nor the work that went behind it. Today the area looks like a pleasant new park and no more. The restaurant is under new management and they must surely be enjoying the views. But that's it.
Surely after putting so much work into the reconstruction of this stupa it would be a huge benefit to actually show it's history somewhere (hint hint). Further, when I walked in there recently I was glared at by the locals as if trespassing. Perhaps they'd have preferred it if I went inside the restaurant instead, bought an expensive meal all for the privilege of looking at the new brick work?
Moreover, if the community is so "strong". Then why is the entire of Ashok Galli a pedestrian nightmare and eyesore? Perhaps that can be their next focus? While collecting the high rents from the Chinese "businesses" they could ensure no parking or riding through this street is allowed?
Maybe that little security man who hasn't been seen yet can patrol the street for illegally parked bikes?
Then and only then can Ashok Galli and the stupa really reach its true potential. If that truly is its purpose.
Meanwhile, it's unclear if tourists can even visit the Stupa. Sometimes the gate outside is locked. Try a Saturday morning. It's a peaceful place … aside from the motorbikes.
---
Get my Guidebook to Nepal & discover more than anyone else!
Looking for more insider tips and information like this? Get the most up-to-date, popular and dedicated guidebook to Nepal in the world. Over 550 pages & 900+ photographs of every temple listed, daily guides on all the treks listed and so much more.
Take a look below and you'll find out why this beats all other guidebooks!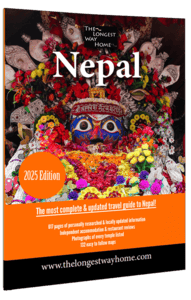 ---
---