by Dave from The Longest Way Home ~ March 3rd, 2008. Updated on November 4th, 2016. Published in:
Travel blog
»
Nepal
.
Travel Journal Overview: I had spent more time than I could have possibly imagined in Kathmandu, and indeed Nepal. The place that had given me the feeling of home, that place I had fought off, the place I found it hard to leave. But, leave I had to.
Moving on often brings me to think how things change when I am about to leave a place, or rather people. It's the emotional build up, departing ways, time to leave and never see again. Maybe its not so much the people, but the environment, the feeling. If you have ever enjoyed yourself with a group of people for a period of time, and then over stayed, then you will know what I mean. It becomes a disappointment. You struggle as a single person or as a group to keep the continuity of new experiences running. It never works. Instead we move up a level and people start to look else where for new interests. This can happen as a whole or as a single person. I am at that borderline.
The internet in Thamel was poor, as was the timetable for electricity. I wanted to finish up some last minute checks online. It was hard to believe I had spent so much time here. My old German friend was right, Kathmandu is quite a place. It holds the rare ability to be a sanctuary for a foreigner and a place to break out into the street life of one of the poorest countries in the world.
As people know me on the street now, I walk largely un-hassled. I leave the touts to grab at the wide eyed newcomers. I nod greetings to the street dealers that know I do not buy. The cargo agency boss calls to see if there is any news on a possible European partnership with Melissa.
Even the Guest house is changing, filling up with strangers, new tourists; oblivious to the long term guests. Even we the remaining long term residents stare at each other, each day getting quieter than the previous. Time's up. One by one we depart. Dante, The Kathy back to her Monastery, Paulo to India, and now me. Stephi and Anna will be alone soon, maybe for the better.
Of course my final goodbye night happened to coincide with Shiva's birthday, the hashish smoking Hindu God. A trip to the sacred temples of Pashupatinath, a naked dancing Sadu priest and 50,000 semi stoned people started the day. On a day when the already rampant hash smoking scene was actually deemed legal, even the street kids held us up for ransom. That night we feasted on Sangita's Goat's cheese salad, the Stephi inspired tart au flet, finishing off with Madu's chocolate cake. The latter seeming to be rocket fuel for a dodgy stomach.
My actual final night was a lot more subdued the next evening. We went to the local Italian restaurant for a quite dinner. Too many hang overs for that many smiles. Then back to the guest house for an emotional hug to all the people I had shared my 7 weeks with. One last look and a "bye guys" and that was it.
It would have been better for me to leave last week, but for a credit card problem that involved the help of a forign bank and DHL. But then again maybe I should have gone straight to China and bared freezing snow after the first few days in KTM. Though I think not. For I would never have heard the words, "You are too old." Never had the challenge to prove youthful words wrong.
For me today was a better day, times up and my mind is already on the move, or at least getting there. I had been arranging my days in China and was gearing up for the end of the Point2Point overland. A failed attempt to find a home, but a success in an overland the "hardwayround".
Hard not in the sense of travel. Hard in the sense of accepting I was wrong in how easy it would be to find a home. In fact it hit me like a sledgehammer square on the crown. So hard I largely ignored it. The onl hard thing about my travel was the visa issues in Turkey. Then again in hindsight Iran's border with Pakistan could have gone horribly wrong. As could have Pakistan during emergency rule. A lot of things could have gone wrong but did not. This I excepted.
I had accomplished just about everything I could have as an overland traveler on a mission. Now with only a month left due to my short 28 day Tibetan pass I was leaving the one country I genuinely would come back to.
Nepal is not my home, nor do I think it ever will be. It is a place for me to live as the voice of experience. To enjoy high altitude adventure, cargo shipments, a roadside robberies, wheeling and dealing with pleasure, entering a brief circle of friends, coming face to face with reality; and of course enjoying the sheer adrenaline highlight of Riots.
But now, it was indeed, time to conclude things…
Some related links on this website that  you might like: (including a lot more photographs from Nepal)
Stories: Talika the twelve year old miner from Nepal
Stories: NGO's in Nepal & Developing Countries
Resources: How to Guide – Nepal to Tibet Overland
Resources: How to hire a guide in Nepal
---
Get the best guidebook to Nepal!
---
Liked this page? You'll love my guidebook to Nepal! I cover all of the Kathmandu Valley, Bardia, Chitwan, Lumbini, Everest Base Camp, Annapurna Circuit, Annapurna Base Camp, Mardi Himal, Ghorepani Poon Hill, Dhampus plus side treks to Gokyo and Tilicho Lakes. With day-by-day detail trekking details along with photos of what to expect, extensive preparation chapters, budgets, where to find a trekking guide plus hotel reviews, restaurant reviews, places other guidebooks don't even mention, costs & much more!
It's only guidebook to Nepal with color maps that you zoom right in with!
The book can be read on tablets, laptops or mobile devices & is printable. Quite honestly this will help you more than any other guidebook to get the most out of trekking Nepal.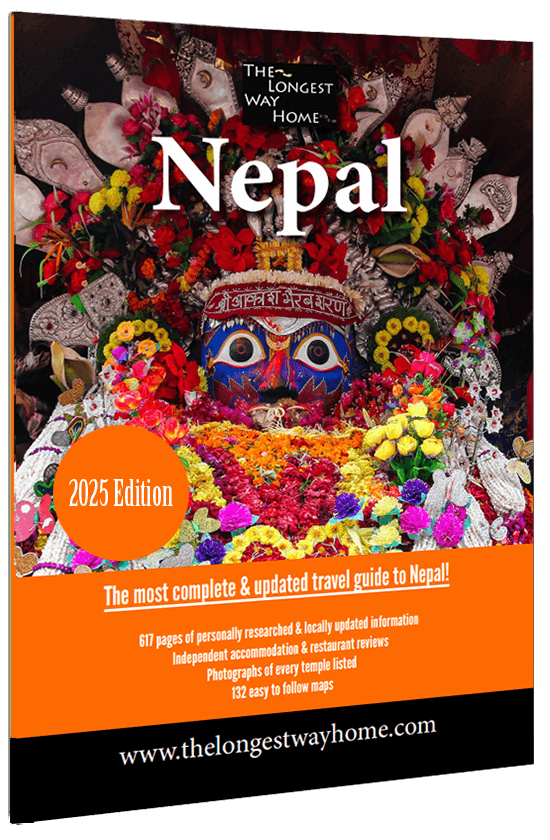 Get a special discount offer on this book here!
---
---