Thamel is very different at various stages throughout the night
Though Thamel has changed over the past 10 years not many get to experience this area of Kathmandu at night. During load shedding in the past (power cuts) Thamel shut up shop by 10pm most evenings aside from the odd bar. Today on a Friday night that's all changed.
However, more interesting than just the late night parties are the parts of Thamel few get to see at night.
Ladies night out
Fire Club is one of the the main dance places in Thamel on a Friday and Saturday night. Old School rules apply like dressing like you have money and of course having a wallet for the hefty cover charges.
Girls in high heels, short skirts are the norm these days as are Nepali men with slicked back hair and if possible a western or Chinese lady in arm.
It's also important to note the difference between a "night club" and a "dance bar". The latter is the more seedy and dingy where you'll be charged extra for the copious drinks the girls that flock around you will order. Stick with nightclubs …
Side Alley Clubs
For those with less of a budget, head to the backstreet bars blaring out 80s rock music until the early hours. There's usually a gang of Nepali's jostling for motorcycle parking just inside. But inside your ears will be immune to the engines due to high music decibels while your lungs heave in cigarette smoke from locally filled lounges.
Fast food & cyber till late
More side alleys are filled with new burger bars that have replaced kebab stands which replaced sandwich points. All of which are soon to be replaced by fried chicken joints.
Live bands play until late
No matter the day of the week there will nearly always be a live band playing in Thamel. It's usually 80s rock music covers but increasingly independent Nepali rock bands having been holding there own.
Nightly transport
As the night wears on taxis jam the streets outside clubs waiting to collect local youths with plenty of money still to spare.
Street kids pander to tourists
Locals know better than to give street kids money which will go on drugs. But tourists still fall prey to their fixated pleas.
Police are active until 1am on Friday and Saturday nights
Up until 2016 the police in Thamel (or Nepal) were usually a rarely seen and not very helpful to the tourist lot. At least until you met someone in charge. But, if ever you took a photograph you'd usually get a smile at least.
In fact I even remember the police halting traffic to let me take a photo in Thamel about 10 years ago. Today, there's no such niceties. You are more likely to be arrested or chased off for pointing a camera near them these days!
Ladyboys and … drugs
What happens in Thamel, stays in Thamel. Transvestite prostitutes have become common place in Thamel these days. Many are nether gay nor ladyboys but looking to earn money by any means. Peer pressure and praising attention from social groups have reinforced their state on the outskirts of Thamel.
Last chance on a rickshaw
As taxis dwindle the very last form of wheeled transport are the cycle rickshaws. Most of whom will charge quadruple prices to take you home.
Empty back streets filled with roaming dogs
Street dogs roam all of Nepal at night. In Thamel with its intoxicated and usually lost lone tourists it makes for a dangerous combination in a country known for rabies. Take caution and avoid lone streets with dogs in them.
Temples are quiet
In the early hours of the morning Thamels temples stand silent. Worshipers sleep while the deities do likewise behind locked shrines.
Late night construction
Thamel's economic boom means hiring cheap labor to work twenty-four hours a day. Don't be surprised by the noise of construction in Thamel during the early hours as workers go through the night.
Not all are sleeping taxi men and abandoned rickshaws
You'll usually find an empty taxi or rickshaw in the very early hours of the morning in Thamel. Sometimes there's a man sleeping inside. Other times they are sharing another car. Do be careful though as many rickshaws at this time of night can be a front to drug sellers.
The lone walk home from Thamel at night
Thamel is not quite the 24-hour party city that other capitals have around the world. Things are changing now there is electricity around the clock. Most nights can end between 10pm and 1am. Generally speaking if early, a rickshaw is safe. If late then you'd be wise to arrange a taxi to your hotel.
While generally safe, the streets of Thamel are changing rapidly. Do take care going home. And don't forget to read my free guide to Thamel.
---
Get my Guidebook to Nepal & discover more than anyone else!
The most up-to-date, popular and dedicated guidebook to Nepal in the world. Take a look below and you'll find out why!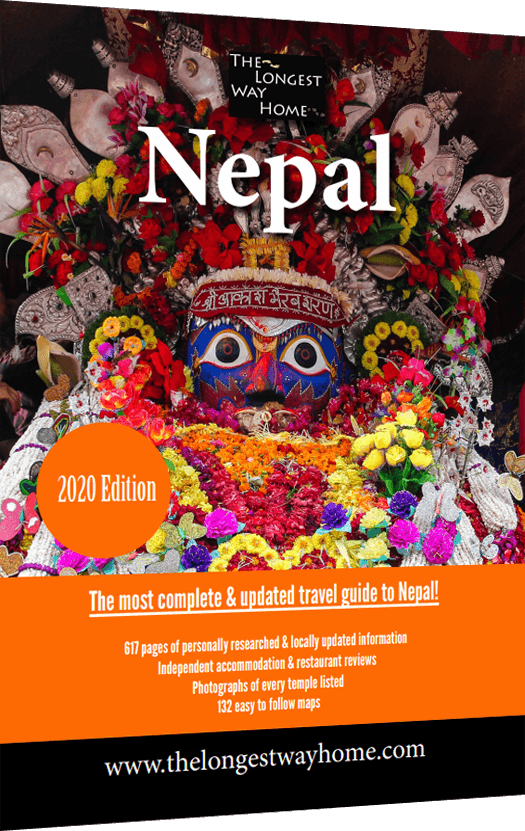 Find out more here!
---
Please take a moment to share this photograph using your favorite social network