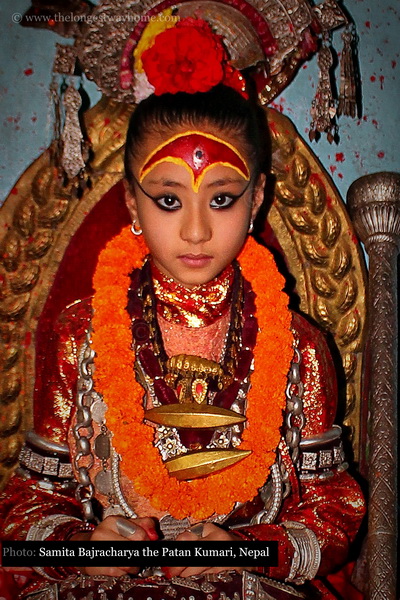 Photographing The Kumari Living Goddess
There's really no doubt that this Kumari photograph is going into my main photography gallery. It was one of those events that meant a lot to me personally rather than purely for a "photographs" sake.
If you'd like to find out more about the Kumari then check out the links at the bottom for the series. Meanwhile here are some highlights and facts.
Facts about the Kumari in Nepal
The Kumari are prepubescent girls of Hindu faith from Nepal.

They are believed to be the living incarnation of the goddess Taleju by the Newari people. 

There are several Kumari's in Nepal, however they are ranked. The Kathmandu Kumari comes first, then Bhaktapur then Patan. 

The Goddess Taleju leaves the girls body upon menstruation

. 

The Kumari never leave their homes unless for official

 occasions. 
The story behind this photograph of the Kumari
I've already documented this in a series of articles. However as a recap in 2007 I'd heard of the Kumari but was not able to visit her. Upon returning to Nepal I made this a priority. Along the way spending time with people in Kathmandu, Bakthapur and Patan on my search.
However once I did find and meet with the Kumari I was taken back by own discoveries. From a revered symbol to simply being confronted by a little girl called Samita I found something much better than just a photograph.
Do read the full articles for more starting here:
Don't take a tour to visit the Kumari
There are plenty of tour companies in Nepal trying to profit on the Kumari tradition. You do not need to pay to visit the Kumari! The tour companies do not give these excessive profits to the Kumari family at all.
You can visit the Kumar easily and independently.
---
Planning on booking a hotel room soon?
Looking for the best online rates?
I recommend you try my own search network for the best rates guaranteed.
---