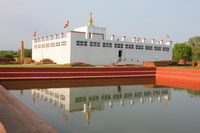 The Birthplace of Buddha is in dire need of some spirituality
I've visited Lumbini many times over the years. The first time was because it was the birthplace of Buddha. A place that could surely be matched in importance with Jerusalem or Mecca. What I found was an uninspired town, hidden monks and a less than stellar visitors experience.
I've been back on several occasions to update my guidebook to Lumbini. Every time I make the trip I let out a silent groan. The road trip. The hassle. The lack of development in the "development zone'. Uninspired restaurants and rather drab accommodation. Least of all the lack of anything communal in Buddhist learning, spirituality or even history.
All the while I cringe knowing that even the Nepal tourism board struggle to find positive quotes from tourists who visit there. Most give typical "it's nice" quotes while contorting their faces in ways that we all know say that they really don't like it.
I don't blame them. I feel the same way.
What's wrong with Lumbini? Let's find out.
The journey to Lumbini is not straightforward
Why is it so difficult and inconvenient to visit the birthplace of the Buddha? Fly on an overpriced (foreigner price) plane to Bhairahawa and then take an overpriced taxi to Lumbini. Or take a scruffy tourist bus to Bhairahawa from Kathmandu, Pokhara or Chitwan then cross a busy junction to try and find a local bus to Lumbini Bazaar. Or, simply take a local bus to Bhairahawa and repeat the process.
Getting back is even more painful. The direct Lumbini Bazaar to Kathmandu bus runs once again in 2018. Otherwise you have to take an overpriced shared taxi from Lumbini bazaar to Bhairahawa bus station and battle for a ticket to Kathmandu or Pokhara. That is if you managed to survive the local travel agents selling you overpriced tickets at Lumbini Bazaar under the guise of promised seats or booked out seats – they never book out.
It's all about money, cheating, getting one over on visitors.
Transport to / from Lumbini is a painful process when really it should and could be a lot nicer.
Accommodation in Lumbini is not good value for money
The one good thing in Lumbini over the past few years is that there's been a boom in accommodation choices. Mainly high-end from Chinese investors. Sadly this also involves a huge new suburban housing zone across the road from the Development Zone. Why? It's horrible and looks more like "little China" than real Nepal!
The main bazaar still offers the old guest houses that have been around for years. Some have changed their names. Fewer still have slapped on a coat of paint. Fewer still again have purchased new bed sheets.
Lumbini is traditionally either a very hot place in the summer or cold in the winter. In the summer you are pestered by mosquitoes in guesthouses with few mosquito nets. In the winter you will be aghast at the lack of hot water available for your shower.
Mosquitoes are a constant in Lumbini so go prepared!
I know many hotels in Nepal in "struggle in heating water". It's actually not that hard if you really do have a "solar" hot water heating method. The problem in Lumbini is that most guesthouse staff just can't be bothered turning over the pipe switch to provide hot water in the mornings to guests.
The new batch of hotels beside Lumbini Bazaar offer generators along with all manner of excuses for not turning them on. All for about USD $35. So why bother. Just go stay in a $6 local place and brave out the lack of hot water or electricity.
I visited with a group of hoteliers recently who said they were addressing these issues. The fact of the matter is the individual hotels are the ones who provide a service so it's still "let the guest be aware".
One of the latest issues in Lumbini is being charged an additional 10% service charge on check-out. Do ask before checking in if there an other charges.
Oh and expect prices to quadruple during Buddha's birthday or most Buddhist festivals as pre-booked room reservations get conveniently "lost".
Restaurants are getting … better
There are about four non-hotel related restaurants in Lumbini bazaar. They are about inspiring and random as a typical greasy Chinese takeaway. The one exception is the Lotus Restaurant whose chef used to work in a high-end hotel. While his sweet and sour chicken is more like a chicken in tomato soup his parathas and curries are excellent.
The good news is that the restaurants in Lumbini are very cheap.
Lumbini Development Zone is very lackluster to say the least
There are 24 Buddhist monasteries in Lumbini Development Zone and for the average tourist they are meek compared to one or two visits to a monastery in Kathmandu, Thailand or Cambodia.
While monks are just about visible inside the monasteries, there are very little activities to get involved with here. Basically the monks are just living there. There's little interaction in the majority of monasteries unless you are already knowledgeable in Buddhism.
The walkways in Lumbini are adequate but no one pays attention to the "no motorcycles allowed" signs. The speedboats in the canal are hideous. And the odd Indian or Chinese tourist groups roaming around in a discreet taxi just adds to the indignant feeling you get.
Lumbini Museum is a shocking mess of disorganized and ignorant staff who can't be bothered to actually work. From personal experience I tried to enter at 2.30pm only to see a little man run out and tell the guard to close the gate. I asked the nice guard why the little man ran out and told her to close it and the guard stated the museum was closed. I pointed to the mess of a sign where there was nothing indicating closure before 3pm.
I then asked if the little man was just lazy and wanted to go home early. The guard laughed and did a head waggle before suggesting I come back tomorrow.
Oh, and the ticket office for the museum? It's in a shack across the road. As in 2 minutes walk away. Not a huge inconvenience but why not right at the large gates?
Technically the Crane Sanctuary is outside the Lumbini Development Zone but let's just throw it in there for fun. There are no longer any cranes there! There hasn't been for years. They moved on due to the water supply being drained. I've updated this in my guidebook to Lumbini. It's pretty obvious the others haven't in years.
The world peace stupa built by the Japanese is worth a visit though. It's clean, neat, you can keep your shoes on and it doesn't have an entrance fee though rickshaws are often reluctant to trundle all the way there.
Maya Devi Gardens
This is the area where Buddha was born. A few years ago some "not so bright spark" decided to ban all shoes inside the gardens. So now you must leave your shoes outside the gates to the garden where various rough looking characters mope about. The guards are too busy inside the gates chatting to be worried about your shoes going missing.
I handed my boots to them in a bag and took a photo. They laughed nervously but got the point.
Oh and before you take your shoes off and go to the gate you better buy a ticket. They don't sell them at the gate of course. The sell them up the road about 3 mintues away. In a building with no signs.
While I'm on about buying a ticket … why do I have to buy a ticket to a "religious" site?! A Buddhist one on top of that where such monetary notions are dismissed. A Buddhist site that gets millions of dollars of aid for development both internationally and from the monasteries themselves.
Inside the experience of walking shoe-less is insane. Even locals complain that during the summer the bricks burn their feet. Meanwhile in the monsoon season you end up a soggy muddy mess. And in the winter … well you get the point.
Meanwhile try and not pay any attention to the monks, guards and random people walking around in shoes.
I had lot of fun being foot impaled on the short sharp grass outside while a grinning monk wearing shoes looked on.
Inside the Maya Devi Temple
Little has changed here. You still can't take photos inside. Why? But the blatant bribing of guards continues if you do want to take a photo or even take a piece of the inner temple home with you.
Yes I know, shock horror, people are bribing guards to leave so they can take chunks of brick home with them. Well, someone has to bring this up!
At least the lights work inside.
What can be done to improve Lumbini?
Here are some simple suggestions to greatly improve the Lumbini experience.
Make the monks work
The land was given to the monasteries for free. Great. Now make them work a little for it.
With 24 monasteries from all around the world it would be great if each monastery did a day exhibition or teaching seminar on their form of Buddhism and Buddhism in their country!
Make a calendar and mark what days each monastery has an exhibition day then stick to it. Imagine if a tourist went on a Monday, wanted to leave on the Tuesday, but then saw that the Thai Monastery had an interesting exhibition or seminar on Tuesday. It doesn't take a rocket scientist to realize that they might want to extend their stay.
Or how about that Burmese monastery having a Buddhist art class on Wednesday? The possibilities are virtually endless and interesting. What's more people could actually plan their trips better if this monthly calendar was actually published?
Sadly, when suggesting such "work" related topics one is usually greeted with big smiles, nods and an excuse they have to go off and meditate.
Keep your shoes on
It's that simple. It's a garden. Inside the temple sure if you insist then shoes can be removed. But outside? Get real.
By the way, why not sell cheap socks at inflated prices at the gates for people who don't want to walk in bird crap, human spit and the odd nasty looking wet stain?
Drop the entrance fee
200 rupees? Why? I'm sure Buddha would not be pleased you are charging to visit his birthplace.
Does the Mahabodhi Temple in India where Buddha actually gained enlightenment charge a fee? No. So why in Nepal must we pay? Especially considering the massive donations given to the area?
How about all "foreigners" whose countries have donated money to Lumbini get in for free? While everyone else can opt to give a donation instead?
Get the transport system sorted
Why is there no dedicated bus service to Lumbini Bazaar? Okay there are not enough tourists to Lumbini for that … I wonder why. Anyway, how about subsidizing the buses using the above vast sums of money going into the Lumbini development zone?
Or how about providing a daily morning shuttle bus to Bhairahawa bus station and stop this travel agent rip off scam currently under way.
Buddhist Learning Center?
Would it be so hard to have a simple Buddhist learning center in Lumbini? A place monks can volunteer (shock?!) to teach people about different kinds of Buddhism, the history etc.
Yes, I know you can go and camp out at a monastery, aside from the closed ones (how many years has the Vietnamese monastery been closed now?) But how about something universal and easily accessed?
A place people can actually learn about different types of Buddhism, some history and possibly even socialize or meditate – just an idea.
Put up a suggestion box!
It's not hard. At the gates. One desk. One ream of photocopied questions. A chair. Some pencils and a monk (volunteer again). Let tourists actually write down what they thought about the place. See, free feedback.
It's not hard and certainly better than dubious statistics saying tourists on average stay only 32 minutes in Lumbini (when was the last time anyone asked where you were from let alone how long you stayed in Lumbini?)
Let's end on a positive note
The reason why I've written the above is that I'm really sick and tired of seeing and experiencing the decline of Lumbini over the past few years. The honest truth is that it really be a lot better.
It could be a world class site for Buddhism. But it's nowhere near this.
Is Lumbini worth visiting?
Even with all this, if you've never been to Lumbini then I do encourage you to go should you visit Nepal. If you are doing Nepal's golden triangle of popular destinations  Kathmandu – Pokhara – Chitwan then you could easily hop to Lumbini from Chitwan and then head back to Kathmandu via one of those travel agents or by making your own way to Bhairahawa bus station.
If you are into Buddhism then you'll have 24+ monasteries to visit which should be interesting for you. It's free to meditate in the Maya Devi Gardens by the way. Once you buy a ticket that is.
Oh, do bring a spare pair of socks with you!
There are well marked day walks around Lumbini Bazaar. Well done to the local community who put these up. Now please remove the aggressive dogs in Mahilwar village and put up a big sign for the turnoff to Hathihawa Lake rather than having tourists wander off to the border of India by mistake (slight exaggeration but still …)
Let's look at the four main tourism hubs of Nepal as a whole:
Lumbini has so much potential to be vastly better than it is. Hopefully the Lumbini Development Zone will read this and get some ideas.
Meanwhile pick up a copy of my guidebook to make the most out of your journey to Lumbini!
---
Get my Lumbini Guidebook (2018 edition) to learn more about visiting the birthplace of Buddha!
The most up-to-date, popular and dedicated guidebook to Lumbini in the world. Take a look below and you'll find out why!