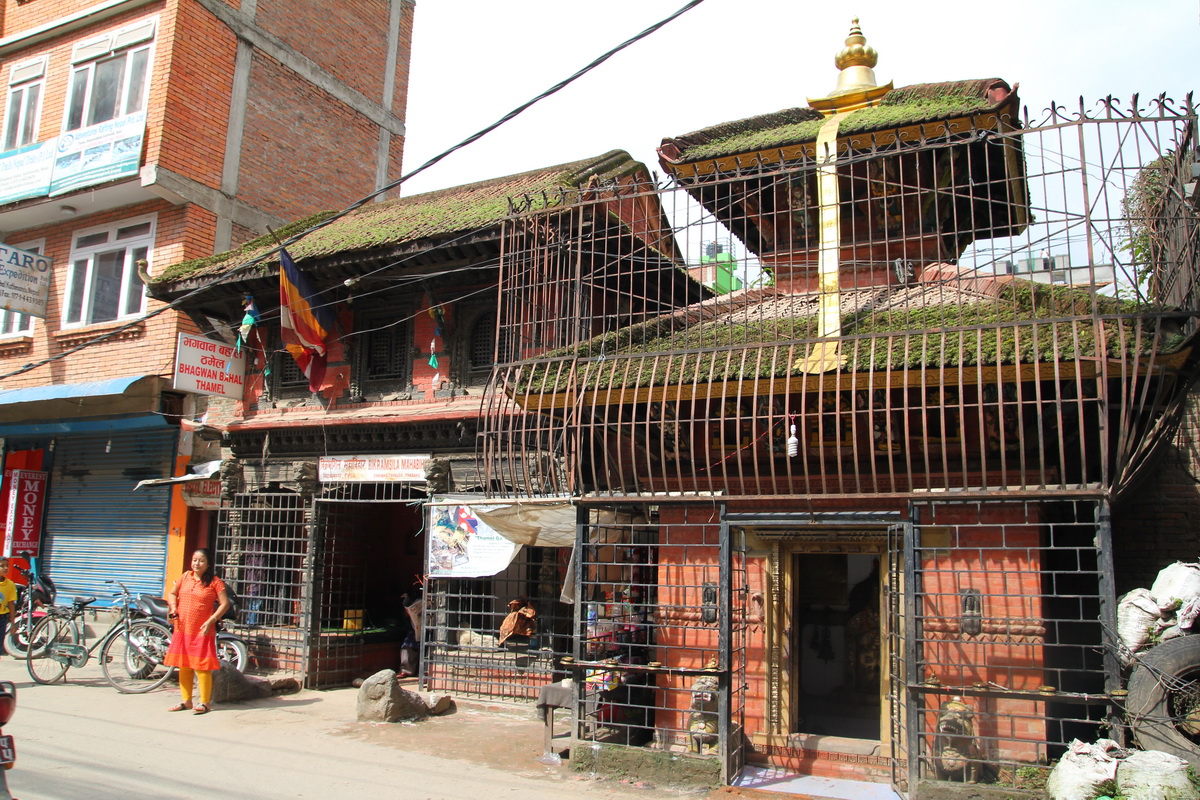 Discovering the temples of Thamel in Kathmandu
Thamel is more known for its eclectic selection of trekking stores, cafes, pashmina stalls, restaurants, ramshackle guesthouses and emerging boutique hotels than for its temples. However the very name Thamel comes from Thabahi whose true origin center point is the 1000 plus year old Bikramashila Mahabihar (Bhagwan bahal) monastery/temple in north Thamel.
While it's easy to ignore or not even be fully aware of the many temples and shrines within this bustling center for commercial tourism – they are there waiting to be discovered.
So with this in mind. If you have an interest in Newari, Buddhist or Hindu culture, ancient buildings, shrines or are just looking to pass some time away from the commercial aspect of Thamel, here are the hidden and not so hidden temples of Thamel.
All buildings, shrines and temples listed here are free to enter or view.
Bikramashila Mahabihar (Bhagwan Bahal)
Let's start with the very first ancient building in Thamel. Commonly known as Bhagwan Bahal it is rumored to be over 1000 years old and the first monastic building in the Buddhist (Newari) area of Kathmandu known as Thabahi.
Beside it is a temple to Ajima and opposite it are some smaller shrines in another compound now used as a parking lot.
Bhagwati Mandir
Probably one of the most recognizable temples in the center of Thamel in the middle of a junction between Bhagwati marg and Thamel marg.
Dedicated to the goddess Bhagwati there are also some Ganesh shrines around it.
Hanuman, Ganesh and Shiva Shrines
Continuing down the street to your left are two small roofed temples. The first is dedicated to Hanuman who looks like Vishnu but the worn face gives it away.
Next to it is a roofed Ganesh shrine and in the same compound a small Shiva shrine.
Chhwasal Ajima Sthan
This new(ish) courtyard area on the border of Narshing Chowk is filled with shrines and statues. Renovated in 2015 everything looks quite new.
It's a good place to go if you are looking to see a vast number of Hindu god statues in one place.
Tri Devi
One of the largest yet probably most ignored and least visited temple squares in Thamel.
Located in Tri Devi marg opposite the North Face stores are three temples dedicated to the goddesses Dakshinkali, Manakamana and Jawalamai. Recently renovated there are also erotic carving on the roof struts. Sadly the gates are often locked.
Ganesh Mandir and a Buddhist Stupa
Located in north Thamel just up from Bagwan Bahal is this small temple with a sunken shrine to Ganesh.
The shrine itself is worth a look as the statue is ornate and in very good condition.
Shiva Compound
Right on the boundary of north Thamel and Leknath marg is this immaculate compound filled with statues and shrines.
The main shrine is dedicated to Shiva with a large Nandi (Shiva's mount) kneeling before it. Sadly, this compound is again locked on most days however the fence is large and you can get a good look inside.
Ghairi Dhara
Again in the north of Thamel near Hotel Shakti is this huge hiti (a bricked up water source sunken into the ground).
Though damaged in the 2015 earthquake the hiti is still functioning and during the day you can see people washing clothes and collecting water from the spout here.
Ashok Stupa
To the south of Narshing Chowk along a street to the left known as Ashok Gally you'll come across this newly renovated stupa whose roots go back to the Indian Emperor Ashok.
Damaged in the 2015 earthquake it's been privately renovated in 2016/2017. Sadly the gates seem to be completely locked up, a new wall risen high so one can barely glimpse the stupa unless of course you are the house owner or cafe that funded its renovation.
Kumari shrine
Back in the center of Thamel on Chaksibari marg (near up-to-date trekking and Pilgrims bookstore) is a small red fence. Within the fence are tiny stone shrines. This shrine is dedicated to the Kumari.
This in itself is unusual as the Living Goddess is the embodiment of Durga in human form, so a shrine to the Kumari is a rarity in Thamel. It's faded away, so the story is more than just the place at this stage.
Ganesh Shrine and Buddhist Stupa
Heading down the southern end of Thamel marg past JP road to the left is a small Buddhist stupa.
Behind it in an open faced building is a small shrine to Ganesh.
Maitripur Mahabihar Bahal
Right across from the Ganesh shrine is a small alley leading to Maitripur Mahabihar Bahal.
Though the outside might look worn, step inside this old well-preserved Bahal. There's an unusually white object which looks very similar to a Shva Lingam, unusual for a Buddhist monastery! Behind the gates is a statue of Buddha.
Bhagwati Shrine
At the furthest part of Thamel marg just before Thahiti Chowk is a hidden shrine between various local stores.
The shrine is dedicated to the goddess Bhagwati. If the shrine is closed do walk up close as you still get a close look at the colorful statue of Bhagwati behind it.
More shrines and temples around Thamel
Are there more shrines or temples around Thamel? Yes, there's a tiny Ganesh shrine built into the steps of a shop just up from Bhagwan Bahal before the Ganesh mandir. A Shiva shrine just before Maitripur Mahabihar Bahal to the right, A Bhimsen shrine right on the corner to Thaihity chowk and a Nandi near Chhetrapati. But to list every tiny shrine would be a feat in of itself. That said, the majority are listed here.
I've stopped before Thahiti Chowk and not included Paknajol road which has quite a few more as they are technically not Thamel. I've also not included private shrines that many hotels or private homes may have in their gardens or courtyards.
If you'd like to know more about each building and place along with a map then please see my free travel guide to temples around Thamel heritage walk.
Did I leave something out? Let me know
If you know of another "public" shrine or temple or would like to add a local name to any of the ones list here feel free to send me an email.
(for the Nepali scholarly types out there, take note that the term "temple" is being used here as a generic term for ancient building of cultural note and includes monasteries, bahals, shrines etc – try to not take offense!)
---
Get my Guidebook to Nepal & discover more than anyone else!
The most up-to-date, popular and dedicated guidebook to Nepal in the world. Take a look below and you'll find out why!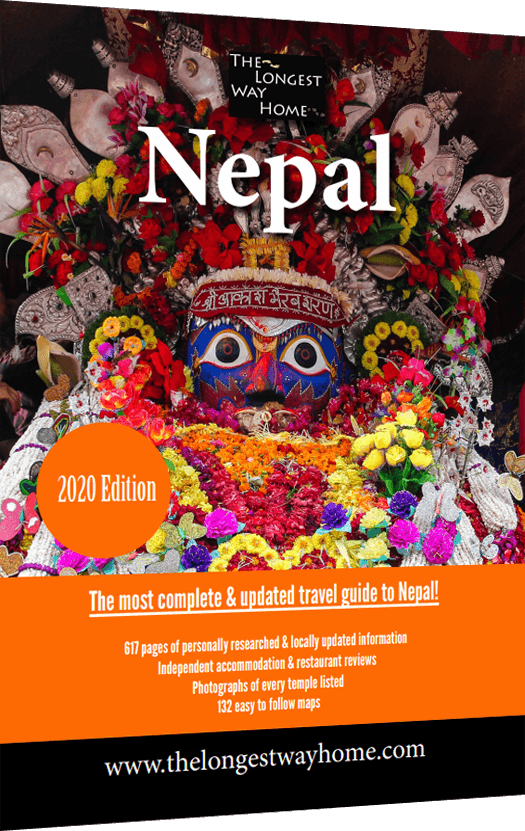 Find out more here!
---
Please take a moment to share this photograph using your favorite social network