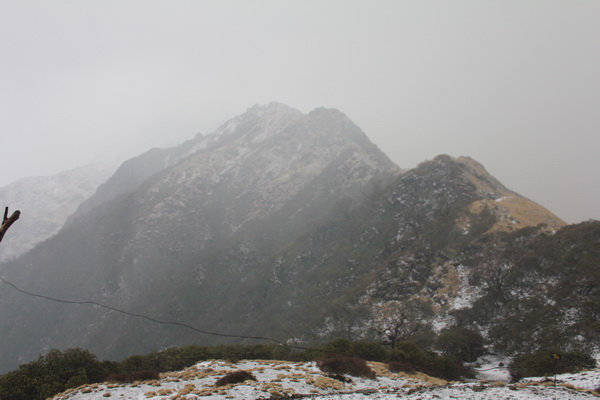 Forest Camp to low camp to high camp
The day started early from Forest Camp on day three of the Mardi Himal Trek. Mainly because I wanted a double serving of corn bread plus a takeaway serving too. What can I say, it's that good!
The trail itself still remained forested but the path was firmer than the day before. The tree line also changed from dense forest into larger slightly shorter well spaced out trees. Shrubs, mosses and all types of grass.
We also came across our first proper encounter with larger areas covered by Nepal's national flower the rhododendron.
Rhododendron forests
I never quite "got" the whole attraction of Rhododendrons until day three of the Mardi Himal trek. The bright pinkish red flowers were in full bloom and added a beauty to the trail I'd not come across before.
This was one of the prime reasons I wanted to trek in the early part of the year. It's spring and the lush environment of Nepal comes alive with flowers and greenery. It's a whole new trekking experience compared to trekking in winter or the peak seasons that I usually do.
Entering Low Camp on the Mardi Himal Trek
We emerged into a large flat clearing known as low camp with a dramatic view of Fishtail mountain in front of us. It was only the second time on the Mardi Himal trek that the mountains became center stage next to the forests. But not when there is cloud in the afternoons.
This was an ominous warning on the second trek I did to Mardi Himal … there were clouds …
Low camp is an excellent place to spend the night and watch both epic sunsets over the Annapurna's and sunrises. On one Mardi Himal trek I was on this was a wonderful experience.
On another Mardi Himal trek with a group the Russians decided to make an afternoon push for high camp so we could spend more time at base camp the next day. What a mistake …
What followed was both incredible to experience but also tells the tale of adding caution when trekking in the late afternoon during March.
Low Camp to High Camp on the Mardi Himal trek
Feeling fresh from such a short morning trek I didn't think it would be difficult going the few hours from low camp to high camp on day three. I was wrong.
The trail started steep and continued steep. We were at around 3,000 meters so I didn't think altitude would be a problem. It wasn't. It was the trail and weather that became the problem.
The ground became rocky and steep but nothing I wasn't unaccustomed too. The sky was a little cloudy which cooled things down as we enjoyed vast sways of yet more rhododendrons. Everything aside from a lack of mountain views seemed just right.
The trail becomes barren
Soon after the rhododendron forest the trail becomes sparse. Trees thinned out rapidly and ahead of us was the rocky route leading to high camp looked much longer than it had done earlier. It wasn't steep to start but the terrain was grassy and filled with hidden rocks meaning we needed to watch our footing more carefully.
The Russians had no issue with this and recklessly pounded through on their race to the top.
Then it became very steep. At the top of the first hill things became even rockier with the path not visible only for a peaked ridge leading to high camp.
Then the weather changed. It started with a haze in the distance covering Fishtail (Machhapuchchhre ). Very quickly the haze became mist and then the mist became thick cloud. As we trekked higher the clouds moved in and the air became very cool.
Thunder, lightning and hail
Within thirty minutes we were completely surrounded by cold cloud. I felt something hit my shoulder and thought it was a loose pebble from above. Then another hit me sharply on the face. I looked down and saw the little white ball of ice. Hailstones!
More hailstones plummeted down on us sharply. They were large but not dangerously so. Still, within minutes they went from plummeting on us to virtually engulfing us.
I stopped to unpack my raincoat as a loud crack of thunder boomed around me. I've only every been on a mountain once before during a thunderstorm and I didn't like it then either.
We were closer to high camp than low camp so we continued on as lightning began to flash around us.
At this point in the trek we were surrounded by steep rocky outcrops and were below them so I wasn't too worried about being hit by lightning. Still, as the lightning flashed and the thunder cracked simultaneously it was pretty intense.
The Russians literally tried to run ahead with no concern for anyone else.
I'm not sure I've ever been so close to lightning as to feel the static charge in the air quite like this. It's unnerving and unsettling to say the least.
Arriving into Mardi Himal High Camp
The hailstones came and went as we arrived into high camp during the late afternoon. The thunder and lighting continued to rage on. We were above 4,000 meters now and I could feel the altitude a little and the cold as we huddled in a little tea house fireside area.
Two Korean girls who arrived the day before were wrapped in blankets by the teahouses large windows watching the lightning bounce around the flickering mountain scene outside. Thunder boomed as the dim light bulb above us flashed brightly before sparks flew out and it died.
As quickly as the storm came, it went. Beside the  small fire we ate dal bhat and then navigated ourselves around snow and hail strewn rocks to the outhouse. It was a squat toilet and frozen solid which was probably a good thing considering the contents on show. However, the view from it at sunset was pretty spectacular.
We were just above Annapurna Base Camp and looking down. The diverse beauty of the Mardi Himal trek was intoxicating and only just beginning.
Day four is next which is one of the best days on the trek.
Do check out my online guide to the Mardi Himal Trek.
If you just arrived at this page then here is the full list of the Mardi Himal Base Camp Trek details:
---
Get the best Trekking guide book to Nepal!
---
Liked this page? You'll love my guide book to Trekking in Nepal! It covers over 28 treks in detail including:  Everest Base Camp, Gokyo Ri, Three Passes, Langtang Valley, Gosaikunda, Ganja La, Manaslu, Tsum Valley,  Annapurna Circuit, Annapurna Base Camp, Annapurna North Base Camp, Mardi Himal, Ghorepani Poon Hill, Khopra Danda, Mohare Danda, Muldai, Dhampus,  Panchase, Dhaulagiri, Upper Mustang, Nar Pu, Muktinath & more. Plus popular day hikes including Shivapuri,  and Kaskikot. With day-by-day detail trekking details along with photos of what to expect, extensive preparation chapters, budgets, where to find a trekking guide plus the costs & much more!
It's only guide book to Trekking in Nepal with color maps that you zoom right in with!
The book can be read on tablets, laptops or mobile devices & is printable. It's also available in paperback with full color print. Quite honestly this will help you more than any other guidebook to get the most out of trekking Nepal.