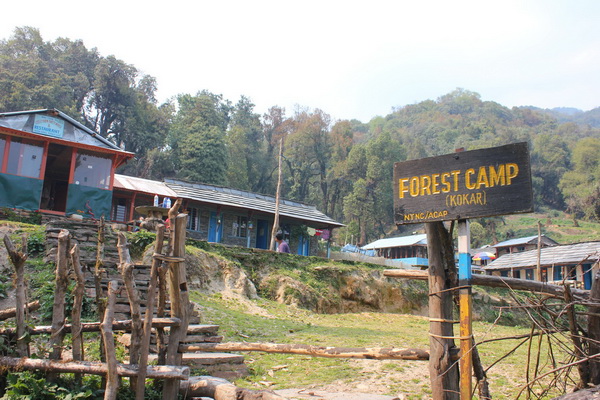 Dhampus to Pothana and Forest Camp
Leaving Dhampus at 8am after a hearty pancake breakfast (yes I know it's cliché, but they are very filling). My guide pointed to the vast snow-capped ridge in the distance. This is the ridge leading to Mardi Himal Base Camp.
It always amazes me to see these mountains in the distance and know that in a few days I'll be up there along that same ridge.
We descended onto a beautiful forested trail. Yesterdays dusty road was no more. We were finally on a real trekking trail and the fresh woodair only added to the feeling of nature all around us.
Australian Camp or Forest Camp?
I have no idea how areas get obscure names. From something as typical as "Forest Camp" to something as out of place as "Australian Camp".
In either case we were at a junction and had a choice of where we would be staying later that night. Forest Camp had my vote based on name alone. Australian camp had better facilities though.
This was the Mardi Himal trek in the Annapurna's though. I wasn't looking for nice accommodation I was looking for mountain views, spring blooms and a great trekking experience. So we took a right for Forest Camp.
For those who don't stay in Dhampus the idyllic village of Pothana is the first overnight stay. It's probably the most "touristy" village on the whole Mardi Himal but there is plenty of accommodation available.
The steep route to Forest Camp
Our trail soon went from rocky path to dirt trail to barely visible forest trail. Although many people told me that the Mardi Himal trek was well marked there were very little markers in this forested area.
The way to Forest Camp was also densely populated with … forest. The name made it obvious but I'd never trekked in Nepal in such a densely forested area before.
It was a beautiful experience being surrounded by so much greenery. The air was rich in organic smells and the trees kept us shaded and cool. Little spring flowers were emerging from the earth as birds called out all around us.
The forest path became very steep after a few hours and offered a unique challenge compared to other treks. The forest floor was loose and one had to get a firm footing with each step. Again, my guide, Narayan's sure and steady approach to trekking meant we had time to take care and enjoy the surroundings.
Arriving into Forest Camp
I'm not sure what I was expecting with Forest Camp but as we emerged from the steep, dense forest trail into a wide open green area I was happy. Birds sang all around us. The first rhododendron trees appeared. And three or four small quiet tea houses awaited us at the top.
We stayed in the first tea house. There was one couple staying there from Slovenia. I moved rooms from next to their room to the very last room. The reason was simple. Most tea houses have very thin walls. Even with earplugs you can literally hear a pin drop in the next room.
If you like a good nights sleep when trekking, bring ear plugs and subtly move to a room with no neighbors. For the rest of the day it was a case of lying out on the short grass, soaking up the sun and enjoying the surroundings.
A night in Forest Camp on the Mardi Himal Trek
I really can't emphasis how much I enjoyed my stay at Forest Camp. The tea house owners were lovely. Everything we ate that was fresh came from their garden. Dal bhat never tasted so good. However it was the corn bread that blew me away.
The owners wife made the best tasting corn bread I've ever had. It's a Nepali version of corn bread that looks like a pancake. But it's so amazingly fresh and filled with a natural maize flavor that it's worth going out of your way to try.
The owners also treated us to rice pudding made from just "out of the udder" milk from the buffalo that grazed right outside the kitchen door. Local farmers came that evening to join us for the rice pudding and in the smokey kitchen and we shared stories about our mountain experiences.
Then it was to bed with my earplugs. One thing to keep in mind is that the Mardi Himal trek is quite basic when it comes to facilities. So it's a shared bathroom and a bucket of water for a shower. Not a problem if you are prepared for it!
Do check out my online guide to the Mardi Himal Trek.
If you just arrived at this page then here is the full list of the Mardi Himal Base Camp Trek details:
---
Get the best Trekking guide book to Nepal!
---
Liked this page? You'll love my guide book to Trekking in Nepal! It covers over 28 treks in detail including:  Everest Base Camp, Gokyo Ri, Three Passes, Langtang Valley, Gosaikunda, Ganja La, Manaslu, Tsum Valley,  Annapurna Circuit, Annapurna Base Camp, Annapurna North Base Camp, Mardi Himal, Ghorepani Poon Hill, Khopra Danda, Mohare Danda, Muldai, Dhampus,  Panchase, Dhaulagiri, Upper Mustang, Nar Pu, Muktinath & more. Plus popular day hikes including Shivapuri,  and Kaskikot. With day-by-day detail trekking details along with photos of what to expect, extensive preparation chapters, budgets, where to find a trekking guide plus the costs & much more!
It's only guide book to Trekking in Nepal with color maps that you zoom right in with!
The book can be read on tablets, laptops or mobile devices & is printable. It's also available in paperback with full color print. Quite honestly this will help you more than any other guidebook to get the most out of trekking Nepal.