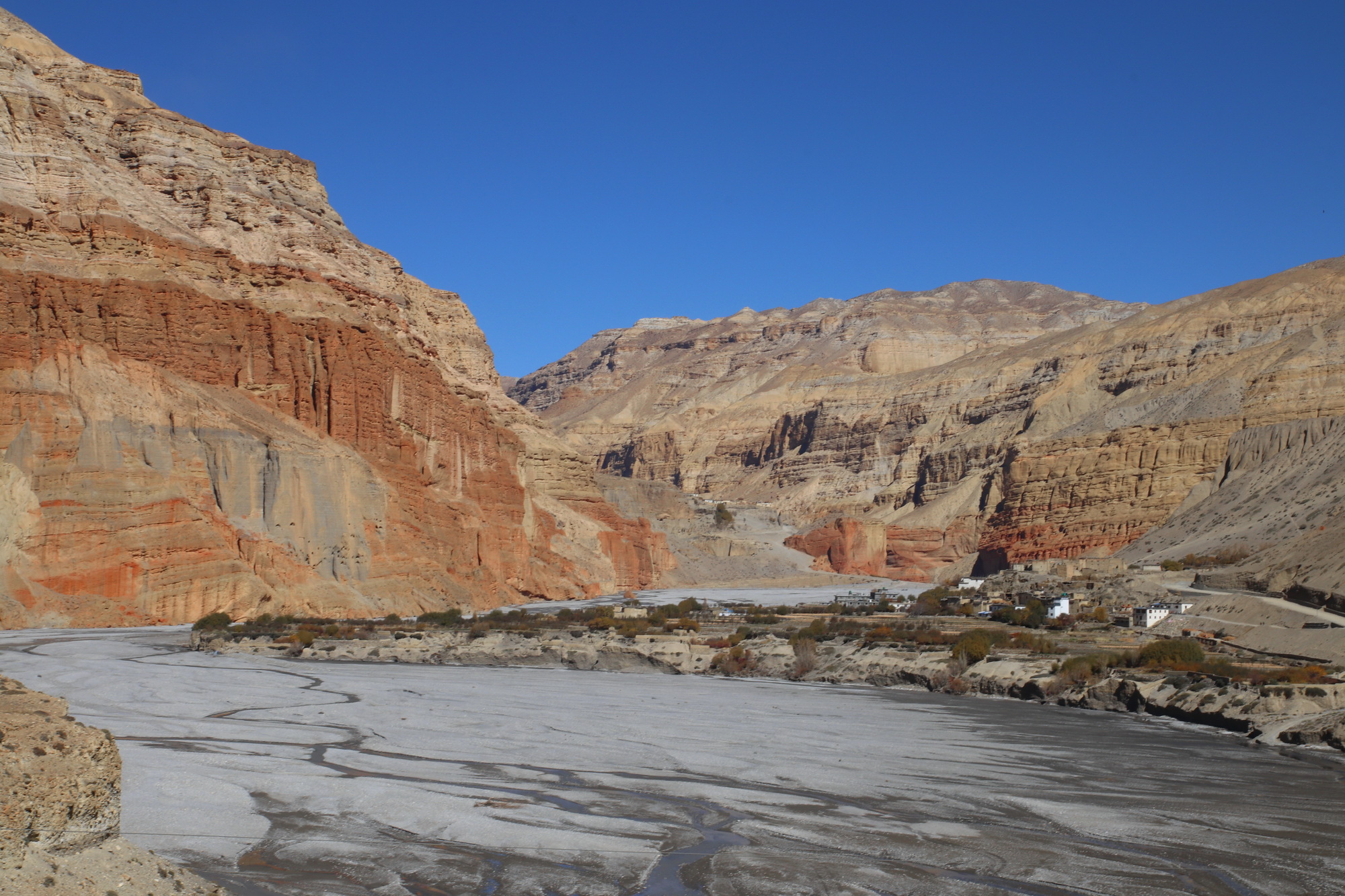 From a Lower Mustang Trek to Upper Mustang: Kagbeni to Chhusang
We leave Lower Mustang's Kagbeni and within a few feet are technically in Upper Mustang – this is technically our first day in Upper Mustang or day one of the Upper Mustang Trek. There's no dramatic change in scenery, special check point and no army guard. A sign of things to come or a sign of the times? In reality I know what lies ahead. There will be a dramatic almost magical change in scenery later this day.
For now our first steps look a lot like Lower Mustang. The wide Kali Gandaki River bed lies to our left. It's 7.45am so the trickling stream that makes the river meander through grey smooth stones is small in the peak season. It's hard to imagine but in monsoon season the river is a power house. Harder again to imagine that in a mere 5 or so hours the Kali Gandaki River valley will have screaming winds channeling up its cliff sides. We'll encounter them and more on the way back.
What worries me slightly is the road. Like most treks they start with a road. This trek is no different. By road I mean a Nepali "road". It's more like a dirt track or off-road. One battered bus passes us by. A motorbike and a jeep. There is no more traffic. In 5-10 years that will likely change when the Chinese open the border near Lo Manthang. It's one of the reasons I'm on this trek. To visit a the Vanishing Kingdom of Lo before it all changes.
The scenery changes to dramatic pillars of rock
By 9.45 we round a bend in what in reality I will call the dirt track. With that Lower Mustang's grayish sandstone departs and we catch a glimpse of an open canyon of sorts ahead. Upper Mustang was presenting the first of many great rock formations along its trekking routes. The stone had a more yellowish glow than in Lower Mustang.
The rock too was quite unusual. It's not solid rock. It's a mix of clay, stones and sand. It's got a vague beach like like quality to it which in historical terms makes sense as this whole area was once a sea bed. Later we'll be exploring man made caves and this soft porous rock explains why both caves and the dramatic Mustang mountains were formed.
Meeting my Japanese permit partner
I will be the first to admit I am not the fastest trekker. I don't like to go fast. I like to take photographs and notes. For writing guidebooks I try to capture as much detail as possible so others can follow with more ease. Much like on the Everest Base Camp trek I met many people on treks rushing to "beat" others to the next town. I don't get it. We are not on a race when trekking. We are not the first to trek here nor will we be the last. I'd rather take my time and enjoy every moment along the route than rush it through.
It's along this first morning of the real Upper Mustang trek that three figures that have be trailing up for a few hours catch up. A quite short elderly Japanese man, his guide and porter. We great each other and I click straight away that this is my Upper Mustang Trekking Permit partner. I'm not going to invade his privacy so we'll just call him "K". As it turns out K was a very nice man in his mid-seventies and still trekking strong.
K was a bit confused that I had my own guide and yet we were on the same permit. I kept my mouth closed. I had no idea what arrangements K had with his trekking company or guide. Later K will reveal all but for now we greeted each other and agreed that the landscape was becoming impressive.
The first real Upper Mustang Village known as Tangbe
On a barren flat area we passed the walled orchard of Tangbe Organic Apple farm. One of the main sources of income in Upper Mustang are apples. For such an arid place it seemed a strange place where apples would prosper so well. But they do as we'd soon discover.
We then climbed our first ridge. None to hard. Coming down was harder as the soft silt and sand slipped with ease under foot. Along the way the first views of Tangbe appeared. There was an old mud monastery to the left of the village while a slightly newer red colored monastery was perched up high along the valley ridge beside it. The mud monastery grabbed my attention and the town of Tangbe completely distracted me with its beauty.
Narrow, uneven streets wind their way between white washed houses that are decorated with splashes or iron ore colored paint. Rustic charm oozes out of Tangbe and for me this was the first true indication we were in another "land".
There was nobody around the the small town of Tangbe. The streets and houses were devoid of life. Almost as if everyone had got up and left the day before. A few old wooden doors with a single chain and open lock gave evidence that there were people around. It also told the tale of trust as many doors were also slightly ajar or unlocked. It turns out it's the middle of apple harvesting season and the people were busy picking and packing apples. Many were also slicing them up to make dried apple.
We were lucky enough to taste some Tangbe apples the size of ping pong balls. They burst with sweet flavor and juice. The most accurate taste I could equate them to is a crunchy version of sweet apple juice from a carton.  The type that's overly flavorsome compared to eating a farmed apple. Only so this was much better! In fact, not to spoil any other Mustang apple claims but of all the apples we tasted in Upper Mustang the ones from Tangbe were the best, by far.
Our first Mustang Chortens
As we walked around the town, we came across our first Upper Mustang Chortens. Tibetan style stupas or more accurately chaityas. The bases were block like with platform steps followed by a large white bulb like center piece. The bulbous center piece has a wooden square roof over it and wood columns running down to the platforms. At the very top is a pinnacle of sorts. Other chortens were simply made up of square blocks.
Unlike the chaityas in the Kathmandu Valley these chortens are much larger. Sometimes reaching up to 30ft in height. The construction material is made from wood foundations, mud brick and then layers of dried mud. They are largely decorated with rustic red paint and whitewash. Unique to Upper Mustang you won't find them in the rest of Nepal aside from a couple in Kagbeni which are not quite so dramatic.
We continued on. K never stopped in Tangbe and his small frame was already far ahead of us. I knew he'd reach Chhusang long before us as my guide informed me that we were just approaching the most famous mountain range in Upper Mustang.
The Chhusang mountains and caves
The approach to the idyllic looking township of Chhusang offers views that appear in most promotional material for Upper Mustang. A dramatic range of rocky earth tones run along the cliffs behind the town as it eeks out into the river valley are indeed spectacular.
The sedimentary rock cliffs had chunks of jagged bold sandy colored rock at the top before layers of darker hues take over below. These layers in turn are intercepted by more yellow strata before the rustic reds bleed into the mountains midsection on down. If this were not dramatic enough below along the river bed, the township of Chhusang seemingly reached across the river bed with a finger of green and autumn colors from its apple orchards.
To complete this was Upper Mustang's own uniqueness. Dotted throughout the cliff face were tiny black caves with seemingly no way to enter them from this side. Cave entrances hundreds of feet up a sheer cliff face with what one's imagination deems to be windows next to them. Etched out of rock it seems impossibly true that these are natural formations. Archaeologists confirm that the vast majority are indeed man-made. The logic seems baffling as we walk on. The answer to these caves will come tomorrow and it's perhaps just as stunning.
Entering Chhusang and the first conflict
My guide was in Chhusang before. It's one of the reasons I chose him. There's a huge difference to an experienced guide in Upper Mustang and a first time guide. Something I'd experience on many occasions on this trek. Experience counts and my guide already knew what I liked when trekking. We'd arrived at 1pm and after our first meal of Dal Bhat in Upper Mustang he suggested we visit the nearby village of Tetang as a side trip that afternoon. I was all for it.
We left the Birikuti Guest House's very nice rooms and set off past another hotel. K the Japanese trekking by permit only partner was pacing up and down. His guide was sitting back in a chair enjoying the afternoon's warm sun with a beer. K asked where we were going and practically jumped at the idea of coming along.
I didn't have a problem with this as he really was super fit for a 75+ year old man. My guide spoke with K's guide who also didn't have a problem with this. Hence we now discovered K's real problem. It was his guides first time in Upper Mustang and he was only following a set itinerary. This did not include side treks. To me, this was sad. An all too common occurrence in today's Nepal of business and tour package treks. With this in mind, we took K with us.
What lay ahead was a short 1 hour trek to the city of Tatang. A place I knew very little about. But a place that would probably become my second or third favorite place in all of Upper Mustang. An old monastery, ancient mud fortress, a citadel on a cliff, a salt mine, dazzled locals and a chance to explore Mustangs cliff caves personally awaited! It's worthy of an entire separate write up!
---
Get the best Trekking guide book to Nepal!
Liked this page? You'll love my guide book to Trekking in Nepal! It covers over 28 treks in detail including:  Everest Base Camp, Gokyo Ri, Three Passes, Langtang Valley, Gosaikunda, Ganja La, Manaslu, Tsum Valley,  Annapurna Circuit, Annapurna Base Camp, Annapurna North Base Camp, Mardi Himal, Ghorepani Poon Hill, Khopra Danda, Mohare Danda, Muldai, Dhampus,  Panchase, Dhaulagiri, Upper Mustang, Nar Pu, Muktinath & more. Plus popular day hikes including Shivapuri,  and Kaskikot. With day-by-day detail trekking details along with photos of what to expect, extensive preparation chapters, budgets, where to find a trekking guide plus the costs & much more!
It's only guide book to Trekking in Nepal with color maps that you zoom right in with!
The book can be read on tablets, laptops or mobile devices & is printable. It's also available in paperback with full color print. Quite honestly this will help you more than any other guidebook to get the most out of trekking Nepal.