by Dave from The Longest Way Home ~ March 14th, 2017. Published in:
Travel blog
»
Nepal
.
Dhulikhel – Kathmandu's mountain hideaway spot
There's something about a place that is overshadowed by another but is in fact better that I like. Dhulikhel, just outside the Kathmandu Valley is a perfect example. It's completely overshadowed by Nagarkot in terms of Himalayan mountain views and … culture.
Bizarre, considering Dhulikhel offers so much more.  I've been a few times and it's my little hideaway. Here's why you might like to consider it too.
Kathmandu to Dhulikhel is easy
Unlike like Nagarkot which is about 2.5-3 hours away, Dhulikhel is only about 1.5 hours away on a bus. 1 hour via a taxi. The nice thing about the bus is that it's about 99% cheaper than a taxi. The road is good and the buses are frequent. Best of all the bus stop is at the end of the line so there's no getting lost. Simple, fast, good.
Once you arrive in Dhulikhel it's just a typical dusty bus stop at the side of the road. Nothing special. I usually opt for the second last bus stop or walk back about 3 minutes from the last bus stop to take a nice meandering walk into the historic old city.
The alternative is to simply take a right after the bus stop to be in Dhulikhel's old square where most of the accommodation is located in the city. The rest of the accommodation is located at the top of Dhulikhel where there are mountain views.
Dhulikhel's old historic city
If you've been reading here about my Nepal experiences then you'll know I like the cultural heritage here. I also like trekking in Nepal. Dhulikhel offers both!
The historic Newari quarter of Dhulikhel looks relatively untouched from the 17th century though its origins date back to the 5th century. Starting from the north west of the town you are greeted by one of the tallest Newari temples in Nepal, the impressive Bhagwati temple.
Enclosed in a courtyard you could easily miss the Bhagwati temple though it towers above the town. Its very well preserved, peaceful and filled with engravings.
Further into the old city and you'll come across a wonderful old Newari courtyard containing the Narayanathan temple and the Harisiddhi temple. Both survived the 2015 earthquake though some surrounding homesteads did not and are being rebuild traditionally.
The road leading to the old bazaar is lined with small temples and shrines like that of a Ganesh temple nearby and impressive old European colonial looking building. It's here Dhulikhels relative obscurity on the tourist trail pays off and one feels like you are discovering these places for the very first time.
Finally down by the old bazaar is Saraswoti Pokhari which is the old water storage pond. Strangely the old bazaar itself doesn't have much to offer in terms of sights or tourist garb. But again, perhaps this is one of its better traits.
Walks, treks, hikes and mountain views around Dhulikhel
The second part to Dhulikhel is the main nature walk. From Saraswoti Pokhari it's a walk through the newer part of town which holds a lot of the budget accommodation in Dhulikhel. Then after about 20 minutes it's a right at a fork in the road before making it up through the arch of 1000 steps.
Along the steps there's a large Buddha statue known as Shanti Ban which was damaged in the earthquake and remains closed. It's not a huge loss as it actually looks better from afar than up close. Along the walk you'll probably come across some monks and school children who use the steps to and from the town.
At the top of the 1000 steps there's another short step of older steps leading to the Kali Shrine while a sign points straight ahead to "NamoBuddha" it's well worth going to the Kali shrine first as there's a viewing platform overlooking the Himalayan mountains.
The Kali shine area is basically a shrine to Hindu goddess Kali with a small prayer room, a large viewing platform over looking the Kathmandu Valley and the Himalayan mountains. There's also a new viewing tower there but it was damaged in the earthquake and I don't advise anyone to climb it.
From the viewing platform it's possible to see Annapurna I (8091 m),to the west all the way to Mount Karolung in the East. There are more than twenty Himalayan peaks visible here including Ganesh Himal (7429 m), Langtang (7234 m) Phuribichyachu (6637 m), Gaurishanker (7134 m) and Lhotse (8516 m).
It's up here you'll come across some exclusive and some not so exclusive hotels with pristine mountain views that make for wonderfully sunrises in the morning.
From here it's possible to take on the full day hike known as NamoBuddha which can take you all the way to Panauti. No matter what anyone says, the trail is not well marked and I'd advise you take a local guide if you don't want to get lost.
Dhulikhel is off the beaten path
No it's not really. But Dhulikhel is off the well beaten tourist path in Nepal. Why? Well, remember Nagarkot? It also has mountain views and a few walks, but it lacks the cultural heritage of Dhulikhel. It does however make a promotional fuss about seeing Everest from a hill top in Kathmandu, which you can … with a pair of high powered binoculars, great weather and a lot of luck.
The truth is Nagarkot was marketed a lot better than Dhulikhel ever was. With that came tourists and hotels. Following them the hotels offered tours and weekends away from Kathmandu. It meant there was money to be made by sending people to Nagarkot and not Dhulikhel, so the former won the battle for tourists and public relations.
The good thing about Nagarkot taking all the attention is that Dhulikhel is devoid of weekend tourists, tour groups or the latest eyesore of giant Chinese tour buses. When you go to Dhulikhel you'll likely encounter a few other independent travelers, some happy locals and maybe a few goats. After that, you'll likely have the whole place to yourself!
Not sure about which is better (Nagarkot or Dhuilikel)? I'll be writing about this next.
For those thinking about visiting Dhulikhel I've written up the best guide to Dhulikhel which is free. And, for those looking for an in-depth guide complete with DIY heritage walks, restaurant, hotel reviews and exclusive maps they are all available in my Nepal guidebook below.
Get my Guidebook to Nepal & discover more than anyone else!
The most up-to-date, popular and dedicated guidebook to Nepal in the world. Take a look below and you'll find out why!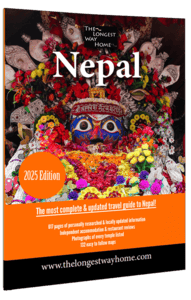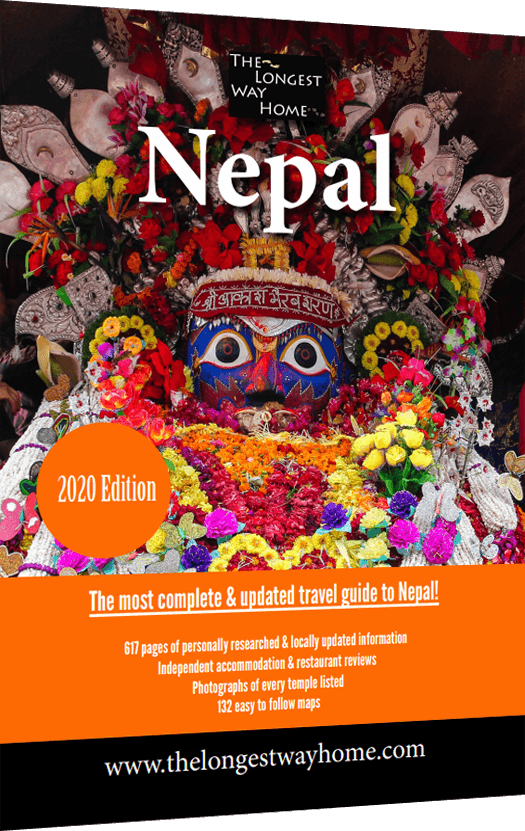 ---
---