by Dave from The Longest Way Home ~ May 17th, 2017. Updated on July 30th, 2017. Published in:
Travel blog
»
Nepal
.
How finding great beads and jewelery became easy in Kathmandu
A little known secret about my travels is that in every country I go there's always one thing I try to find. A traditional bracelet. It all started a long time ago on another journey before The Longest Way Home ever started. I've kept the tradition alive.
Things have changed over the years in this world we live. It's become harder to find authentic items anywhere. I've settled a lot on buying beads or traditionally made jewelery so long as they are actually made in the country I am in.
Nepal ranks top on this list.
Finding beads and jewelry in other countries
In Europe things were easy in places like Portugal and Spain but in the rest of the continent so many other bracelets were "made in China". Even in Thailand and Malaysia so many were imported from China. It's still possible to find locally made jewelry, but it's nowhere as easy as you might think.
Some more places that were easy included India, West Africa and The Philippines. However, by far the easiest and best place to get beads and jewelery is in Nepal. Kathmandu to be specific. You do need to be careful though as many beads are fake, Chinese and of poor quality.
I learned all this when I met a man who seemed as passionate about the "meaning" behind a piece of jewelry as he was honest about the fashionable beads. He was also kind enough to repair my rather travel-tattered collection of bracelets. It seemed, I'd finally found my bead-man in Kathmandu.
Beads vs high end jewelery in Kathmandu
There's a difference between silver and gold jewelers in Kathmandu and bead jewelers explained Indra KC. I was none the wiser back then. Wasn't all jewelery the same?
Indra explained the differences in bead and jewelers in Nepal which gave me a head start.
In Nepal there is in fact a huge trade in gold, silver and beads. Notice how I left out gemstones. Beads in Nepal are usually semi-precious or non-precious. Some are exquisite pieces of art worth a lot of money based on that alone. But in terms of an actual "bead" or "stone's" value they are usually very low in value.
Silver and gold jewelers are completely separate. Even in the market places. Only copper jewelery manages to wriggle its way into a silversmiths collection.
"Beads are highly popular as affordable but exquisitely unique fashion items in Europe," answered Indra. Most of his customers come from Europe either as personal shoppers and even as retailers.
This is a good time to mention that the USA spelling is jewelry while the international English spelling is jewellery but none of this matters unless what you get is real or you at least like the item
Beads that have a meaning behind them
One of the most important things that separates beads from silver or gold is that many beads have a meaning behind them. eg., a birthstone or a stone that is meant to help with a problem
Popular types of beads to buy in Nepal
For buying beads in Nepal, it usually means purchasing a necklace, pendant, wrist or ankle bracelet ready made. Nearly all are made by hand in Nepal though not all actual beads come from Nepal per-se. Many also come from India, China and even Pakistan.
However all the items Indra sells are handmade by himself or one of his staff members. Moreover, he also makes custom designs.
The first thing to know understand about getting the best deal or item is the material the bead is made from!
What are beads in Nepal made from?
The most popular beads are made from stone (semi-precious or otherwise), glass, yak bone, plastic and seeds. It's that simple. Telling the difference between them is a lot harder for the untrained. Here's some help to get you started.
Remember, a lot of these beads have a meaning behind them which can be just as interesting as the design itself.
Popular beads in Nepal:
There are many popular types of beads in Nepal. However the ones I've photographed throughout this page are genuine and relatively easy to find. However there are many fake and plastic beads so do watch out!
Tiger eye stone/ beads
A personal favorite of mine. These small crystal like stones have different bands of golden yellow and dark streaks that gives them their name. It is said they promote harmony and balance while releasing your fear or anxiety.
Onyx beads
These black onyx beads are jet black and highly polished. It is said that black onyx is a "separator' meaning it can take sorrow or grief away from you.
Bodhi Seeds
These unpolished seeds have become incredibly popular with Buddhists and Chinese tourists ever since the Dalai Lama spoke of them.
They are written in Sansrit as "enlightened" which comes from the fact that while Prince Siddhartha (Buddha) was sitting under a bodhi tree meditating, he became The Buddha through enlightenment.
Rudraksha seeds (Shiva's teardrop)
These seeds are of immense value in Nepal. They are natural seeds said to have been created through the tears of the Hindu god Shiva. Today their economic value is interpreted by how many slits or corners they have. The cheapest is 5 while the most expensive is 1 (found in Pashupatinath) and 28.
Blue lapis
This universal symbol of royalty, honor, wisdom and truth is one of the more expensive beads found in Nepal. It's wonderful blue marble like coloring nearly mimics the earth without land.
Nepali designed beads
There are a host of Nepali style bead jewelery available in Nepal. My favorite is the red and turquoise/green vajira beads made from ruby dust, emerald dust and brass.
Other types of Nepali jewelry often mimic Tibetan styles and are usually found in the form of pendants.
Yak bone jewelry
Probably one of the most common forms of jewelery in Nepal these yak bone bracelets, keyrings and necklaces can be bought everywhere. Whether they are actually "Yak" bone or "buffalo" bone is often disputed. Though not my favorite, many people enjoy the unique carvings and designs made from bone.
Custom Nepali jewelry
One of the prime reasons Kathmandu ranks so highly on my list of places to get beads and jewelry is that you can get custom pieces made easily. From stones, to bone or metal and seeds you can essentially have your own designs made or have unique designs made for you.
Avoid plastic beads
A tip from Indra is to avoid pure plastic beads imported from China. Many are not approved and the painted designs rarely last a few months.
Another tip is not to shower with bone carved jewelry. Some of it has been colored and this color will wash off eventually.
Getting the best beads in Nepal from the best bead-man
I got most of my "lessons" about beads from Indra KC as I sat watching him repair my bracelets from around the world and when we both created some unique ones from Nepal.
As we rustled between old bags of ancient looking Nepali royal beads to new brightly colored lapis we made new and truly unique bracelets. It's a great learning experience and one I can take with me to other countries.
Where to find the bead-man of Kathmandu?
Indra KC runs Echo Pendant Crafts at the bottom of Thamel Marg very close to Thahiti Chowk (on the left just before you reach Thaihiti Chowk – also located on my Thamel Map).
Tel: +977 – 9841273158
He's usually there in person from 9am to 11pm and then from 1pm until 8pm at night.
If you visit him and mention my name – he might just show you how he designs a bracelet!
Get my Guidebook to Nepal & discover more than anyone else!
The most up-to-date, popular and dedicated guidebook to Nepal in the world. Over 550 pages & 900+ photographs of every temple listed, every day on all the treks lists and so much more.
Take a look below and you'll find out why this beats all other guidebooks!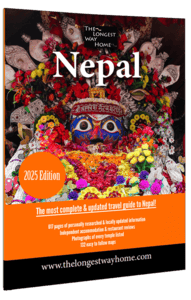 ---
---