Cold Yaks roaming around Everest
Yaks in Nepal love the mountains. Anywhere over 4,000 meters and you'll usually encounter the hairy bovines known as yaks. They can easily survive sub-zero temperatures and they do just fine at Gorak Shep where many trekkers stay when trekking to Everest Base Camp.
The story behind this photograph
Yaks are big creatures. Some reach up to 7 feet in height. I can also attest to the fact that they are not that the concerned with knocking you over. If there's a yak walking towards you, give way and let them pass.
I've covered the difference between yaks and dzos here. Basically a Dzo is a half yak half cow. Real yaks appear above 4,000m in Nepal and are much hairier.
In this photograph you can see two yaks clearly, but look at the background and you'll see about five more yaks covered in snow. I came across them on New Years day outside a teahouse in Gorak Shep beside Everest Base Camp.
The Yaks were all cuddled up as fresh snow fell during the night. I approached the herd when the owner was just waking them up for a days work. The two yaks at the front of the photograph came over to me. Not to say hello, but to get warm!
Stubborn, huge, hairy yaks coming at me on New Years day in the snow was a great way to start the year!
This is an additional photograph feature from my world travel photography gallery, documenting the story behind the picture 
Get the Best guidebook to Nepal to experience the best of this epic country!
The most up-to-date, popular and dedicated guidebook to the Nepal in the world. Take a look below and you'll find out why!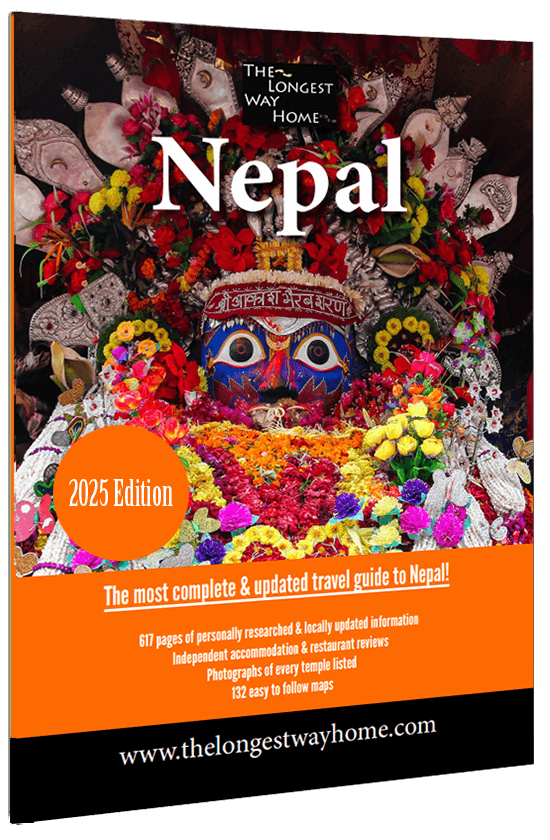 Get the best guidebook to Nepal here
---
Planning on booking a hotel room here?
Here are the best online rates guaranteed!
I recommend you try my own hotel search.
---
Please take a moment to share this photograph using your favorite social network