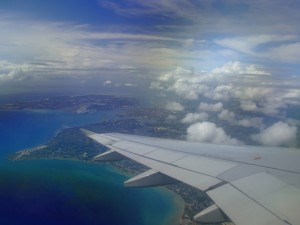 My flight from Shanghai to Manila had been obscured by the fact that I had just finished my overland journey. Now that I was traveling again within The Philippines to Puerto Princesa, Palawan I remembered why I hated airline security.
What's more was the fact that it has become worse over the past 4 years. No liquids, no extra batteries, shoes off, belt off – problem. I'd lost weight. The fact I was wearing blue boxer shorts was no longer a secret.
I'd left my some my things in Manila to avoid Cebu Pacific's annoying 15KG limit for internal flights, so I just had an overloaded carry on bag. There's a nice sign at check in saying "Laptop's can be carried separately" What's more my extra camera batteries didn't cause a fuss either.
Grabbing my window seat I noticed Cebu Pacific don't seem to like cleaning their windows very much. Hence the photograph above looks a bit strange. But then, I like it. I've never seen a "Tropical" Island from the air before, so it was nice.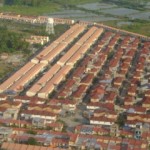 Welcome to Palawan:
Palawan airport itself is tiny. There's a passport check, more for numbers of tourists as they never checked my visa. Which reminded me I had to get it renewed soon. But best of all there was an actual Government Tourist desk at the airport right beside baggage claims (which of course clogs everything up)
"Can I fly to El Nido?"
"We vant to rent a car, how much?"
The tourist desk was being surrounded by white forigners all asking the same question. El Nido, El
Nido, El Nido. How much? When, Where, Car, Plane, Get me there, and I'll pay anything.
Rumors of how hard traveling Palawan is:
El Nido is about 8 hours away via a bad road according to my old guide book. 12 – 16 hours away according to online forums. It was also a haven for tourists. Rich ones by the sound of it as one guy agreed on the spot to pay 8,000 pesos for a private car to drive him. The plane ticket from Manila was only 3,000!
My plan was simple. Go in the opposite direction. Brooke's Point, at the southern end of Palawan Island. A town where the worlds largest pearl was found. And also, no matter who hard I tried, no one could tell me how long it takes getting to Brookes Point?! A perfect excuse if there was any.
"5 hours," replied the tourist info girl as I greeted her in Tagalog. The only thing I really knew how to say.
The rich German tourist was then ignored as the girl handed me a map and marked the bus station on it for me. I could take a jeepney, or mini van. And they leave 4 times a day. I smiled and took the map and left her to the frustrated German.
How to get to Bookes Point:
Outside I ignored the touts and tricycle drivers and made my way to the main road. The cost from the airport to the bus terminal went from 120 pes0, to 60, to 20 the further I went. A 10 minute ride. Plus a quick stop off to check that the ATM in the city worked. Puerto Princessa is the only place in Palawan with an ATM. Research paid off there. So it brings a wad of cash, just in case …
At the station I was ready for war. Online forums had told be of beaten up buses, and jeepneys. Luggage thieves and over pricing. My tricycle drive took me directly to a depot.
"250 peso, Air conditioned mini van … "
And the catch?
"I get you front seat sir …"
I looked at Dan Dan the ticket man and took his number. Hopped into the front seat next to a skinny local and we were off within 5 minutes. No fuss, no hassle, no problem.
For the first time online travel forums had let me down. I suspect this is due to a combination of things. Palawan being such a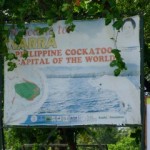 "Deserted Island Paradise" for some rich folk who really think sharing an air conditioned minvan is painful. And expats who are slightly out of touch with reality … or possibly enjoying too much San Miguel in the heat.
Either way I was speeding along the way to Brookes Point, on an excellent road. With a brief stop over in Narra, Philippine Cockatoo Capital of the world! The journey couldn't have been better.
I knew nothing Brooke's Point other than it has a great sunrise. No idea where to stay, and no idea what to do. But my first rule of finding a place to live is to explore  the place first. Going to Brooke's Point is off the tourist trail. It would boost my rankings with the locals, and all in all seemed like a nice quite place to start from. Then work my way up.
Having said that. It's also the base for the illegal back door boats to Indonesia … Well, anything is worth a look …
Recap:
Get to Puerto Princesa with your passport
Take Tricycle to main bus terminal 20 -40 pesos
Take a minivan for 250- 300 peso to Brookes Point
Brookes Point is very walkable once there
Coming soon:
Brooke's Point, Palawan
Learning about the unknown factor in finding a place to live