by Dave from The Longest Way Home ~ January 1st, 2009. Updated on February 8th, 2011. Published in:
Travel blog
»
Philippines
.
After a Christmas Eve filled with fireworks, and gunpowder wielding children, Christmas day was strangely a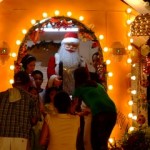 bit of down turn. Though the weather was overcast; so it was thankfully and blissfully cooler than usual. I think that I actually managed not to sweat for at least 5 hours.
Christmas is celebrated mainly on it's eve in the Philippines. On Christmas day life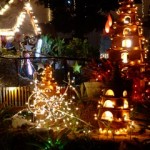 is vaguely normal. The Malls are open, the supermarkets are on reduced hours, but still it could be just about any other day. Bar the odd extra Karaoke bar opening up.
A lot of people say it's not so nice to be away from home during Christmas. But in the Philippines people make an effort in decoration. Particularity away from the Mega Malls, Jollibee's, commercial zones and absurd security policies.  Locals can often be found dressing out their houses in a Christmas wonderland of bright lights and shiny decorations.
Bamboo sticks, palm leaves and coconut shells are used to add to the tropical festive atmosphere. A local hospital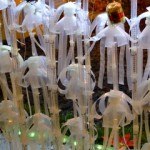 makes use of old syringes and catheters as modern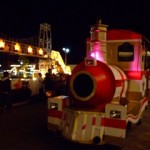 candles.
The theme, recycle. Use what's available. Couldn't be a better a theme coming into 2009.
Eat a full meal for $2 at a local market and watch a local children's train circle around. The people are smiling and there are genuine greetings of Christmas goodwill and New Year wishes. Not a tourist in sight, unless I take a self portrait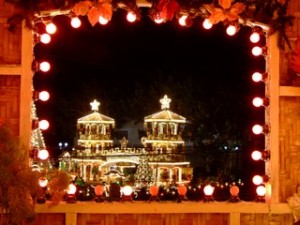 New Years Eve in the city and the weather was thankfully overcast. On New Years eve the streets were full of last minute shoppers looking for bags upon bags of fruit. It's a Philippine tradition to have a table bowl full of fruit to eat on New Years eve. Thus meaning streets packed with every working vehicle in the nation. Then the sky darkened and a light rain descended. The air grew cooler and I expected the fireworks to be a wash out.
But the rain parted ways by 11pm people came out onto the streets and the spluttering of damp fireworks started. Not so many as Christmas eve. But enough to choke the air and make taking a good photo difficult.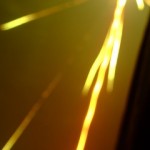 I'm surprised there were no sounds of fire departments being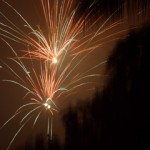 called into action as random fireworks rocketed down onto unsuspecting rooftops. Some wayyyyy toooo close …
Then as the clock chimed sometime between 11.30 and 12 The Philippines erupted into a frenzy of neighborhood fireworks to welcome in the New Year.
New Years day brought about a strange silence to the streets. Everything was open, but the frenzy was one of returning to normal. Kids still had left over fireworks. And in the evening set them off once more. But the Manok stands were hard to come by for the first time. It seems like New Years Day Evening at least everyone gets a break.
Welcome 2009, hopefully my last homeless New Year …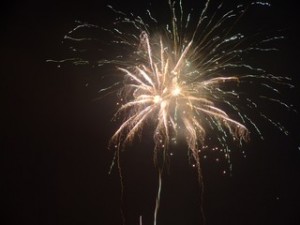 Coming Soon:
A dead tourist …
---
---