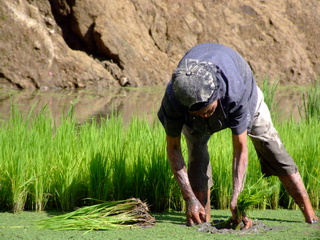 A woman taking rice from Banaue rice terraces
If you visit the Philippines then a trip to the northern rice terraces in Banaue is a must. If not for the current views then do it before they disappear. Terrace farming is a part of a lost culture as many Filipinos prefer city life than country life. The rice terraces are dying, yet the culture still remains for now.
The story behind this photograph
I found the actual view from the rice terraces in Banaue to be nice. Not overwhelming nor no where near as breathtaking as some travel guides make out. You'll see similar views in Indonesia or even Nepal. What I did enjoy there were the people in Banaue.
What saddened me was that these people were losing one of their cultural icons. The rice terraces are under attack from all sides. There are large worms eating away at the terraces causing them to fall apart. The government has diverted funds from protecting the terraces to the IT sector. And finally the young generation wants to get away from the small profits of rice farming to lures of the big cities.
I walked the rice terraces in Banaue and met many a nice person. They were mainly older people. Middle aged people were a rarity. The older people worked hard. There's no automation here. Everything is done by hand.
It's a rare chance to see such a lifestyle. Come again in 10 years and it might not be here.

Discover more great travel photographs
This is an additional photograph feature from my world travel photography gallery, documenting the story behind the picture 
---
Planning on booking a hotel room in The Philippines?
Here are the best online rates guaranteed!
I recommend you try my own hotel search for The Philippines.
---
Please take a moment to share this photograph using your favorite social network