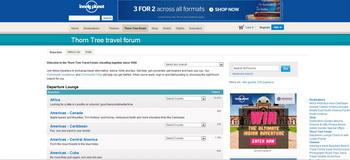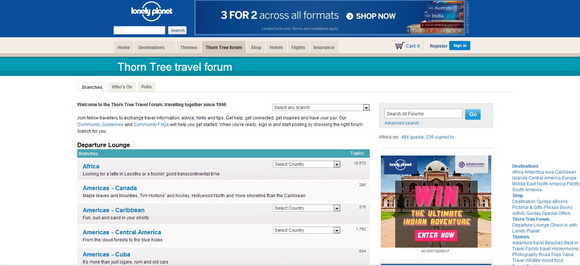 Not so recent changes at Lonely Planet have made my world a little smaller
It's been a while since I had a good rant. And in writing this I had every intention to rant. But I am struggling to do so. The best I can do is feel a little sad at the slow passing of an old stalwart in the world of travel.
In case you've been out of the loop there's been a lot going on over at Lonely Planet these past few years since BBC Worldwide took over. However finding something positive to write about it all has recently reached an all time new low.
Scroll down to the latest Lonely Planet news updates here.
When you are the top guide book & online travel resource – expect criticism
I'll be the first to admit I've given the old LP an occasional bashing in the past. It comes with the turf of being the top dog in your genre. So in the past when I've ranted about the navigational inept person who made the map of Europe on a Shoestring's Bran in Romania or the utter uselessness of the Lonely Planet's Guide to The Philippines I was simply telling my truth as a traveler. They really were crap guides.
Then again, to be fair, the alternatives have been often even worse!
And again, to be fair the Lonely Planet India, China and Borneo books stood up as being positively stellar for me. In fact the majority of Lonely Planet guides are actually quite good and well written.
In between the sometimes over the top flowery writing, there are always facts that will get you from point A to point B and if not then certainly back to point A again.
Asides if all else failed there was always the Lonely Planet's epic public travel forum the Thorn Tree to fill in all the gaps the guide books couldn't quite manage.
There simply was not a better place to go for up to date travel information than the Thorn Tree.
So when in 2007 the BBC Worldwide bought 75% of Lonely Planet I thought things were bound to get better. However, things remained pretty much the same. Then in 2011 they bought the remaining 25% and things actually spiraled quite dramatically downwards.
Back in the day
I've contributed to and used Lonely Planet's Thorn Tree, for well over a decade. It helped me long before my current journey. It also helped initially plan this current peregrination of the planet. And as such instilled a unique sense of loyalty to Lonely Planet as a whole because of that.
I was a dedicated Thorn Tree user and LP guide book reader.
I used the Thorn Tree exclusively for help in the then treacherous overland journey between Iran and Pakistan. Then later on through the still volatile ARMM region of the Philippines and beyond into Sabah.
Be it first hand editions, fake copies or crumpled photocopies I'd nearly always have some form of LP information to hand to help me through.
I exchanged information and shared notes with users on Thorn Tree about border crossings, dangerous areas I was traveling through and got to meet up with like-minded people. Some of the information was public, other information was exchanged in Private Messages.
Private Messages were/are essential for some regions in the world. You really aren't going to make it public that you're heading overland down to Zamboanga next week and does anyone know a good place to stay. So PM's worked in helping one travel to such places.
During all that I even helped out Lonely Planet when they first started introducing Pick 'n Mix chapter guides. Thanks for all the freebies guys 'n gals!
Meanwhile online I tweeted about some good Lonely Planet articles and they retweeted about what I was doing and writing about here. I even seem to remember supporting their attempts at launching an LP photo site.
But that was then and today is very different.
When things changed at Lonely Planet
If I were to hazard a guess I'd say things really hit the drain pipe when the BBC fully bought out Lonely Planet from Tony and Maureen Wheeler in 2011. If memory serves correctly, there were staff layoffs. Some people I knew on twitter vanished. There were now no more personal tweets. The rapport was gone.
The great influx of new content veered towards BBC's travel section rather than LP guidebook content. Mobile apps limped along while a once touted augmented reality guide never materialized. Finally the LP photo site staggered to stop in publishing new content even with their vast array of material available. Lonely Planet seemed to have gone into rehashing rather than innovating.
Then on December 22nd, 2012 Lonely Planet "temporarily" and without notice closed down the Thorn Tree during one the busiest travel periods of the year.
---
"We're sorry to let you know we've found it necessary to temporarily close the Thorn Tree section of Lonelyplanet.com as it has come to our attention that a number of posts do not conform to the standards of the Lonely Planet website. As soon as we have completed the necessary editorial and technical updates we will let you know but in the meantime we are very grateful for your understanding and patience."
---
While initial reports stated that the Thorn Tree was shut down over pedophilia posts it would later be revealed by the BBC that it was due to inappropriate language and themes. A little ironic considering the main Lonely Planet website had and has quite a lot of "disturbing" language in its content – more on this a little later.
More importantly to me as a traveler out there in the real world during the TT shut down was that people were left stranded with questions unanswered. All their saved travel information inaccessible behind a blue LP wall. Only the unacceptable yet typical in this day and age word of "temporarily" to leave them wondering when they could have access to their information again.
Changes for the better or big corporation mentality?
I feel a little left down by the BBC in all this as there was very little (if any) coverage on their own news site about this yet plenty on other news sites (Independent, News.com.au, The Age.com.au, USA Today).
Keep in mind this was all meant to be about "inappropriate language and themes" at a time when the BBC were embroiled in the Jimmy Saville pedophilia scandal. But still, surely it was worthy of a note on their BBC travel section which encompasses Lonely Planet information. Maybe I missed it …
Is this the new face of Lonely Planet? The big silent corporation who doesn't feel answerable to anyone?
The Thorn Tree re-opens
The Thorn Tree would once again open in January 2013 but with a vast amount of its threads closed. Africa, for example, had seemingly vanished from the face of the planet for a long time. Personal Messages (PM's) were gone. Previous posts were missing. Then when the old threads did start to reappear there were a lot of missing comments and a very heavy-handed moderation system in place.
A lot has been written about this already on various travel news websites like Tnooz. With the BBC stating "However, we're happy that the changes we've made have resulted in a better place for travellers to share information and advice."
Little did we as travelers and contributors to the Thorn Tree know but there was worse yet to come …
There was still blatant profanity on the Lonely Planet website
The irony in the Thorn Tree being shut down over profanity and inappropriate themes is that just last week I was writing something up for some paragliders I know in Pokhara Nepal when I stumbled upon some offensive language on their main website. I've blurred out the offensive language in the screenshot below. The company mentioned is not the one I know either.
Feeling like a good Samaritan I sent the Lonely Planet team on twitter a tweet with this just in case someone let something slip and they could fix it up.
Dear @lonelyplanet, about your use of language on your "main" site bit.ly/Yzl3pi #notthorntree

— Dave from TLWH (@TLWH) February 17, 2013
There was no reply. No thanks or anything. Nadda.
A few days later I noticed the offensive language on that Lonely Planet page in question had been changed/repaired/restored. As had the many other pages that had this inappropriate language displayed.
Feeling slightly miffed I tweeted to them saying "It doesn't hurt to say thank you". Which I don't think it does. In fact, it helps to establish good relations, trust and "community".
I followed up with a screen shot from a Google search for Lonely Planet that showed a long list of the same profanity stricken words listed across their entire site and mentioned they might like to look into this issue as well – the sarcasm was intended at this stage.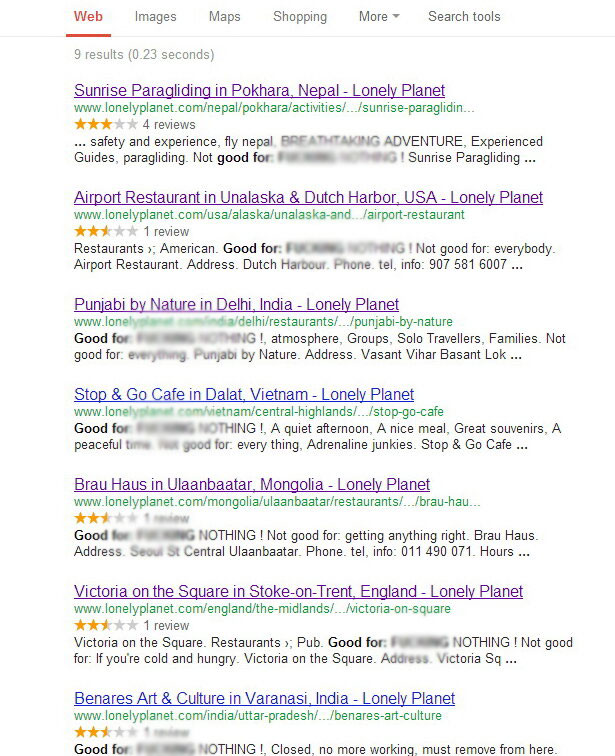 Still not a peep nor utterance of thanks from their active Twitter account. With still a string of other offensive words and themes on the main Lonely Planet site I left it at that with the hope they don't knee jerk react and shut the whole site down like they did with the Thorn Tree section. Which, as I mentioned earlier was going from bad to worse…
The Thorn Tree was being pruned to death
…
You'd think after discovering such "profanity and themes" on your forum, closing it down, cleaning them up, putting systems in place and coming back online that things would have started to get better? Unfortunately, that was not the case with the Thorn Tree.
As seen by the now 75+ (141) pages of comments on the "welcome back to the thorn tree" thread there are a lot of disgruntled people out there. What are they complaining about? Everything from missing threads, posts, comments and the crazy moderation system now in place.
From bad to worse at the Thorn Tree – no more Personal Messages
On the February 19th the Thorn Tree announced what might well have been the final evacuation alarm to travelers – no more private messages on the Thorn Tree. Instead, to contact someone, you'll have to do so via Skype or Twitter which you need to publicly list on your profile page!
As already pointed out on that thread there are some serious security issues involved here. If for instance, someone wanted to they could now find out a person's real name, work out when their house was going to be empty or when they'd be at a certain place traveling. Yes, it's all a long shot, but it's possible for those up to no good to make bad on such info quite easily.
Dare the more travel oriented of us outside of Lonely Planet state the obvious that social media like Skype, Twitter and Facebook are often banned in some countries e.g. China, Iran etc.
Moreover, people have lost the contact details of those they've met thanks to the TT and exchanging PM's with them. From things as simple as meeting new travel buddies to weekly/monthly meet-up arrangements. To much more serious events such as helping to rescue people stuck in a country or going to the funerals of people they met on the Thorn Tree.
Indeed, several people even married those they met on the Thorn Tree. All those personal messages are now sealed off from them. There's a vague comment about giving temporary access at some stage but no one is exactly holding their breath.
The result of this and the rest of the train wreck mentality going on at LP? People are leaving the Thorn Tree.
Trust, loyalty, community and respect in one of the longest running, most revered forums for like-minded travelers had been broken.
The future of Lonely Planet, travel forums and guides
In among the myriad of news articles that have covered the closing of the Thorn tree and the debacle that followed there's a strong feeling that the BBC will sell Lonely Planet in the next year or so. It seems that such an entity like Lonely Planet simply doesn't fit into BBC Worldwide's modus operandi. At least not in the way they might have originally hoped.
With that in mind I can't help but wonder who would buy it?
If it is random financial investors, another travel brand or a huge "search" brand then it will surely be lost forever. My own hope is that if someone like Jimmy Wales (Wikipedia) bought it then it could survive and even thrive. But I think the funding or resources simply aren't there. Let alone possible conflicts of interest regarding that whole separate argument over the future of guide books.
Maybe Tony & Maureen Wheeler could somehow buy it all back. Lonely Planet does not have the value today as it did when it was bought. When the BBC fully bought the company it was worth £130.2m. Lonely Planet is now valued at £85m.
Update: March 4th 2013 – It's being reported that Brad Kelley, a billionaire large land owner in the USA & former cigarette brand seller, is buying a majority in Lonely Planet. It's being noted that the BBC will still have editorial control over Lonely Planet.
Update: March 19th 2013 – It's now official that the BBC has sold Lonely Planet at a loss of £80m. BBC WorldWide sold Lonely Planet to Brad Kelly's NC2 Media which is based in the USA. Under fierce criticism for making a substantial loss Diane Coyle, vice chairman of the BBC Trust & chair of the strategic approvals committee is quoted saying:
"Although this did not prove to be a good commercial investment, [BBC] Worldwide is a very successful business; and at the time of purchase there was a credible rationale for this deal," (source: Guardian)
Update: March 29th 2014 – Nearly one year on from Lonely Planet's sale to NC2 there's a vibe of positivism and change coming from this travel stalwart that is taking the old guard by storm and bring travelers new hope.
Brad Kelly placed Daniel Houghton in charge of Lonely Planet. Over the past year the headquarters moved from Australia to the USA. Staff were laid off in droves. The Lonely Planet website design made small to large changes. The Thorntree got a huge face-lift. Moreover, there are plans underfoot to revolutionize the way Lonely Planet brings travel to travelers.
While much has been made of Daniel Houghton's age and, by some people's grumblings, the future plans and direction of Lonely Planet I can't help but feel there's a huge positive vibe reemerging. As a traveler if I read about Daniel Houghton's plans and the recent goings on at Lonely Planet I can't help but feel a return to the Lonely Planet of old … but with a new vitality made for today and tomorrow.
It's this sort of vibrancy and vision that made Lonely Planet become the iconic flag-bearer of travel guides in the first place.
This new direction and leadership may well be just what Lonely Planet needs to take it into an iconic future
Update: It seems Lonely Planet's way has indeed been stamped with a dubious future. In 2017 the big brand travel publisher offered Tourism Boards and DMOs (destination marketing organizations) a pay to play and advertising option. With "Tourism Solutions" (source). A way to pay and get insider information and all manner of content republished or advertised.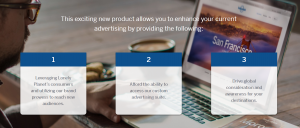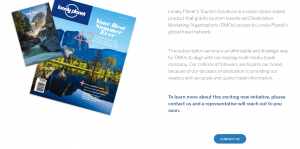 Sigh, it seems they've just deleted that page and moved it else where … it's like playing "catch me if you can!"

Here's the search entry for it as they move it to a more "secure, access only location".
The problem with the above is that tourism boards and DMOs are some of the worst offenders when it comes to sponsored or paid content. They have in the past paid bloggers and writers to write favorably about destinations, products and services. Thereby giving the genuine tourist a not so unbiased opinion. What happens when such paid information is transfered to guidebooks? Yes, a not so independent view on a destination.
Lonely Planet for sale?
Update May 2018: According to the travel news portal Skift, Lonely Planet's CEO Daniel Houghton is leaving after spending 5 years there (source). Lonely Planet's parent company NC2 is said to be looking for a buyer for Lonely Planet. They purchased the company in 2013 from the BBC for a reported USD $80 million.
For the past few years it's been noted that Lonely Planet has moved from a travel content source to selling 3rd party tours, flights and car rentals. Further to this they have been offering local tourism officials an opportunity to pay and have their content promoted.
It will be interesting if or who Lonely Planet is sold to. Foder's was once bought by Google, before being sold back to the original owners some years later. Could a similar fate happen to Lonely Planet, or is it likely to get snapped up by the likes of TripAdvisor?
There are many content hungry and content milling sites offering generic information that would salivate at the prospect at owning Lonely Planets content. If bought like this, then it would effectively end one of the past independent guidebook publishers: a route it seems to be following in recent years. However, if bought by another publisher, there may yet be a reprieve for the brand.
Alternative travel forums
An interesting discussion broke out on Google+ about alternative Travel Forums. There's certainly nothing out there with the sheer numbers that Lonely Planet's Thorn Tree has (or possibly had). Remember Thorn Tree has been around since circa 1996 so it's a hard act to follow.
Forums in general are notoriously difficult things to run. Aside from marketing a forum the hardest part to it is moderation. Between internet trolls, over zealous users and spammers it's something that needs to be monitored 24/7. Couple that with the core aspect of running a forum " building a community that helps each other" it's a difficult thing to accomplish and continue to grow successfully. Perhaps that's why the Thorn Tree is being scaled back so much – profit vs maintenance costs?
I've looked at starting a forum here too, and indeed it's up and running in places where people want to expand discussions or ask questions. But as a one man show with a lot of other things going on I simply don't have the manpower to maintain a full on forum as I would like to.
There are however a few other well-respected people trying and indeed making a success at running great travel forums:
Travellerspoint: Offers a worldwide travel forum that's very well moderated by the TP community themselves.
TravelFish: Is the premier South East Asian travel forum that's just expanded into worldwide destinations.
BootnsAll: Has a long history online and a large active worldwide forum.
The difference I find with the above forums as opposed to today's Thorn Tree is that the owners are all very approachable, helpful and active in support of the online travel communities they host. Much like the Thorn Tree and LP in general used to be like … used to be.
Other online travel forums worth checking out:
If you'd like a little more info on each of the forums above, then check out my list of the best travel forums.
Community is key to running a forum
Community is a key aspect of online travel today that Lonely Planet seems to have forgotten about. The people running the first forum sites I mentioned are actually human. They reply to your questions and actively participate in running their communities with care. Perhaps that's the big difference that happened when Lonely Planet was sold.
Lonely Planet went from personal to corporate and lost itself along the way.
It evoked an exodus at the Lonely Planet Thorn Tree.
The community had had its trust broken by an old friend who helped them to travel and grow just as they helped it to expand.
Personally, and as a traveler who values both the BBC, Lonely Planet and the Thorn Tree, I had hoped the powers would have got their act together on this quickly.
Otherwise with the last pruning perhaps the former owners of the Thorn Tree might just have cut a little too deeply for this once respected travel source to ever recover.
A new leadership and a new path for Lonely Planet
I think it only right that with this article having several live updates over the past year that it ends with something slightly more positive than the abyss Lonely Planet was once spiraling into.
With new leadership at Lonely Planet and the changes being made over the past year I'm feeling very positive about this stalwart in travel's future. There's a new buzz and vibrancy emanating from Lonely Planet that I've not felt since the early days.
There are still many naysayers out there refuting the change, gagging at notions, guffawing at visions and quite frankly, writing off this "new" Lonely Planet as going down the path lead by its peers.
I don't count myself as one of those. I could easily jump on this bandwagon, but it's not yesterday. The Golden Age of travel is where we travel today not where we went before. Those are sweet memories and cherished moments. We learn from the past, live for today and welcome the future with open well prepared arms.
I am now becoming positive that the new vision at the helm Lonely Planet might well make it come full circle and once again blossom into the tree of travel knowledge for today and tomorrows age we all know it can become.
This is an additional feature article