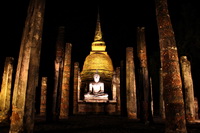 Visiting Sukhothai Historical Park at Night
Most people only think about visiting Sukhothai Historical park during the day. I highly recommend you try to visit it at night when it is lit up beautifully.
One of the reasons very few people visit Sukhothai historical park at night is that there's very little information about it being open at night. Including at the park!
Saturday night lights at Sukhothai Historical Park
During peak season in Thailand the authorities at Sukhothai Historical park tend to turn the lights on at night during the weekdays. However if it's not busy then don't expect to see them turned on except for a Saturday night!
If in doubt, ask at the information counter at the main Sukhothai historical park entrance.
Transport at night in Sukhothai Historical Park
There is none! Yes, another inconvenience. But it's easily solved. You just need to hire a tuk tuk driver to meet you at the entrance or a nearby restaurant at a certain time.
There is no public tram inside the park at night either. But the good news is that it gets dark quickly and you'll be done in an hour.
Bring a torch
Even though the statues and ruins are lit up you might want to bring a torch with you. The lights are focused on the ruins and not the ground which is quite dark.
Likewise it's worth bringing some bug repellent. Personally I didn't come across any but the lights can attract various insects if you get too close. Stand back and you'll be fine.
Bring a tripod
It goes without saying. If you want to take nice photos at night in Sukhothai then you'll need to bring a tripod with you.
Be prepared for uneven ground as well. This is where that head torch will come in handy!
---
---
Don't wander off alone
Although the main areas of Sukhothai Historical Park are well lit up some of the smaller temples are not. This is especially true along the paths. If you are travelling alone be cautious.
The best lit and most popular area at night is the central zone. The other zones are not as well lit up in comparison
Is it worth an extra night just to see the temples lit up?
No. But if you are staying in Sukhothai overnight then it's very much worth it to ask, when you go in, if there will be lights on that night. If there are and you want to make the most of your trip – then go!
What time are the lights turned on at night?
It depends on the time of year. Generally speaking, on the nights they are turned on, they will turn them on as the sunsets. When I was there the park stayed open until 9pm.
The most important thing to remember when visiting Sukhothai Historical Park at night is to have your transport arranged if you are not staying opposite the park.
There is virtually no transport around after 9pm. So pre-arrange your tuk tuk in advance. Or ask a restraunt near the park gates to help arrange transport back for you at a certain time.