Sukhothai's most impressive temple at night
I previously wrote about Sukhothai's temples at night. They are impressive. Of all of them this one of Wat Mahathat is perhaps the best.
While Thailand's beaches often get the most attention there's so much to the Kingdom of a thousand smiles than just sand and sea. Sukhothai to the north of Bangkok offers a massive cultural weekend away.
It's here that during the 13th and 14th century the Kingdom of Siam's had it's first capital within a protective wall. A lot of what your see around Thailand in terms or architecture and be traced to Sukhothai.
Wat Mahathat at night
For those new here you can read all about Sukhothai here. Wat Mahathat is known as the "temple of the great relic". Built in the late 14th or early 15th century it features an ordination hall with a seated Buddha in the posture of Subduing Mara.
Visiting here at night when they turn on the lighting is a highlight on any visit to Thailand. It's quiet, respectful and the temples, statues and buildings take on a very different look than during the day.
The Statue at Night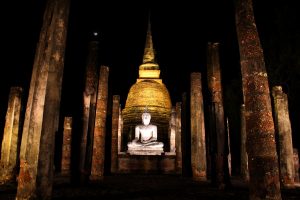 Personally I find Wat Mahathat, when it's lit up at night, to seem as if the lighting was created by candles. It's electric, but the effect is similar. Almost as if you are back in time when it would have been lit up by firelight.
This is one of a selection of photographs from around the world brought to you over the holiday period to enjoy. You check out more from my gallery.
You can support this site by either purchasing a guidebook below or by booking a hotel room through a parter hotel (same great low prices for you, a little commission for me).
---
Get my Guidebook to Nepal & discover more than anyone else!
The most up-to-date, popular and dedicated guidebook to Nepal in the world. Take a look below and you'll find out why!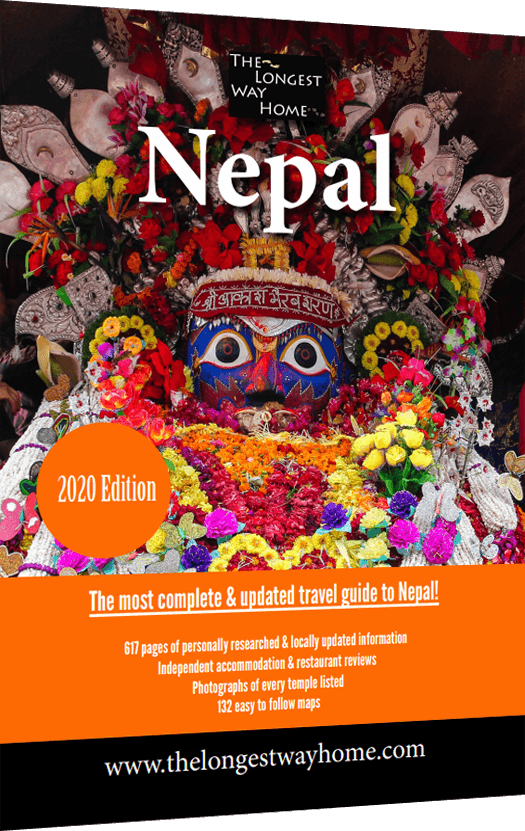 Find out more here!
---
Please take a moment to share this photograph using your favorite social network