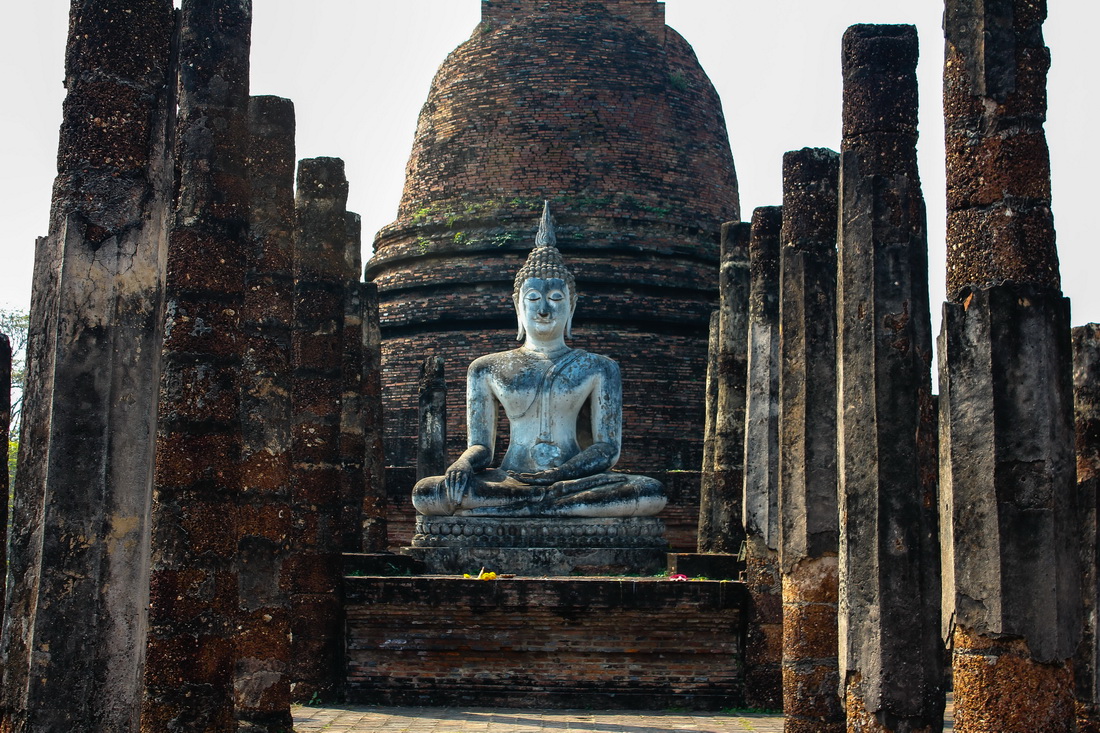 Wat Sa Si is one of three not to be missed temples
After Wat Mahathat and Wat Si Chum it's easy to place Wat Sa Si as the third "must see" temple in Sukhothai Historical Park. Set on two small moat islands it looks great close up and from a distance across the water. It's nickname is "Sacred Pond Monastery".
Located practically in the middle of the central historical park area it's not hard to miss (North West of Mahathat if walking). Wat Sa Si is noted for the water reservoir (moat) called Traphang trakuan. The large bell shaped chedi. An assembly hall (vihara) and an ordination hall (Ubosatha).
Sinhalese Buddhism in Sukhothai?
One of the interesting points with Wat Sa Si is the large bell shaped Chedi. It's evidence that Sinhalese Buddhism existed in Sukhothai. Sinhalese Buddhism comes from Sri Langka and was born from both typical Theravada Buddhism, as a reaction to the British colonisation of the country and Singhalese culture.
Historical evidence at the stupa suggests it was built in 1384. Probably as a burial site for King Lithai (Phra Maha Thammaracha) who died in 1368.
An ordination hall by the water
What's left of the Ubosatha has a lot of significance here too. You'll know this area because it is out on a smaller island by itself. It was once all covered with a roof. It's position by the water shows the Buddhist concept of demarking an area where religious ceremonies would take place. The water acts as a symbol of purity.
Today that body of water makes for some excellent photographs of Wat Sa Si from the other side of the moat. This is where the sitting Buddha, on a circular pedestal, is shown clearly and beautifully.
The preservation of ruins in Thailand is improving
A little known fact about Wat Sa Si is that in 1978 a road ran right though the temple site. The Thai Fine Arts Council demolished the road to help preserve the temple and its surrounds.
A good sign that Thailand is looking after its ancient ruins in Sukhothai Historical Park.
Statue of the Walking Buddha
Just past the main bridge and in front of a smaller stupa is a dark stone statue of the Buddha walking. It was added much later but holds significance due to its posture.
The walking buddha statue is something that is commonly found in Sukhothai.
Don't miss Wat Sa Si at sunset
If you are in Sukhothai Historical Park at night (usually Saturday nights) it's one of the best times to see Wat Sa Si. The Buddha is lit up beautifully and the whole area is very tranquil.