Reivew Summary:
Hotel Backpackers Inn
A south central hotel in Kathmandu for budget (ish) travelers
PROS - Good value budget rooms. Location. WiFi works well. Budget amenities. Rooftop. CONS - Some rooms are overpriced. Noisy front facing rooms. USD $8-40
Hotel Review:
Hotel Backpackers Inn
Date Published: 03/12/2015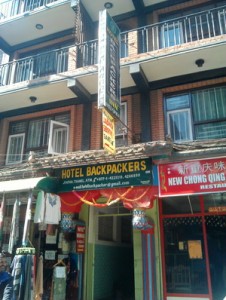 Let's look inside
Hotel Backpackers is located in a south central part of Kathmandu's busy (Thamel) area with many nearby restaurant and attractions.
Offering twenty-four rooms of varying category over three floors they do tend to get booked out quickly during peak season due to its location and price.
Inside the hotel there's nothing overly special. However it is bright and well cleaned with a large and helpful reception desk that offers bus tickets and accommodation elsewhere in Nepal.
The battery back-up system works well as does the WiFi. The street outside is one of the busiest in Thamel though so do be sure to get a room away from the front. There's a nice rooftop that does however offer some shelter from the daily bustle of Thamel.
Rooms & staff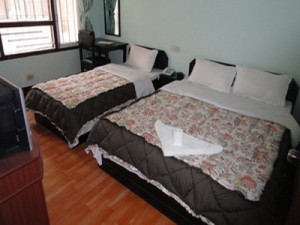 The rooms are neat and very clean with reasonably well-kept wood laminate flooring. For the price it's a touch above anything else with a TV and towels provided.
Some rooms are a little on the small side so do ask to see more than one when checking in to get better value for money.
The tiled bathrooms are of average size and quite clean for a budget hotel. The only issue is hot water which runs out quickly.
Rooms come with a plasma TV with satellite access, a desk and most have a balcony view. Unfortunately WiFi is not free in all the rooms with only the ones near reception getting free access. However there's free WiFi in reception and in the restaurant.
I found the staff here very good and helpful, especially the manage who's on site most mornings.
Summary
Hotel Backpackers Inn has been around quite a while and has always offered great budget prices with slightly above budget rooms. These days the prices have gone up with the rooms remaining the same. Suite rooms are certainly overpriced. However budget and deluxe rooms are still competitive in this area.
The big plus that Hotel Backpackers keeps is its prime location and helpful staff with clean budget rooms that are a touch better than it's neighbors.
---
Get the best room price now!
I've personally visited & reviewed this hotel plus found the best online prices for you – View more photos, LIVE prices and book a room at Hotel Backpackers Inn

---
Room prices I was quoted
Suite prices are not worth it but the budget and deluxe rooms are certainly worth a look especially considering they frequently have special offers online!
Special offers are currently available at this hotel! Book Now
---
Looking for more hotels in Kathmandu? No problem there are plenty more on my Kathmandu hotels page to choose from
All hotel stays have been paid for personally with no knowledge from the hotel owner that their accommodation was being reviewed