Contents
Honesty counts! For over 12 years I've been writing travel guides, bestselling guidebooks to Nepal, heritage walks, jungle safaris, mountain treks & everything else in-between. I don't accept press trips, sponsorships or freebies. What you get here are 100% genuine, original & honest travel guides to this epic Himalayan country!
Quick Facts About Nepal
Currency
Nepalese Rupee (Nepali: रूपैयाँ, symbol: रू, Rs.; code: NPR) Notes available in 1000, 500, 100, 50, 20 & 10 & 5s. Small coins are rarely used aside from 1 rupee coins.
Where is Nepal?
Nepal is a landlocked country located in South Asia. It is bordered between South Tibet (China) & Northern India
Population of Nepal
29,300,000 (2017) 29,962,859 ( 2019 UN)
Capital of Nepal
Kathmandu city is the capital of Nepal
Dialing Code
+977. Sim cards are available at the airport & in all cities - NTC & NCELL are the most popular.
Time
Nepal is 15 minutes ahead of Indian Standard Time and 5 hours 45 minutes ahead of GMT.
Electricity
230AC V (two pin sockets). Modern hotels often have multi-sockets taking two & three pin plugs. There are frequent power outages though usually short in the capital. Outside the capital they can last several hours.
Airports
Kathmandu (Tribhuvan, Code: TIA) airport is the main international airport in Nepal. A further international airport in Pokhara is currently being built. There are several small domestic airports around the country.
Visas
Most nationalities may get a visa on arrival at both the airport & at land borders. Visas are available for 15/30/90 days & may be extended.
Transport
Nepal has an extensive plane & bus network. Within cities taxis are plentiful & relatively cheap.
Safety
Nepal is generally considered a safe country to travel. Muggings are rare as are pickpockets. Stomach upsets are frequent due to poor food hygiene, trekking injuries can be serious & hospitals can be expensive so it is important to get the best travel insurance for Nepal.
Budget
Nepal can be relatively budget friendly for many travelers. However, national park & heritage site entrance fees can mount up. Two tier pricing does exist for non-Nepali travelers for transportation.
Flag

Nepal's flag is the only non-rectangular flag in the world!
---
---
Nepal today: Nepal is a democratic independent landlocked country bordered by India and Tibet (China).
There's an 80-90% Hindu, 10% Buddhist population plus ethnic groups. The country is listed as a developing nation economically.
Over 9% of Nepal's income comes from tourism. To the north are the mighty Himalayan mountains. The midlands are a rugged and an adventurous landscape mixed with ancient and modern cities filled with cultural heritage. To the south are both arid flatlands and extensive jungle filled with wildlife.
Nepal for tourists: Once a part of the hippie trail Nepal today has matured into offering a wide range of activities and sightseeing for everyone. From one day treks in the Himalayas to full on Everest summits.
Jungle safaris with elephants, tigers and rhinos make Nepal one of the most exclusive destinations for great wildlife spotting in the world. For heritage and culture enthusiasts Nepal's ancient Newari, Hindu and Buddhist cities are virtual treasure troves to explore. There's quite literally something for everyone in Nepal.
With tourism being Nepal's number one industry it's a country focused on ensuring that one visit is never enough. There's a huge return in visitors proving there's something very addictive about the friendly people here and indeed in traveling throughout Nepal!
---
---
A little country with a lot to see: While geographically quite small, 147,181 km2 (56,827 sq mi), Nepal's lack of modern infrastructure can make relatively short trips into rather epic journeys.
The first map is shows the main highlights of Nepal interactively On each main page on this guide will be a local map which is far more useful.
The best regional map of Nepal: the second map here from my guidebook shows you how Nepal's small land mass is split into three main regions that offer tourists different activities.
Northern Nepal --- is the rich mountainous area filled with incredible trekking routes.
Central Nepal --- is an area lined with lush valleys, hills and mountains filled with cultural heritage.
Southern Nepal --- is divided into dense tropical jungles and vast flat areas.
The best tourist map of Nepal: the third map here is from my guidebook to Nepal and is far better at showing you the specific regions and places in Nepal.
For more a more detailed map see places to travel in Nepal.
---
---
Nepal offers something for everyone in Nepal. Quite literally everything but the sea exists in Nepal (there are lakes for those who enjoy water sports).
No matter your interest there's a strong chance you'll be able to do it in Nepal.
Trekking
Whether you're seeking a day of adventure, a three-day escape, or an epic 20-day expedition, Nepal offers treks to suit every adventurer's dream.
Trekking in Nepal accounts for 10% of the countries dedicated visitors every year. The Everest Base camp trek is perhaps the most famous. But don't go away without realizing that enjoyable one day treks are also possible.
it's recommended that you read this list of popular treks (with maps) to discover many more incredible trekking routes throughout Nepal.
New to trekking? Get started by reading about what you can expect from trekking in Nepal.
---
Cultural Heritage in Nepal
Some of Nepal's best sights and activities lie away from the mountains in ancient cities.
The Kathmandu Valley has an amazing and eclectic collection of indigenous Newari buildings blending with Hindu and Buddhist architecture
Spend a few days in the capital of Kathmandu city enjoying heritage walks or visiting places like Durbar Square, Swayambhu (monkey temple) and Pashupatinath. Go further in the Kathmandu Valley by taking day trips to places like Patan, Bhaktapur, Thimi, Dhulikhel, Gokarna and Panauti.
The best place to start exploring heritable in Nepal is this guide to the Kathmandu Valley.
---
Jungle safaris
Wildlife and jungle lovers will be enthralled to discover that Nepal has some of the best experiences in the world.
Head south to Chitwan National Park to go jungle trekking or take an ethically positive elephant safari to spot wild tigers and rhino.
Moreover if you really want to go off the beaten path try visiting Bardia. It's a tough journey to get there but it's truly a remote jungle experience. Bardia is also one of the best locations to spot a royal Bengal tiger. Do read my travel guide to Bardia National Park.
---
Adventure sports
Adventure seekers and adrenaline junkies will find heart thumping activities in Nepal with ease. Go paragliding, white water rafting or rent a motorcycle to tour the country from Pokhara.
Paraglider landing in Nepal
Take a micro flight flight or go bungy jumping / canyoning or zip-lining on the border to Tibet!
If you are just staying in Kathmandu then check out this exciting list of things to do in Kathmandu.
---
Spirituality
Seeking peace or enlightenment?
Take a Yoga Class in Nepal
Visit the birthplace of Buddha in Lumbini, volunteer in a monastery, take up yoga, meditate or chill out with some Sadhu holy men.
---
Relax
It's not all about exciting activities and new discoveries in Nepal. Take some time out and enjoy sitting by lake Phewa in Pokhara while taking a stroll to some cultural villages or enjoy some fine Nepali cuisine.
Nepal has some of the best coffee and some of the best Himalayan tea shops in the world. Both Thamel (Kathmandu) and Lakeside (Pokhara) have second hand book stores shelved with rare and new books to enjoy. Both locations are filled with restaurants, cafes, chill out bars and with some of the best sunsets and sunrises in the world you can easily relax a day away in Nepal.
---
---
What's the food like in Nepal? You can get just about anything in the world to eat in Pokhara and Kathmandu. The Nepali know how to cook food from around the world. Giant steaks, pizza, pastas and Chinese items are easy to come across. Though, the Mexican dishes are a little strange.
Dhal Bhat is Nepals national staple dish. You can get it as a vegetarian option, or with meat, and I seriously like it. And then there are Nepali momos. Anyone who has ever tried momos generally keeps going back for more!
Eat Dal Bhat when you are in Nepal
Vegetarians will be pleased to know that there is a large range of vegetarian dishes in Nepal.
Exercise caution when it comes to street food in Nepal. Unlike some other parts of South Asia, Nepal's street food may not be suitable for most tourists. Street vendors often lack refrigeration, and some food may be reheated over multiple days, potentially raising concerns about parasites, viruses, and harmful bacteria. To minimize health risks and ensure a trouble-free trip, it's advisable for most tourists to err on the side of caution and avoid consuming street food in Nepal. If you want to go local, then try some budget restaurants or enjoy a night out with some fine dinner restaurants.
In all restaurants it's best to check that the food is refrigerated and the area looks clean. Generally speaking a busy restaurant is usually a good sign. Unless you are eating in a high-end establishment do try to appreciate that things like "gluten free" "lactose free" terms may not be understood or adhered too.
Again, exercise discretion when considering frozen food options in Nepal, as there can be concerns about the proper freezing process. Items like prawns (shellfish), saltwater fish, and to some extent, mutton, may not always be frozen adequately. To savor the best culinary experiences in Nepal, prioritize fresh food, which the country is renowned for. Fresh vegetables, along with chicken, pork, and freshwater fish, are readily available and a safer choice for enjoying the local cuisine.
Do check out my hands on Nepali food articles for more or this overview on what the food in Nepal is like.
Meanwhile if you are looking for a place for breakfast, lunch or dinner in Kathmandu then here's everything you need to know about restaurants in Kathmandu.
Drink bottled or filtered water only! Do not drink tap water in Nepal. Tap water in Nepal has not been treated and most often comes directly from an unfiltered well or delivered from unknown sources. Stick with bottled water which is relatively inexpensive. Do take caution with the large gallon drums of water in Kathmandu as they are not 100% treated water. You may want to bring your own water filtration system with you. Again, bottled water is best for your health when traveling Nepal.
---
---
There are two sides here. Generally speaking the Nepali are some of the nicest, helpful people in the world. However, you will get some bad types (usually trying to sell a service) and the touts are annoying.
Nepali people are renown for their friendliness
The Nepali know you better than you think. Tourism is their number one industry and they know what people from each country likes. Tell them your nationality and watch them adapt instantly.
It is a developing country though so be prepared for from hardships like the Street Children in Kathmandu and learn how much an average Nepali earns in a day. However, many Nepali have also become adept at asking for money to fund something or crowdsourcing a project - take care not to fall for everything. For a more colorful side to Nepal check out the holy men of Nepal: the Sadhus.
Learn more about Nepali culture and etiquette and about the different types of people of Nepal.
---
---
Overland: From India the easiest crossing is Sunauli. You can also cross the Nepali border with Tibet but you will need a Tibet permit which I've covered in my tourist visa information section under Tibet. For more information on traveling overland do check out my extensive article on how to travel overland into Nepal.
By Flight: Kathmandu airport is where all international flights arrive into. Delhi has regular flights for about $200 USD and Bangkok for $250 one way.

Try my custom flight search for the lowest priced flights to and from Nepal!
Nepal travel visas: Available for the periods of 15 days, 30 days and 90 days they are most commonly obtained on arrival. After the COVID-19 pandemic there were slight changes in the arrival procedure. For a comprehensive look at travel visas for Nepal including, fees, downloadable forms and more information visit my dedicated page on updated visa information for Nepal.
---
---
Do read my guide for first time visitors to Nepal for more on what to expect.
If you are planning your holiday to Nepal do look over on the right hand sidebar of this page for neat look at all the travel guides and information to make your trip complete.
A little preparation goes a long way to making a journey to Nepal more enjoyable.
A new culture!
Nepal has a wonderful warm culture unlike many others on earth. It's a tantric mix of religions, beliefs
and socio-economic lifestyles. Everyone and everything is accepted in Nepal but one must still respect Nepali culture.
There's an initial hectic feel to Nepal but the reality is things are very much laid back.
Throughout the Kathmandu Valley you will meet the original founding people of Nepal the Newari. You'll also meet the majority Hindu population who also inhabit the southern Terai region while to the north there's a strong Buddhist influence.
The most important thing to do is respect everyone's beliefs. This is what makes Nepal such an accepting and dynamic culture. Ancient temples showing a blend of Newari, Buddhist and Hindu scriptures are a prime example of this.
The chaos of Nepali streets in terms of traffic, congestion, and sanitation is another thing all together. But again, tempers rarely flare. Even in abject poverty the people of Nepal are very warm, friendly and helping to tourists arriving and exploring the Himalayan nation.
Never lose your temper in Nepal no matter how frustrated you get. It's a sign of stupidity and although people will smile and nod at your rage, they'll really not be taking you seriously. The best thing in Nepal is to go with the flow!
When to go?
Nepal can be visited at anytime. However it's really important to know why you are going because some activities are best experienced at certain times of the year.
To get a better idea of when to go do see my extensive pages on the best time of year to visit Nepal and the best time of year to go trekking in Nepal.
What to pack for Nepal
Again, depending on what you want to do in Nepal and when, then your packing list will be different. Nepal has 5 seasons - spring, summer, monsoon, autumn, and winter. You'll need to adjust your packing list for each season.
Some of the essential packing list items in Nepal include:
Electricity: One of the most important things to remember when packing is the electrical outages and load shedding in Nepal. Bring backup batteries and power banks if you have a lot of devices. Also bring a head-torch.
The standard voltage in Nepal is 230 V. The standard frequency is 50 Hz. New hotels have multi adapter style sockets which accept most plugs while older hotels generally have a two-prong European style socket. Bringing a surge protector is a good idea.
Medicine. Bring your own medication to Nepal. While pharmacies are everywhere, you won't always get what you need and counterfeits do exist.
Luggage: don't worry about having to carry everything. You can either hire a porter or leave most of your luggage in your hotel. Hotels won't charge if you stay a few nights there. Laundry services in Nepal are not the best. Most hotels charge by the kilo or by piece which is more expensive.
For trekking do see my packing list for Nepal.
Finally do read this exclusive page on how to prepare for a trip to Nepal.
---
---
Where I stay
Nepal has a wide variety of hotel & guesthouse accommodation across all budgets. Avoid AirBnB if possible as many hotels are masking as locals. Likewise avoid Couchsurfing which is completely unregulated in Nepal and there have been serious safety issues in the past.
Between 2017 and 2023, numerous corporate travel companies have introduced the concept of "community homestays." While these options are actively promoted by tour agents, it's important to note that they often come with a higher price tag compared to traditional hotels. Moreover, many families have been coerced into signing up to these companies. For travelers seeking a genuine experience of staying in a family home and immersing themselves in Nepali hospitality, a better alternative might be locally run guesthouses. These guesthouses are typically family-operated and offer a more authentic connection with the local culture and way of life. This choice not only supports the local community but also provides a more affordable and enriching travel experience.
While AirBnB may be all the rage in the rest of the world in Nepal many guesthouses and tour companies are registering as "local" people. Guesthouses are traditionally run by local people so there's zero difference other than a % of the booking goes to Airbnb rather than the owners.
Hotels in Nepal usually come in budget, mid-range and high-range accommodation standards. There is no regulating body who manages standards in Nepal so just because a hotel is high-range or has a high price doesn't mean the services are. Read reviews very carefully.
In light of that I've personally reviewed over 700 hotels throughout Nepal. Do check out my reviews & recommended hotels and guesthouses in Kathmandu or see my exclusive listing in my Nepal Guidebook.
---
---
Nepal is renown for being a great country to travel with a group, in pairs or alone. Part of the reason that Nepal is favored by solo travelers is that it is considered a very safe country for traveling alone.
Traveling alone in Nepal is generally safe - but if you go trekking make sure you go with a reputable guide
While India continuously struggles with safety issues for travelers Nepal has been known for years as being a safer alternative. Nepali people are very welcoming and protective of tourists in Nepal. Ever helpful they will often go out of their way to aid a traveler.
Solo travelers in Nepal, as in any destination, should be mindful of certain precautions. This includes avoiding late-night outings alone, refraining from solo drinking alcohol or indeed meeting up with complete strangers, and diligently securing their accommodation. Equally crucial is the practice of informing friends and family about their Nepal travel plans, including duration and location.
Do read my full guide on traveling alone in Nepal
Women traveling alone in Nepal
Nepal is generally considered a safe country for women traveling alone. Compared to India Nepal is generally considered to be less harassing and far safer in general. That said it is important that solo female travelers in Nepal take precautions like letting friends and family know where you are. Only trekking with registered agencies, avoid volunteering pitfalls and understanding that romantic relationships in Nepal are not always what they seem.
Do read my guide to solo female travel in Nepal
---
---
If you've never been to Nepal before then do read my first time visitors guide to Nepal. It will give you a good insight into what to expect. Most problems in Nepal can be overcome with some preparation.
Crime in Nepal
Nepal has a very low crime rate. Lower still within the tourism sector. Petty crime is virtually nonexistent. Most "crime" occurs via the service industries. e.g., volunteers losing money through corrupt organizations or donating money to corrupt orphanages.
Sanitation problems in Nepal
Nepal's sanitation problems have improved slightly over the past ten years. Still, open sewers and inadequate sewers along with a constant shortage of electricity leads to sanitation issues. Wearing open toed shoes or sandals is never advisable - especially in the monsoon season.
Pollution in Nepal
Nepal has a large problem with pollution. Solid fuels, unsealed broken roads, next to no recycling, traffic congestion, and a lack of environmental solutions means big cities like Kathmandu can suffer. Dust masks help in the big cities to keep out the dust caused by the broken roads.
Electricity problems in Nepal
Frequent power cuts are known as load shedding in Nepal. Anywhere between 6 to16 hours a day of no electricity was commonplace. In recent years this has improved dramatically - especially in Kathmandu and Pokhara. Thankfully during the peak tourist months load shedding is also at a minimum. But during the winter months having only 6-8 hours of electricity a day can be problematic in smaller cities and villages.
Nepal has a very good conservation record for tigers, rhinos & elephants
Disorganization in Nepal
There's a certain amount of disorganization in Nepal. In reality it's a part of the countries charm. While the private tourism sector is one of the better areas for disorganization it can still be a little uncomfortable for those coming from very well organized countries. Never-the-less, everything still seems to work out in the end in Nepal. It's a case of going with the flow than against the grain!
Time keeping in Nepal
"Tomorrow never comes in Nepal". This is my own saying whenever I'm told when something will get done. There's so much smile and charm in Nepal when someone tells you what time they will arrive only for you to be left waiting ... Time moves differently in Nepal. Again, go with the flow rather than against it!
Tourist Police in Nepal
In most major locations you'll find the tourist police - dedicated to helping tourists with any crime issues that might occur.
There are tourist police offices located in Bhrikutimandap (Central Office), Thamel, Basantapur, Pasupati , Soyambhu, Airport, Mangal Bazar, Patan, Bhaktapur, and Nagarkot. Kakkarvitta Jhapa, Lukla, and Solukhumbu. Mid Region: Janaki Mandir Dhanusha, Birgunj Parsa, Sauraha, Chitwan and Syaprubesi Rasuwa. Western Region: Pokhara Baidam Kaski Dhampus Kaski Ghandruk Kaski Birethanti Kaski Chame Manang Jomsom Mustang Gorepani Myagdi Belhiya Rupendehi and Lumbini Rupendehi
To contact the tourist police in Nepal from any location just dial 1144
The Nepal Police Headquarters can be called at +977-14247041
---
---
Nepal's infrastructure is not the best. That said the main tourist destinations are readily accessible. There are several ways to get around Nepal both nationally and within cities.
Getting around Nepal's regions
There are several ways to get around the whole country. Nepal's geographically rough terrain makes time and distance irrelevant compared to most places when it comes to land travel. Delays from all forms of transport are frequent for everyone.
Domestic flights in Nepal
Nepal has several domestic airlines that offer many daily flights between popular locations or weekly routes for more remote areas.
Domestic flights can be a much faster way to travel the country than land travel. A 30 minute flight to Pokhara could take up to 7+ hours by land.
The negative aspects of taking a domestic flight in Nepal are cost (foreigner prices are inflated), frequent cancellations due to weather and a less than stellar safety record.
National bus routes in Nepal
Nepal has a huge number of privately owned bus companies that reach all corners of the country where roads exist. In general buses are grouped into the following:
Local buses: older 28-32 seater buses adapted with smaller seats. These are the main forms of local transport in Nepal. Seating is allocated with tickets available at bus terminals. These buses are generally uncomfortable by tourist standards with no air-conditioning and frequent breakdowns.
Tourist buses: newer (but still old) 32 seat buses with larger seats that ply popular tourist destinations like Kathmandu to Pokhara and Chitwan. These tourist buses leave from Sorhakhutte in Kathmandu everyday in the morning (in 2018 Kantipath bus stop closed, all tourist buses now leave from Sorhakutte). Tickets are available from travel agents and hotels only. Allocated seating is dubiously adhered to as bus conductors often move tourists to accommodate locals. Stick to your right to have your seat as you purchased it rather than moving. The price between a local bus and a tourist bus is not significantly different so many Nepali are now using them.
Luxury buses: several private bus companies offer more modern air-conditioned buses between popular routes e.g., Kathmandu to Pokhara. These companies include Greenline and Jagadamba. These buses are far more expensive than tourist buses but offer more comfort, correct seating and a meal on the way. Unfortunately most of these companies charge non-Nepali quite a bit extra.
Microvans or mini-buses:
There are many types of smaller travel vehicles in Nepal that have several different names. "Micros" as they are becoming known are usually 18 seater hi-ace style vans that connect both inter-city routes but also cover long-distance destinations. They are slightly cheaper than local buses but are tainted with safety fears, accidents and over crowding.
Private road travel in Nepal
Driving yourself in Nepal is possible but not recommended due to the difficult terrain, road management, traffic, regulations and targeting of tourists for "accident claims."
Most people will simply hire a car or jeep with a driver for the day either to take on more comfortable long-distance trips or for day trips. Prices vary depending on the distance, location and type of vehicle.
Transportation around Nepali cities:
Taxies: Taxies are the most common way for tourists to get around cities in Nepal. They are relatively cheap but you will have to bargain before getting in. They are metered but these are rarely used. Taxis are also quite small and best suited to transporting 3 people at a time. Four can fit in, but it can get squashed.
City buses: Local city buses are small and old but there is a slow roll out of newer but equally small buses.
To take one simply wave one down and try to get on. They are usually very crowded unless you manage to get one at a terminal. There are no bus tickets and all signs are in Nepali telling you where they are going. So you'll be better off asking locals how to get somewhere. A number of electric buses started in Kathmandu city in 2018, whether they last more than a few years is to be seen.
Tempos: These gas or electric powered three-wheeled vehicles are Nepal's version of a rickshaw which take up to 8+ people along city roads. They are becoming less popular or frequent. Again, like city buses they are cheap but difficult to know where they are going and there are not many with easy to follow routes for most tourists.
Rickshaws: Cycle rickshaws are most popular in the Thamel part of Kathmandu city and in the Terai region. They are only good for short distances and do remember to bargain with the driver.
Bicycling: hiring a bicycle is possible in many parts of Nepal. The one place I do not recommend to hire a bicycle is Kathmandu city. The pollution and traffic is just too dangerous. Outside of the city it can be more pleasant.
Here's a full guide on how to get around Nepal.
---
---
Derived from Sanskrit, Nepali is the official language of Nepal with over 70% of the population speaking it. However in all the main tourist destinations English is spoken quite well. Though there will be some linguistic anomalies.
Do read this guide on the basics of learning Nepali for travel
---
---
Nepal's international dialing code is +977. Dialing out of Nepal is straight forward by using either + or 00 first followed by the country code number you are trying to reach followed by the local number.
Many hotels and travel agents will allow you to make landline calls within Nepal for free. Otherwise there are dedicated calling kiosks in popular areas like Thamel in Kathmandu, Lakeside in Pokhara and along the main road in Chitwan. Call kiosks are often used as "cyber cafes" which also provide VOIP services like Skype.
5

G in Nepal

(still in testing phase)
Kathmandu Valley

Pokhara

Chitwan

Rest of Nepal (cities)

Trekking Regions
4G in Nepal
Kathmandu Valley

Pokhara

Chitwan

Rest of Nepal (cities)

Trekking Regions
Virtually all hotels and restaurants have WIFI. However, having a working or good internet connection is often a struggle. Large hotels often charge extra for WIFI while the vast majority of budget and mid-range hotels offer WIFI for free.
If WIFI is important to you then you might be disappointed in the slow connection speed throughout Nepal.
Nepal has several mobile networks. NTC and NCELL are the two major cellular mobile networks in Nepal though new ones are appearing like Smart Cell but only have good coverage in the main cities. Sim cards are easily available throughout the country though tourists will have to provide passport copies and photographs to obtain one.
3G when trekking in Nepal
Chance of getting full coverage

Everest Trek

Annapurna Circuit

Upper Mustang
Please note the above 4G & 3G tables indicate coverage % - this does not take into account random outages, power cuts & breakdowns. See article on SIM cards below for more - including which one is best for Everest or other regions.
Avoid tourist sim packages unless they suite you. Most are expensive compared to local prepaid packages. Do read my guide to mobile SIM cards, 4G, the Internet and WIFI in Nepal.
---
---
Nepali Currency

:

Nepal's currency is the Nepali rupee (NPR) which is available in 1000, 500,100, 50 and 10 rupee notes. The currency is not easy to purchase or sell outside of Nepal. There are plenty of money changers in Thamel, Pokhara and Chitwan. Most hotels will also offer exchange fees but at high rates. Do see my guidebook to Nepal to locate recommend money changers.
Banking in Nepal

:

All tourists and travellers to Nepal should let their bank and credit card companies known that you are traveling in Nepal. Many banks cancel cards if you do not let them know. Likewise if your bank offers an SMS security service it may not work in Nepal due to the telecommunications network in Nepal.
Using an ATM in Nepal

:

I cannot stress enough the importance of making a prudent choice when selecting an ATM in Nepal. Given the frequent power cuts, inadequate maintenance, and banking regulations, your decision can greatly impact your experience.

Since 2015, banks have centralized their ATMs into designated "ATM lounges." These lounges host multiple ATM machines from different banks. To navigate this effectively, remember to opt for a bank displaying signage indicating compatibility with your card. It's also crucial to time your ATM usage when electricity is available in the area.

Prominent ATMs, such as Standard Chartered, Himalayan Bank, and Nabil Bank, are generally reliable choices. However, bear in mind that most ATMs have withdrawal limits ranging from 10,000 to 30,000 rupees per transaction. Additionally, be prepared for a surcharge on all foreign transactions, typically around USD$5.
Using your credit card in Nepal

:

Be careful using your credit card in Nepal. Some businesses still use old carbon swipe and sign machines. While still legal, there can be an element of fraud. Do keep all your receipts in this case. Likewise do not use your credit card for purchasing online domestic flights or bus tickets. Many services are just not secure. Purchase tickets in a travel agent rather than online. Try to pay for everything you can in cash.

Here's a guide on dealing with money, ATM's and credit cards in Nepal.
---
---
Of all the places in my journey Nepal gave me that deep feeling that reached out and said this could be home. Find a niche market like the paragliders did and you could also make a living here.
There are ferocious obstacles though. Asides from the political instability at the moment Nepal still has one of worst economies in the world, a country on the brink of natural disaster and an already over populated tourist industry. It can be tough to make a living here.
It's very easy to be wooed by Nepal. I've met countless volunteers and older travelers who either fall in love with orphanages, Pokhara, or romance. It's hard not to understand why, but I've rarely seen it work out in the long run. Nepal generally works out to be great for a few months of the year or every few years. Long-term expats in Nepal often end up torn by a love for a country and it's complete inability to develop or allow itself to develop. Meanwhile long-term foreigners in Nepal are also broken down by the relentless two-tier pricing system of Nepal coupled with an incredibly large amount of wealthy Nepali who enjoy flaunting it.
Owning property or a business is in Nepal is not possible outright if you are a foreigner. By marriage and business partnerships only. For some more insight on this do read this article on how to do business in Nepal and understanding the caste culture of Nepal.
---
---
On April 25th a 7.8 earthquake hit Nepal followed on May 12th by a powerful aftershock.
Over 8.1 million people were affected. 8,700 died with the final number expected to reach 10,000.
Several of Nepal's historic temples were destroyed. Many more temples survived the earthquake.
Nepal was quickly helped by a vast international aid effort which directly rescued over 1,200 people from rubble and delivered aid to thousands more.
Nepal's tourism infrastructure was not directly affected. The vast majority of the Kathmandu Valley temples survived. Only 2 out of 30+ trekking routes were closed.
Nepal is currently in the process of rebuilding. Over 8% of its economy relies on tourism and an unofficial number of 25% of the population is supported by tourists.
Nepal is officially open to tourists with both the government and the people of Nepal asking for more tourists to come.
Visiting Nepal is the best way to directly help at this stage as it promotes sustainability via the tourism economy.
In 2023 all of Nepal's wonderful sights are open and ready to be visited. Do visit each of my individual Nepal guides to see local updates on each area.
---
---
How much is a daily budget?
Nepal continues to be a destination that offers flexibility in terms of budget. The truth is, Nepal can be as economical or as extravagant as you desire. On the high end, you can indulge in a luxurious 5-star hotel at $250 USD per night and opt for private transportation for $50 USD. Conversely, you have the option of securing a private room for as little as $10 USD and relying on affordable public transport, all for under $1. By steering clear of tourist-oriented restaurants and entrance fees, you can comfortably spend a day here for just $15 USD, relishing delicious local cuisine. However, Nepal's allure lies in its plethora of activities. Even with local transportation to city attractions and some entrance fees, you can enjoy a fulfilling experience for around $30 USD. The above is based on a low budget, you can spend a lot more per day depending on your needs.
How to save money in Nepal?
Package tours: Do not buy an expensive package tour with a private company unless you have the money to spend and/or literally do not have a day to spare. I came across people who had spent $5,000USD for a 10 day stay in Nepal. Yes they had everything taken care of for them. But they also did not get to choose their guide for a 3 day trek. Stayed in an out-of-the-way 5 star hotel and were fairly isolated. It was too much money by far.
Hire a local guide: Hiring a package tour guide from overseas on the internet is a waste of money and not practical. There are so many guides in Nepal even in the height of tourist season there are still too many. The streets are full of guide offices. Have a read of my article on hiring a trekking guide in Nepal for more information or use my Find a Local Trekking Guide Service.
Kathmandu: When you buy your pass to Durbar Square, head off to the tourist office there straight away and for free get a pass to the square for as long as your visa lasts. Keep in mind Durbar square is in the middle of KTM so you will have to pass through plenty of times (read more about ticket prices to Durbar Square in my guide).
Bhaktapur & Patan: The hefty entrance fees imposed here have resulted in a high level of preservation. Thankfully there are many side streets you can meander down off the main entrance area to avoid buying a ticket should you wish. Stay clear of these little side streets later as they have guards asking to see your tickets. Better yet, go with your passport, pay up to help conservation and get your ticket stamped for the validity of your stay in Nepal. Post earthquake Nepal remains filled with temples and culture.
Eating out: Thamel in Kathmandu and Lakeside in Pokhara are two popular places for expensive (albeit great) dining. Walk a little further and enter a good local place. A bowl of chicken soup, plate of momo and a coke will cost about $2.00. A buff steak $4.00. Chow Mien $1.50.
The problem comes when you are socializing and head out to eat. Most will head to a nice place and want to split the cost of the meal within the group and bang there goes your budget!
Likewise with beer such as Nepal Ice or Everest it's 4-7 USD on average in most restaurants for a liter bottle. That said beer in Nepal is not the cheapest anywhere due to high tax.
If you are on a budget, do read my backpackers guide to Nepal.
What are the Banks/ATM's like in Nepal?
Never had a problem bar from power outages and mass of grit inside the machines scratching them. Be sure to ask your hotel/guesthouse for the electrical outage times before heading off. Most banks have generators but not all work that well and I have heard of a few travelers getting their cards stuck due to this. The ones in Thamel are fine and in Pokhara. Banks are open Sunday through to Friday Lunchtime.
If you are going trekking be sure to stock up on your smaller Nepali notes as ATM's usually only dispense big ones. Guesthouses and eateries usually struggle for change in remoter areas.
One thing you must do is tell your credit card provider that you are in Nepal, otherwise it might get blocked.
Do read this guide on dealing with money, ATMS's and credit cards in Nepal.
What guidebook?
My guidebooks to Nepal! Allow me to elaborate—Lonely Planet's Nepal guidebook has fallen significantly behind the times. In 2020, they underwent a change in ownership, with a marketing company taking the reins and announcing a shift towards primarily computer-generated updates based on online information. As of 2023, their latest publication remains outdated, lacking crucial details such as prices, timetables, entrance fees, and hotel information—making it arguably their least satisfactory effort to date.
Rough Guides, on the other hand, has ceased dispatching writers to Nepal. While their Kathmandu guidebook may suffice if you last visited a decade ago and are unfazed by perplexing and challenging-to-decipher maps, their guides for Pokhara, Bhaktapur, and Patan suffer from subpar maps and outdated or inaccurate information. It appears evident that they have embraced an AI and automated approach, which regrettably falls short of expectations.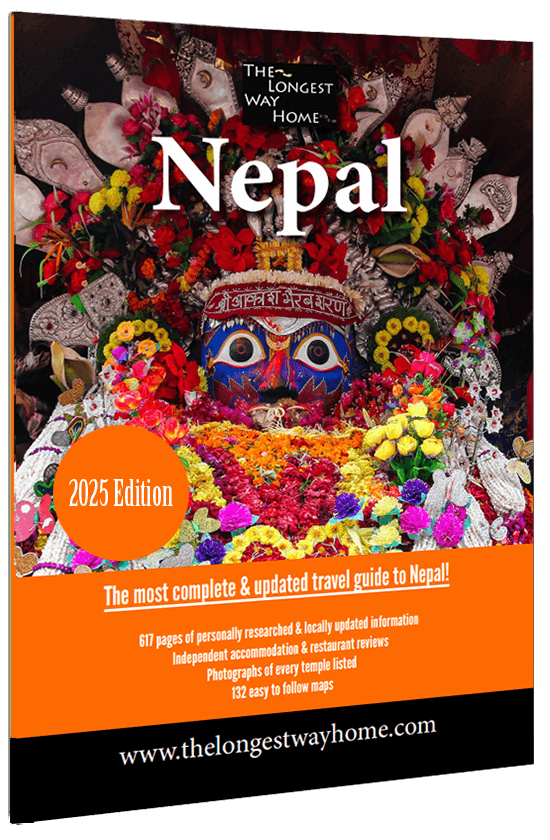 Yes, I'm speaking from experience here. So after over 15 years of research and writing the best online guide to Nepal I've written my own guidebooks to Nepal both in print and digitally. Including the best Guidebook to Nepal - you simply won't get better anywhere else, guaranteed!
For trekking check out my guidebook to Trekking in Nepal.
I've also written up several more FREE online travel guides to all of Nepal based on my own personal experience. Here's a sample - the rest are in the sidebar on this page.
Do explore the links within these guides as they lead to further pages on this site with yet more information to help you.
All my guides are 100% free of sponsored trips, stays, meals and so forth. Everything has been paid for by me so you know you will be getting a 100% honest guide to Nepal.
See my links in the upper right sidebar of this page for more guides to Nepal plus overland travel guides in and out of Nepal.
For those that want an actual book to own and read offline then I've got my own best guidebooks to Nepal right here.
---
Frequently asked questions by tourists preparing to visit Nepal
Over the years I've been asked many questions about Nepal both by people planning to visit and by those already in the country. Here are some of the most frequently asked questions along with answer about Nepal I get.
How to hire a guide?
Firstly don't do it over the internet. There are plenty of guides in Nepal even in tourist season. Tours around Nepal, or trekking tours can be arranged quickly this way. Secondly if you want to go to the Annapurna region get your guide in Pokhara. If you want to go to Everest arrange from Kathmandu, doing it the other way round will be expensive. Interview at least three guides as if hiring them for a job at your workplace. Personality is important, remember you will be with this guide for possibly 3 weeks! There are female guides available but they are expensive. Arrange the payment before you shake on it. The costs of an independent guide are from $30 USD per day to $50+ USD per day. From an agency add on $5USD, a porter starts at around $20 while guide/porters at around $25. For more information check out my full page on How to hire a Guide in Nepal & my Find a local trekking guide service.
How to buy trekking gear in Nepal?
If you have trekking gear, have the luggage space and are only visiting Nepal for trekking then fine bring it. Otherwise buy it there.
Kathmandu has one of the largest selections of trekking gear on the planet. It is a lot less hassle to shop in Pokhara. Prices are dependent on quality. Let's take an all weather North Face Jacket listed at $300 online retailers as an example. You will find the real thing in the North Face store in KTM. It will be a the same price as the USA or Europe.

In the downtown KTM trekking stores there are 3 categories. Fakes (China), copies of fakes (Nepal made) and Nepali copies. Avoid Nepali copies. They are easy to spot with bad logos and poor stitching.

Stitching is key to the others too. Examine a jacket carefully and pull at the seams. If there is any give at all, put it away. Turn the pockets inside out and examine them. Any bad shapes and poor stitching is easily seen here. You should be able to walk away with a good quality heavy jacket (Nepal copy) for $30 or China Copy for $40-$50. The only thing I would not buy are trekking shoes in Nepal. They are dirt cheap, look nice, but glued. They will fall apart in a few weeks.
If you really are worried about buying fake trekking gear in Nepal. Then head to The North Face Store opposite Fire & Ice in Thamel. They have a huge range of quality stock.
Ask for the manager Sabina, she's a walking encyclopedia of both trekking gear and serious expedition gear. She's also very honest and won't steer you wrong. What's more if you mention that you heard about her through The Longest Way Home it might get you some discount there! :)
Otherwise Sonam are a regional trekking store with their own brand which sells quite good equipment and have several outlets in Kathmandu and Pokhara.
As to what trekking gear do you need? Well, you'll need to factor in what trek, what time of year and how long you will be going before buying anything nice and new. But before you do that check out what I've written about Equipment you'll need for trekking in Nepal. Otherwise there's a huge section in my guidebook on trekking in Nepal with details on equipment you can and can't buy in Nepal.
Getting sick in Nepal
The two most common complaints or illnesses tourists have in Nepal are respiratory and stomach related. Respiratory infections generally occur due to the high levels of pollution and dust in Kathmandu city. This can get particularly bad in the winter months (dry season). Sinus, chest and ear infections are the most common ailments. Prevention comes in the form of wearing a dust mask that many a local wear daily, or simply not staying in the city during these months. See below for more on stomach complaints.
Read my guide on what vaccinations do you need for Nepal.
How to deal with stomach problems in Nepal?
Nearly everyone unaccustomed to this part of Asia will have a few days of bowel issues. This usually passes but be sure to stay hydrated and seek medical attention if it persists. There is a chance you will come away with something on prolonged treks or stays. Especially if you go in the off season where food is not prepared as frequently. Giardia is possibly one of the biggest things to look out for and thankfully fairly easy to treat. A bad stomach for a day or two should pass by. Anything lasting longer and you should seek proper medical advise. Check out my own medical woes list here.
Cameras and Internet in Nepal
Fake memory cards are a big problem as is the cost of buying them. Head down to New Road in Kathmandu to buy and test the cards at a reduced cost compared to Thamel. Cyber cafes are everywhere in Nepal. But they are slow and full of viruses. Be sure to backup all your photos and personal data before plugging your memory card, flash disk or external Hard Drive into any public computer. It may be a better option just to buy another memory card.
WIFI is available in most Cafe's and in hotels but again slow. Try to test its speed out before investing in an expensive coffee or meal. Don't know what camera to take if your going trekking? No problems. Read camera recommendations for trekking in Nepal which includes how to get camera repairs in Kathmandu.
Electricity in Nepal
In late 2016 Nepal went from 18 hours of no electricity a day to 24 hours of electricity. Load shedding still exists but rarely lasts more than a few hours these days.
If electricity is vitally important to you during your stay e.g. battery charging etc. Then make sure you stay in a hotel with a working generator. Many hotels now have inverters which are large batteries that power a single light bulb in each room in the evenings. It's best to simply work out when there is electricity and charge your devices then (even if it means waking up at 4am).
Volunteering in Nepal, anything to know?
There are plenty of opportunities to Volunteer in Nepal. Personally I am very much against these pay $1000 to volunteer time positions. Call it something else, it's not volunteering, it's paying to work. That said some of the charges are pathetically high. Some people pay $4000 for 6 weeks volunteering at an NGO. I have written about this in an old travelogue here (NGO's in Nepal). The best thing to do is just arrive. Go and see a place for yourself. There are so many people looking for volunteers that provide free accommodation and basic food. It's easy to find a position like this and it probably helps more than lining the pockets of an overpriced 'Volunteer Agency' whose HQ is overseas.
Finally if you still want to volunteer then you can face up to some pretty tough facts on volunteering in Nepal and an overview of working in Nepal
Departure Tax?
There is a 1130 rps Departure Tax plus 565 rps tourism service fee added on making a total payable of 1695 rps. This is nearly always added onto your ticket so you won't get charged extra at the airport. If you are flying to India or other SAARC countries the total is 1356 rps. Again this fee is usually included in your plane ticket for international flights!
There is also a 200 rps departure tax for domestic flights which is again added on to your ticket price so there is nothing to pay at the airport for both domestic and international flights.
Should I leave a tip in Nepal?
In 2008 Nepal introduced a 10% service and 13% VAT charge and then in 2018 removed the service charge and promptly brought it back before removing it again. At the moment about 50% of restaurants are still charging it despite the service charge being deemed illegal. If this is included in restaurants then I would not leave a tip. Nepal is not North America. The native culture here is not to tip and technically the service charge is no longer required. For guides and porters if you feel their service has been above and beyond then adding 10% - 15% is about right. Again, it's not compulsory and although everyone likes to receive, its not in the culture. Doing so changes this for the worse as I've seen in many countries. Do check out this article on dealing with money when traveling in Nepal or more.

Visas in Nepal
On arrival you can get a 15 day or 30 day or 90 visa. There used to by a 60, but, no more. To extend this visa, ignore all agencies and fill out the online extension form before heading to immigration in Kathmandu, or Pokhara and collect your 30/60 day extension before 2pm. Very easy. You can stay up to 150 days in Nepal per year January to December. Full information about tourist visas in Nepal here.
More questions about Nepal
My Nepal travel guides are the best. This website is filled with more information to help you than any other. And, it's all free. Purchasing one of my guidebooks to Nepal helps to keep the site running. Do explore through this page and the links on the sidebar to the right for a comprehensive collection of guides to Nepal.
Finally, I have written many guidebooks to Nepal which are far more in-depth. Professionally written with the best maps to Nepal, free heritage walks, transport routes, recommended hotels and restaurants, trekking routes, trekking agencies and the list goes on.
If you are planning a trip to Nepal do please purchase my guidebook to Nepal. It will help keep this website going and most definitely help you more than any other guidebook!
Read more about the best guidebook to Nepal.
---
---
Liked this page? You'll love my guidebooks to Nepal! I cover Kathmandu city, Bhaktapur, Patan, Chitwan and many more places with well researched information, photographs and travel tested walking tours.
They are interactive for tablets, laptops or mobile & printable. Quite honestly they will help you more than any other guide books to get the most out of Nepal.
---
Was this page helpful to you? If so please tell others!