Get Inspired, Plan, Travel!
Planning a travel journey whether it's a short trip, family vacation, bucket list dream or an epic round the world adventure basically falls into three stages.
Inspiration
That spark or goal or dream which ignites our motivation to seek out places to visit.
Plan
This is where most of our work goes towards putting our inspiring dreams of travel into a reality from saving up a fund to simply figuring out where to go.
Travel
Your journey and how you will go about it on day to day basis.
---
Inspirational Ideas!
What inspires you in this world? What do you want to see? How do you want to see it? From short trips and vacations to year long round the world jaunts and overland travel adventures or memorable stories. We seek to make the most of our lives.
Indeed, even before we travel the very idea of travel inspires us. Whether we like to read about others on journeys that span the globe or we envisage ourselves in foreign continents and countries you will find it here.
On this page you find great ideas, inspiring people and motivational lives that can enrich and inspire your own. Let's discover a world of inspiring travel journeys, ideas. Live vicariously through others or feel the rush as you start making your own dreams a reality!
---
Get Inspired
---
Plan!
By now you should already have some ideas on what inspires you! So let's those ideas into a plan. The great thing about inspiration is that you've probably already worked out a lot of the plans foundation. It might be related to a weekend away to visit a selection of monuments or temples. Or it might simply be to chill out on a beach somewhere. Either way you'll already be figuring out how to make your ideas into reality. Money and time are two of travels biggest anchors. They are also two of the best points to start a plan. How long can you travel for and or how much money do you have to spend? Due to the COVID-19 pandemic, planning has become more important than ever!
Money for your journey
Without money you won't be going far in any journey. Be honest with yourself. How much do you have saved up and how much can you save up? That bottom line is crucial in planning your travel budget. No matter your destination you'll need a daily budget which then totals up as an overall budget or expenditure.

How do you calculate this? It's fairly easy with this formula "daily expenses x by 'days of travel' + 1/3 of daily expenses = your total budget".

What's the 1/3 of daily expenses for? That's your emergency fund to help with unexpected fees, additional payments etc.

Where do I find my daily expense? Get a travel guide that tells you what a daily budget is for where you'll be. If it doesn't have one it should tell you how much a hotel is, the cost of a meal, transport etc. Add them up, that's you daily expense + 1/3!
Got the budget for an expensive hotel on your trip?
You've all the time in world
Time on your trip
The amount of time you have for traveling is a little easier to figure out than your budget. Are you still working and have a fixed set of holiday dates or are you not dependent on a regular job? In both cases budget plays a part. If you have 10 days holiday but can't make your daily budget then you might have to cut back on your days or downscale your accommodation to make them even out.
The next option to think about is if you are long-term traveling or wanting to move abroad then are you planning to work while on the road or when staying in another country.
Time & Money
Once you know your budget and timeframe you'll have drawn an imaginary line around your map of locations. You'll have a target to attain. That's the simplest way to think about. If you don't have the money or time to do something ... then move on to the next idea.
This could be finding a new place to visit, or it could be something to do with saving more money or getting more time off work. There are many ways to overcome money and time. But for now use those anchors to hone in on the reality of your inspiration.
Finding the right balance
One of my guidebooks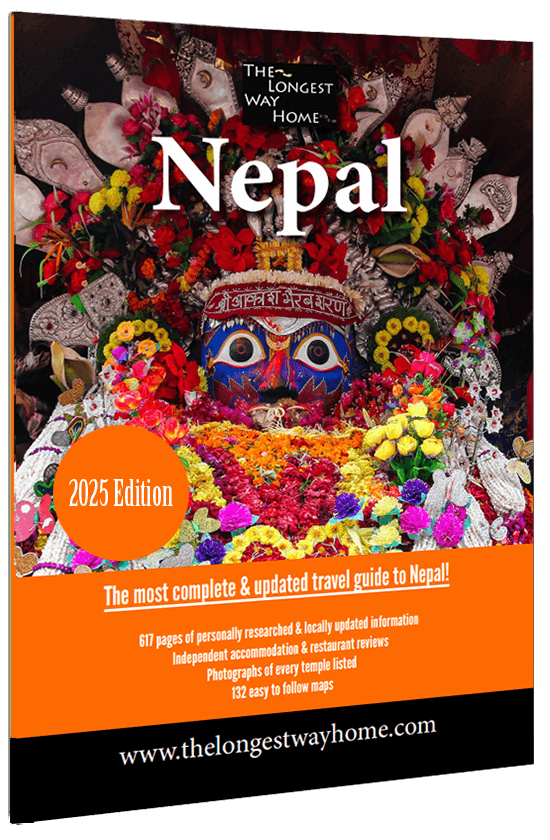 Be prepared for the unexpected ... always
When I first started on this journey I partied a lot. It was great. But I never expected to party so much. It kept in places for longer than expected.
Little did I know but after several years I'd end up writing bestselling guidebooks ... again, unexpected!
Here's a little list of some of these things on my journey just to give you an idea.
Going off the rails in Portugal at the start - Desert adventures in Morocco - The Nigerian Experience, on death's bed - Kicking off again in Portugal - Finally seeing Auschwitz/Birkenau, the salt mines - Carpathian Mountains, Transylvania - The visa runs in Turkey - The lone border crossing into Iran, the Syrians, breaking down, Yazd desert - Crossing alone into Emergency Rule in Pakistan, getting kicked off the bus in the desert, arriving into Quetta during a riot, the 40 hour train trip, the last Khyber Pass trip, Wagha border - The Golden Temple, Varanasi - Arrival into Pokhara, discovering the feeling of home in Nepal, the Annapurna mountains, high altitude sickness, arriving into Kathmandu during the riots, getting stuck in the riots, Tibet / China snow storms and permit runs - The Tibetan landscape, Everest, getting caught in the riots in Lhasa, escaping Lhasa, taking the highest train in the world - Finding the Chinese Pyramids, the Great Wall, the Forbidden city, reaching my end goal in Shanghai - Living on island - Social integration abroad - Exploring the unseen - face to face with an orangutan - losing my health - a new search - from living goddess to former kumari - first travel guide books sold ...
Travel ...
You'll have to do this bit yourself! But, help is at hand.
Packing lists, what to take, what to buy, where to book hotels, how to avoid expensive tours and many other helpful travel resources can be found on my travel resources page. Read through it to work out the more practical side of things.
Planning was the hard bit. Now it's time to shop for things you need, pack, unpack and pack again.
At the end of the day once the inspiration is taken care of and the planning thought out all you really need is a passport along with some cash in your pocket.
The world awaits. Find out what's out there by reading my travel resources page or my travel blog.
Explore places you never knew existed!