Review Summary:
Kathmandu Guest House
An iconic hotel in Kathmandu that its very name is used as a reference point
PROS -Very quiet and peaceful location. Facilities. Atmosphere. Restaurants are of a high standard. CONS - Price is above average. ATM not always working. Some rooms need work. USD $20-160
Hotel Review:
Kathmandu Guest House
Date Published: 03/12/2015
Let's look inside
Kathmandu Guest House is such an iconic hotel in Kathmandu that its very name is used as a reference point for finding your way around the Thamel area.
With over 140 rooms ranging from budget to high-end it's got something for everyone. Including a shopping arcade, restaurants, courtyard, bar and all important generators for Nepal's frequent power outages.
The guest house is split into 3 main sections according to budget. Each section is neatly joined together with well decorated corridors adorned with Nepaliart.
Perhaps its best part of Kathmandu Guest House is that it's far away from all the noise of Thamel and even has it's own ATM in the courtyard area.
Rooms & staff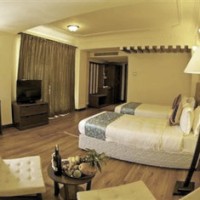 The rooms vary widely offering more choices than most people will easily find in Nepal. Taking your time to look over a room will make you feel right at home.
The good news is that all the rooms are of good quality, very clean and offer comfortable beds, nice decor along with top-notch service. The bathrooms are large and clean with no shortage of hot water.
With rooms from USD$50 to $160 Kathmandu Guest House keeps everything in top shape.
With plush TV's, ensuites, A/C, garden views and some really comfortable rooms. Are some of them overpriced? Yes, but shop around their range of rooms for a good deal and it's worth it as they often have online special offers.
I found the staff professional, courteous and well trained with a good knowledge of what to do in Kathmandu.
Summary
Kathmandu Guest House is one of the original Guest Houses in Kathmandu. Set way back in its own courtyard it's also one of the most relaxing guest houses to stay in.
Online it's worth taking your time as there are so many rooms to choose from that differ slightly from each other. Then again, maybe that's why people keep coming back!
---
Get the best room price now!
I've personally visited & reviewed this hotel plus found the best online prices for you – View more photos, a map, LIVE prices and book a room at Kathmandu Guest House
---
Room prices I was quoted
Here are the main difference between the rooms and their pricing. All prices here include taxes.
$58+ Deluxe – A/C, breakfast included
$90+ Deluxe View – A/C breakfast included, large bed and room
$160+ Garden Views – A/C breakfast included, bathtub, large bed and room
Special offers are currently available at this hotel! Book Now
---
Looking for more hotels in Kathmandu? No problem there are plenty more on my Kathmandu hotels page to choose from
All hotel stays have been paid for personally with no knowledge from the hotel owner that their accommodation was being reviewed